I love a great deal or storewide sale at the best of times but when it happens in December when I'm playing Santa and topping up my summer wardrobe?
BRING. IT. ON.
With the kids writing their Christmas lists, the Kris Kringle allocations rolling in and the invites for Christmas parties and end of year get togethers hitting our inboxes thick and fast, it's easy to feel The Overwhelm.
Are you feeling it?
Well, here's the good news.
Today, from the comfort of your desk, iPhone or sofa, you can get some of your Christmas gift or summer outfit shopping sorted in one, efficient and budget friendly hit.
Why you may ask?
Because today is VOGUE's third online shopping night ("VOSN") for the year, a twelve hour promotion running from midday to midnight TODAY. YAY.
Loads of great retailers participate in the VOSN, but plenty of others jump on the bandwagon too, so don't be surprised if you're bombarded by a crazy amount of promotional emails today.
In the meantime, this post is your form guide to the best deals on offer today. Below, I've curated a lovely selection of goodies – with the applicable discount – to give you somewhere to start.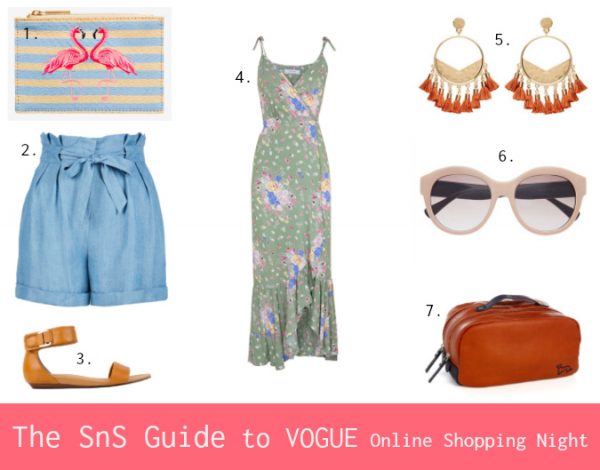 ABOVE: 1. Tropic Coin Purse, $19.95 (take 25% off) from Seed Heritage; 2. Relaxed Luxe Short, $69.95 (take 30% off) from Portmans; 3. MADDiE slides in tan, $199.95 (take 20% off) from FRANKiE4 Footwear; 4. Eve Market Wrap Dress, $179 (take 20% off) from August The Label; 5. Sylvie Earrings, $40 (take 20% off) from Kookai; 6. Casey Sunglasses, $69.95 (take 25% off) from Witchery; 7. Men's Washbag, $39.95 (take 20% off) from Peter Alexander.
Finally, remember that while VOSN is primarily a fashion retailer event, some fashion retailers also stock home wares, gifts, stocking fillers and children's and men's clothing and accessories, so you can potentially knock off gifts for several family and friends today too.
Alrighty then, good luck and happy shopping!
Best Deals for Clothing and Accessories  – These Deals Start at Midday Today
Best Deals for Footwear – These Deals Start at Midday Today
Accessories – These Deals Start at Midday Today
Non VOSN Deals You Can Shop Now
This post contains some affiliate links. You don't pay any extra and I earn a small commission. Read more in my Disclosure Policy here.
Are you making the most of the sales today? What's on your shopping list?