If you love new season fashion but hate paying full price, have I got some great news for you!
Today, beginning at midday, you'll find a range of retailers participating in – or jumping on the band wagon of – Vogue Online Shopping Night (VOSN).
In a nutshell, VOSN – which happens three times each year – is a twelve hour shopping window from midday to midnight in which a great range of retailers offers discounts or promotions on a range of products.
SWEET.
Some deals are better than others though, so the purpose of this post is to highlight the best deals going around and give you everything you need to know in the one spot.
Below is my round up of the best sales.
For deals which require a promo code (only those retailers participating in VOSN), I'll list them below when they are made publicly available. For most though, the discount code will be automatically applied during checkout.
I've also included links to retailers who are not participating in VOSN but are offering comparable deals, all of which are live now.
Finally, most, if not all of these deals apply to online orders only but you can always try your luck in store.
In the meantime, it doesn't hurt to do some reconnaissance, right?
If you're not sure where to start, I reckon the best way to approach VOSN – like any sale – is to think long and hard about what you need for the coming cooler months, instead of buying something just because it's on sale. My advice is to think strategically about what you need or would like to update.
For me, VOSN is a great opportunity to buy a key Autumn/Winter piece/s such as a new coat, pair of jeans, a scarf, knit and/or boots. I've just spotted the new range of $39.99 (before the 20% discount) merino knits from Glassons, so I'll be starting there.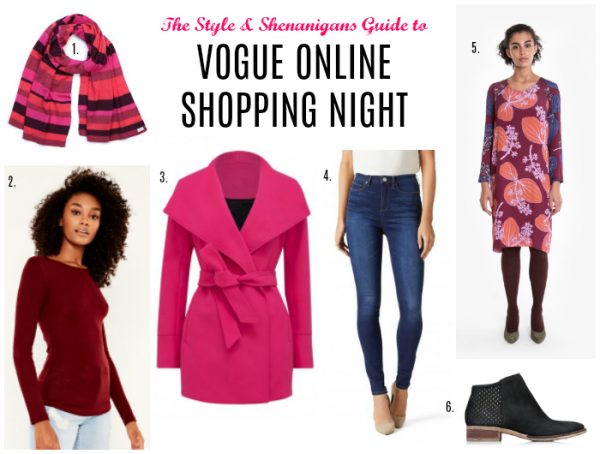 ABOVE: 1. Sylvia Scarf, $119 from Uimi Knitwear; 2. Merino Crew Neck, $39.99 from Glassons; 3. Tala Wrap Coat, $129.99 from Forever New; 4.  Feather Touch Jeans, $119 from Jeanswest; 5. Hana Dress, $289 from Obus; 6. Casper Low Ankle Boots, $189.95 from Jo Mercer.
So what's on sale today?
Here are my picks:
Non VOSN Deals You Can Shop Now
Best Deals for Clothing and Accessories  – These are VOSN Deals Starting at Midday Today
Best Deals for Footwear – These are VOSN Deals Starting at Midday Today
Best Deals for Homewares – These are VOSN Deals Starting at Midday Today
This post contains some affiliate links. You don't pay any extra and I earn a small commission. Read more in my Disclosure Policy here.
Are you making the most of the sales today? What's on your shopping list?