Last week Bohemian Traders released the first drop from their Spring 2017 collection, The Night Belongs to To Lovers.
From the title alone – BECAUSE THE NIGHT BELONGS TO LOVERS, BECAUSE THE NIGHT BELONGS TO US, the classic Patti Smith belter written by The Boss and his E Street Band- I knew I would love it.
Choc-o-block full of monochrome pieces from well cut, timeless basics through to new takes on boho favourites, this is one of those collections where any piece will instantly up date your Spring wardrobe.
When I was treated to a preview of the look book, two pieces instantly caught my eye: the beautiful Gingham Billow Sleeve Blouse* and the super practical and chic Scoop Neck Dress in Black and White Stripes.*
I knew straight away how I'd wear them and how well they'd slot in with some of my wardrobe faves.
Below, I'm wearing the Gingham Billow Sleeve Blouse*  with my high waisted black denim jeans (also from Bohemian Traders earlier this year, I'm wearing size 32) and my Sadore ankle boots from Django & Juliette.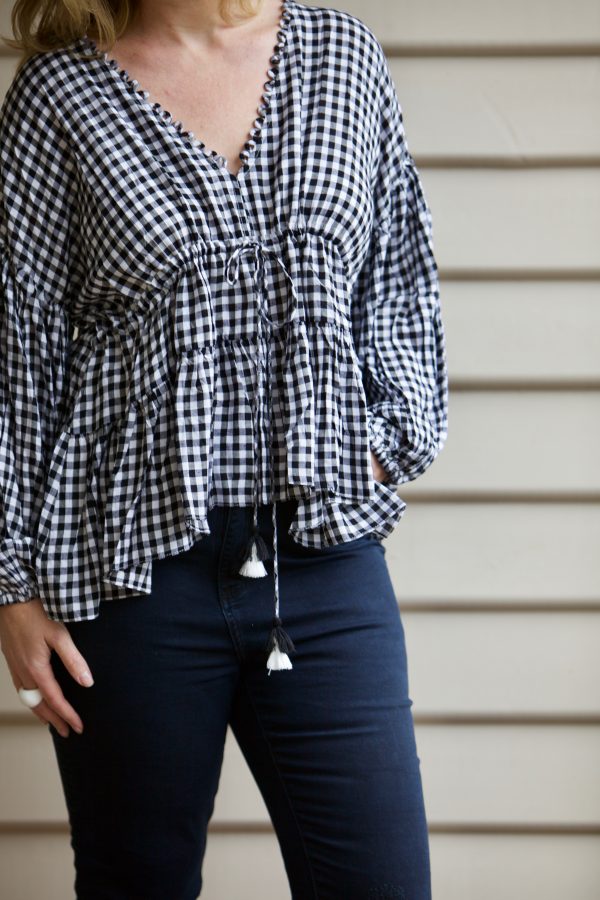 The billow style creates interest on the sleeve as well as making it a nice comfortable fit, especially on warmer days when clingy fabric is a No Go.
Then there's the other details – the eyelet detail on the neckline, the tassels and the high/low hem – all of which add interest and elevate this casual top into more interesting territory. The flattering V neck is just the right depth too – low enough without venturing into The Great Bra Reveal.
The tie under the bust also provides the option to tailor the top to what suits and flatters – tie it in to create more shape and definition or leave it looser for a more flowing look.
On that note, I'm wearing a Medium and I've drawn the tie in quite a lot to create more definition. I could've sized down to the Small I suspect but the length of the Medium is probably more flattering on me and the fit is still nice and comfortable.
In a nutshell, this really is one of those super easy wearing tops that dress up your favourite jeans, whether they're distressed, black, white, denim or cropped.
Add your footwear of choice – in Melbourne in August, it was boots for me – and you've got a great outfit.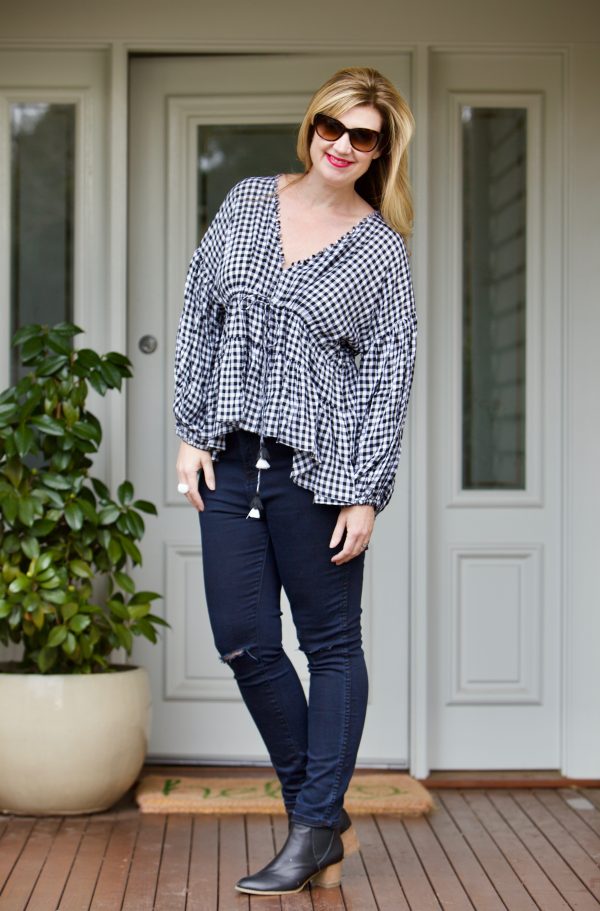 On a practical note too, this top is 100% cotton and a cold machine wash is recommended.
Then there is this classic Scoop Neck Dress in Black and White Stripes,* a wardrobe winner if ever there was one and an ideal option for casual and weekend days, any monochrome capsule wardrobe and travelling. Now I think of it, that pretty much covers all my wardrobe requirements of late.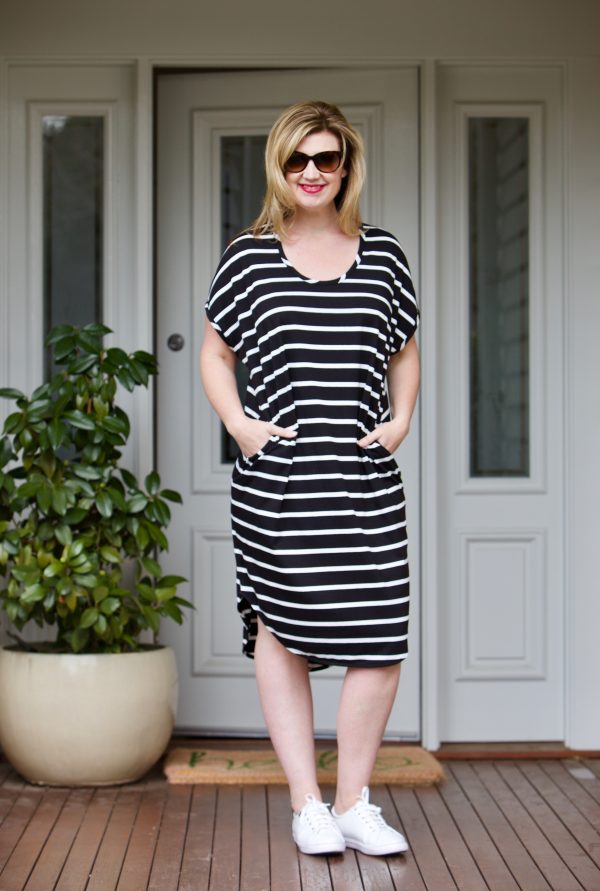 I've worn mine here with my fave white trainers – the NAT sneakers from Frankie4 Footwear – but come the warmer months, I'd also sub in sandals, espadrille wedges, thongs or derbys.
Throw on a denim jacket and you've got a ready made outfit for Spring. Add a bold lip, sunnies and a messenger bag and you've nailed easy everyday casual style.
Oh and did I mention this dress has frockets?
Size wise, I'm wearing a Medium and it's a comfortable, generous, oversized fit which is exactly what I'm looking for in a t-shirt dress. I prefer my t-shirt dresses to be not too clingy but with enough shape to flatter. Pockets are definitely a bonus too.
These pieces – denoted with an * – were gifted to me by Bohemian Traders and this post also contains some affiliate links. You don't pay any extra and I earn a small commission. Read more in my Disclosure Policy here.
Have you checked out BT's new collection? Thoughts? Favourites?