Welcome to the latest edition of Everyday Style at Shenanigans HQ!
Today, I'm very happy to be wearing a beautiful boho inspired frock from Bohemian Traders: The Evening Primrose Tulip Dress* now $159 (reduced from $179).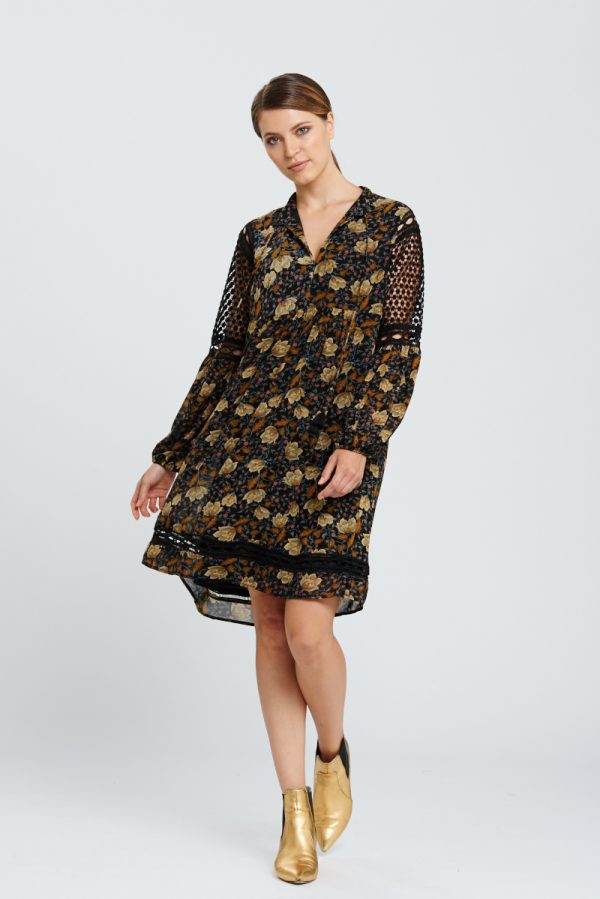 This pretty, evening primrose floral print is a great addition to any Autumn/Winter wardrobe. I love the colour way (featuring mustard, peach and light blue against a black background) and how it's easy to work back with either tan or black leather wedges, sandals, boots or heels.
Below, I've worn mine with iZZY boots in tan, from Frankie4Footwear* and this pretty peach kerchief* but I'd also change it up by wearing black opaques and boots and a chunky scarf too on cooler days and nights.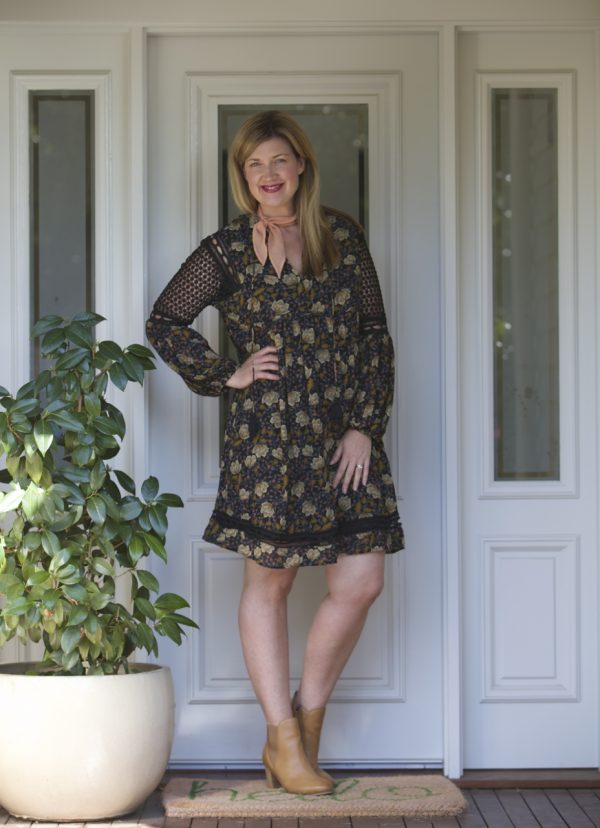 In terms of the shape, it's a flattering, a-line shape which skims in all the right places. The eye is drawn upwards too thanks to the lovely detailing on the arms – the delicate lace insert at the top of the arms as well as the billow sleeve.
There's also a lace trim near the hem which balances the dress out I think.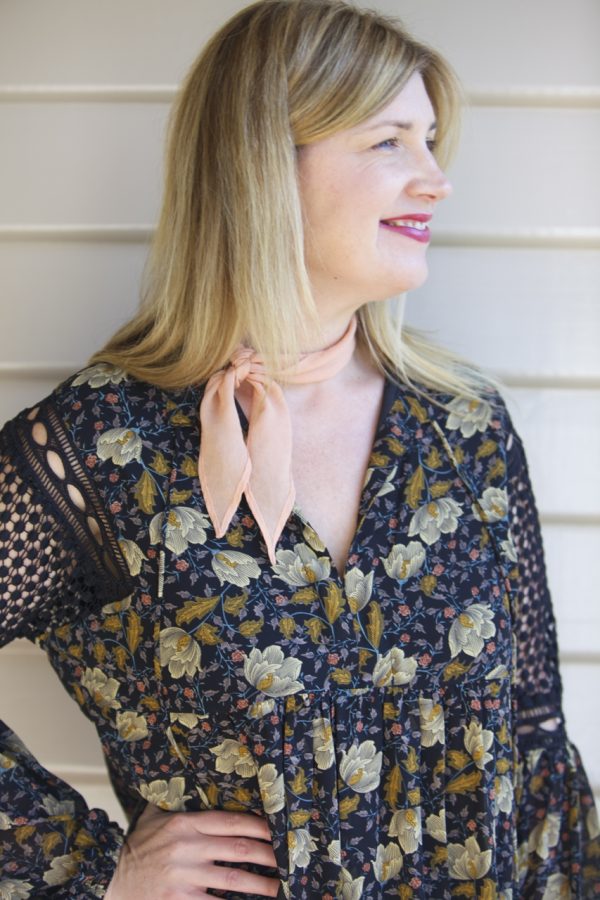 Along with the lace inserts, other details include the elasticised cuff and the tassel tie detail, which together, are simple touches that elevate this dress above similar offerings.
As you can see, I've left my tassel tie unfastened to create a V neckline and to work with the kerchief, but it can also be tied firmly or loosely for a different look.
With three hook & eye closures, you can also play with the depth of the neckline which is handy too – all fastened up for work perhaps and unfastened for less conservative occasions.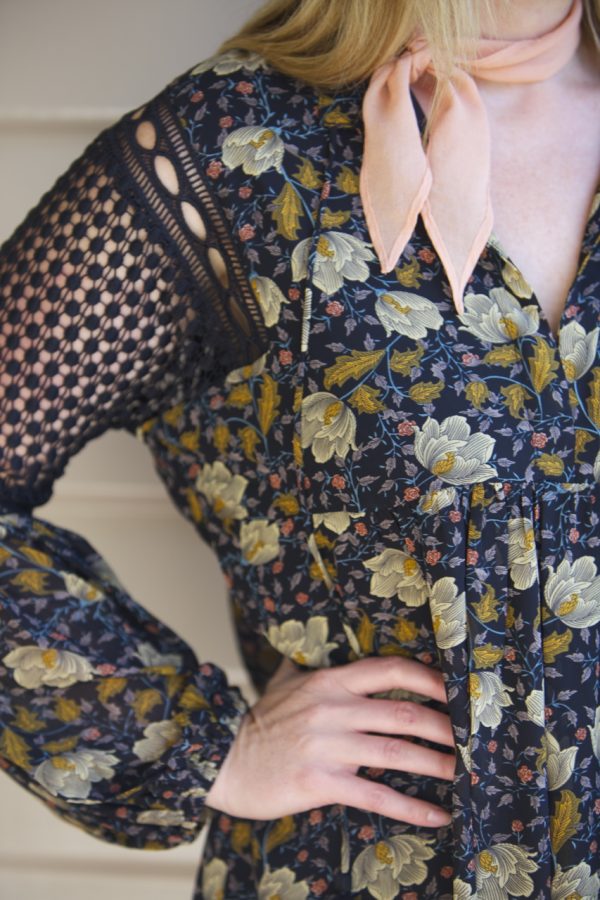 Size wise, I initially ordered the Medium which fitted well across the chest and was fine length wise but was a fraction snug on my arms. I ended up exchanging it for the Large though as I wanted a looser fit around my arms. I'm wearing the Large in the photos here.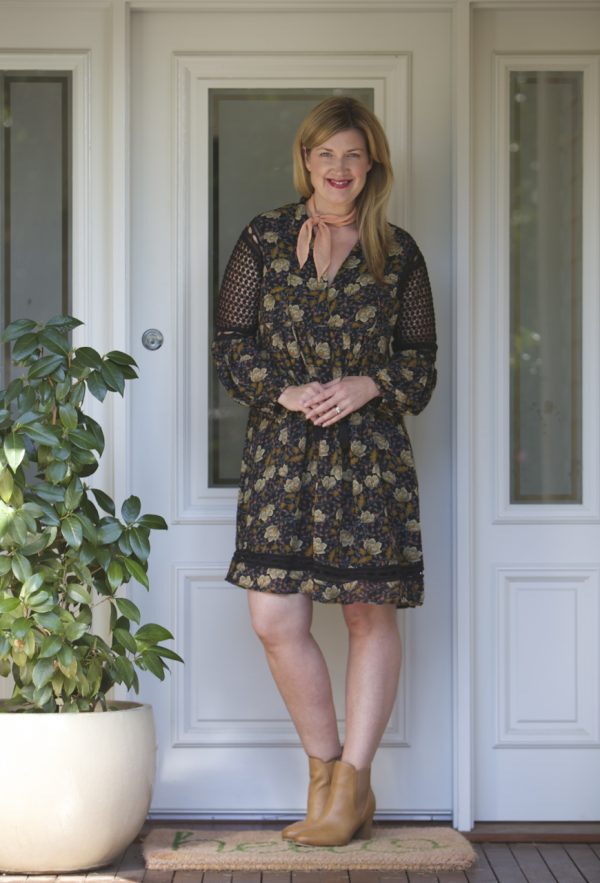 This really is a practical, easy to care for frock too which I'm loving too – simply wash it in the machine on a cold cycle. I'd use a gentle/hand wash cycle and a lingerie bag for mine too.
Finally, if you're loving this style but not sure about a print, this pretty dress also comes in black and if a top is more your thing, you can choose from three colour ways – sunburst, white and navy. Check them all out here.
 *denotes kindly gifted. This post also contains some affiliate links. You don't pay any extra and I earn a small commission. Read more in my Disclosure Policy here.
Is there a dress along these lines in your wardrobe? How would you style the Evening Primrose Tulip Dress? If you have any questions about the fit and how to style this dress, please ask!