Welcome to the latest edition of Everyday Style here at Shenanigans HQ.
This week I'm very happy to feature a fabulous frock that I think will slot in to anyone's summer holiday wardrobe very nicely indeed: The Resort Monaco Kimono Dress from Bohemian Traders, RRP $149.00, which I bought in a recent Spend and Save promotion.
To me this dress says poolside cocktails (add a wedge); picnic in the park (add sandals or white trainers) or even Let's Party (add a tan block heel), therefore covering off most of my ideal summer scenarios. Lunches with the girls and even work are covered too I reckon.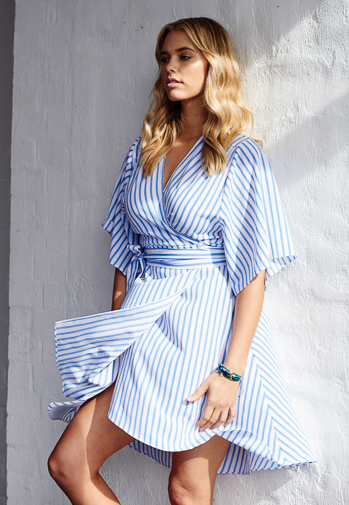 I've included the picture of the dress on the model, above, to show how well this translates to me, below, given I am a totally different shape and size but I think the effect is not dissimilar and I think this shows how flattering this cut is for a range of sizes and shapes.
The model is wearing a size S and is 177cm while I'm wearing the L and am 175cm tall.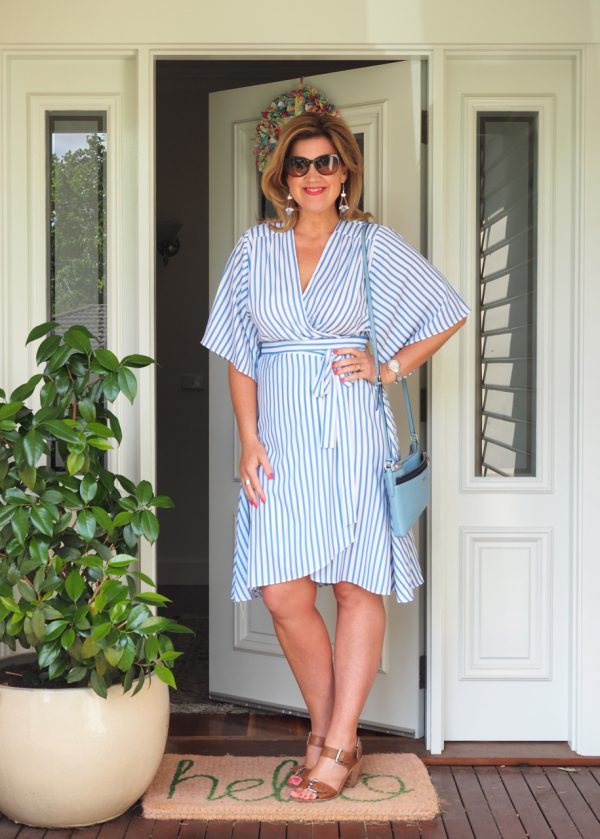 Above I'm wearing Resort Kimono Monaco Dress in L with earrings from Oktoberdee; Coach bag (for a similar style in a different colour try here) and Anthropologie heels, all from seasons past.
There are a few things I'm loving about this frock in particular:
a flattering elbow length kimono sleeve which allows for ventilation and coverage. Big tick.
the lovely periwinkle blue and white stripe – so fresh and pretty for summer.
the crepe fabrication – this dress drapes beautifully. Super flattering.
the wrap factor – no buttons, zips or other shenanigans to worry about, making this dress adjustable which is perfect for those of us whose weight can tend to fluctuate. In the right size (I'm wearing the Large), the wrap provides enough coverage without being too low or revealing but also manages to create a flattering shape too.
on that note, this dress definitely enhances the bust if you're looking for some assistance in that department and the tie detail helps creates a waist and therefore, shape.
it's also breastfeeding friendly.
the just above knee length (I'm 175cm) is the perfect length on me and appropriate across both work and play.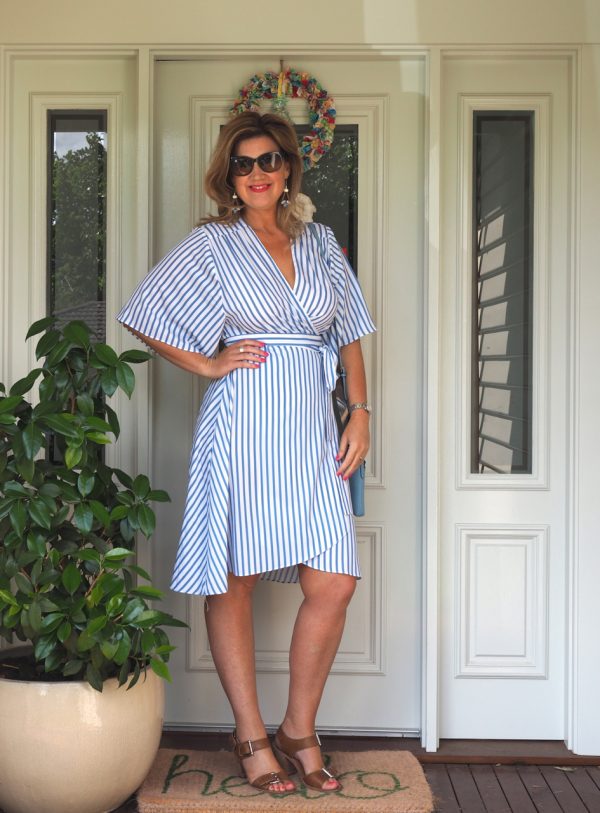 I wore this outfit, above, for a birthday lunch with a girlfriend but it would also be perfect for Christmas Day.
Just sayin'.
Oh and if you want to see this on someone shorter, check out Sonia Styling wearing it here.
Lastly, if you're a fan of the style but not the stripe, also check out the same style in this pretty Marrackech print or if a longer, maxi wrap is more your thing, the Blossom Days Kimono Maxi (very limited sizes) or Navy Wrap Maxi would be worth a look.
This post contains some affiliate links. You don't pay any extra and I earn a small commission. Read more in my Disclosure Policy here.
Got any questions about this frock? Or have you found a fab, all round summer frock lately? We'd love to hear all about it!