A couple of weeks ago, I shared my top sale picks from the Vogue Online Shopping Night.
At the very top of my list, was the 30% off storewide promotion at Australian boutique boho label, Bohemian Traders.
Let's just say, I took my own advice.
If you've been reading this blog for any length of time, you'll know I regularly feature BT here.
I love their easy wearing threads, especially their striped dresses, and after some successful style stalking, I was stoked to pick up this little ripper with 30% off: the striped maxi dress, which usually retails for $149.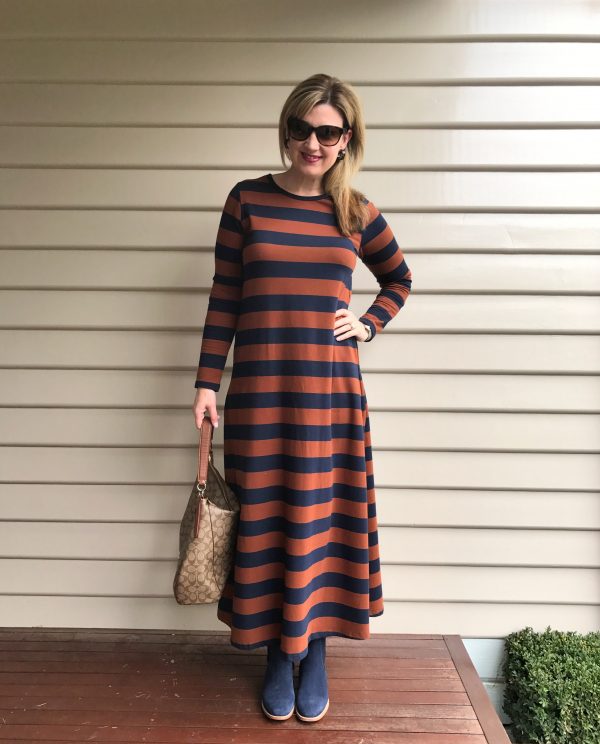 Wearing striped maxi dress from Bohemian Traders, Augusta suede boots from Trenery, mini tort hoops from Gorman and bag and shades from Coach, bought a few years ago in NYC.
So what am I loving about this particular striped dress?
Let me count the ways.
Firstly, it's a casual alternative to jeans. Some days, I just don't feel like wearing jeans, so I always like to have some warm, non-jeans options on hand.
This dress is basically a long, medium weight t-shirt, with a slightly stretchy cotton/spandex fabrication, so it has some give. It kind of feels like the tracky dax equivalent of a dress. On a side note, I think I've just reached a life goal right there.
In terms of how to wear it, just add trainers or boots, as I've done here, for a relaxed casual outfit. Layer up with a scarf, tights, denim jacket or a puffer for extra warmth.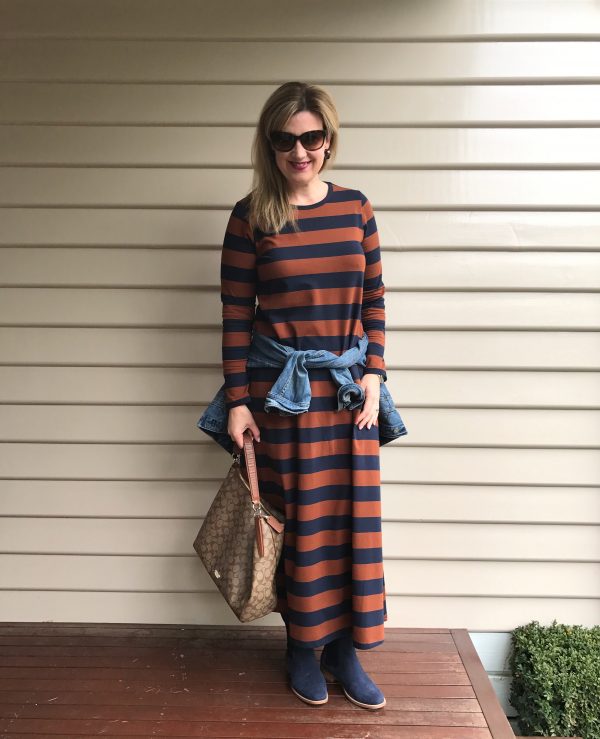 Secondly, the maxi length means coverage – a big plus in Winter – and the subtle a-line shape skims where it should but also flatters without being too voluminous.
On that note, I originally ordered this dress in a Large and while it fit well, I thought I could go down a size around the chest – not a common situation for me with curvy DD/E proportions.
Below I'm wearing a Medium which is spot on.
If you're wondering, this dress is also available in sizes XXS through to 4XL too.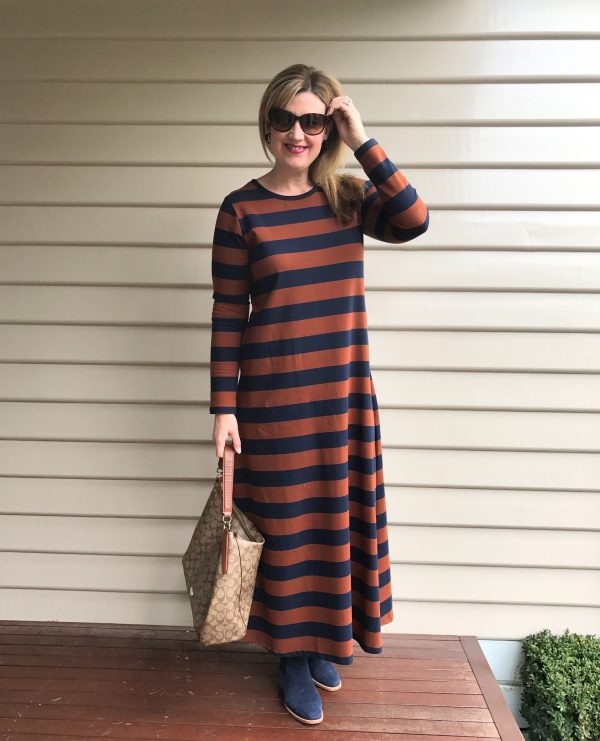 Finally, there's the unusual but striking colour combo. While I do love a traditional black/white and navy/white striped dress, I think the tan/navy is gorgeous for the cooler months. I've added my navy suede boots but tan boots of any description would also work here beautifully.
It's not just me who is a fan either. My ten year old son complimented me, saying, "I love the contrast of those stripes Mum". I'd pop a stunned face emoji here if I could but then again, I think he was totally on to something!
If you like this style but prefer a block colour, you might be pleased to hear this style also comes in black.
But wait, there's more. A little birdy just told me that Bohemian Traders are currently running a Spend and Save promotion: $50 when you spend $150; $100 off when you spend $300 and $200 when you spend $600. More details here.
If you're looking for more of my reviews of clothing from Bohemian Traders, check out my other reviews here.
This post contains some affiliate links. You don't pay any extra and I earn a small commission. Read more in my Disclosure Policy here.
What's your favourite striped colour combo? Do you have a striped maxi in your wardrobe?