Spring is only weeks away, bringing with it an influx of fab new season fashion.
While a lot of what's currently in store won't be weather appropriate for many of us for some time (hopefully not too long), the new season's drop of pants have been the exception.
In fact, if there was ever a time in the whole year to buy pants, now would be the time. There is every conceivable style, colour and fabric available across stores right now.
It's Pants Central.
A quick survey of what's happening in pants land reveals the following distinct styles:
the drop crotch/harem pant;
it's cousin, the utility/jogger pant;
jeans from flared to cropped, skinny to boyfriend;
culottes and other wide legged styles;
printed, soft pants;
and of course, there are plenty of variations of the wardrobe and work staple, the black pant.
There's some overlap between styles and other trends at play here too (khaki pants anyone?) but these are some of the key trends in pants this Spring.
So, like my recent series here on Winter dresses, today will be the first instalment in a series of posts on Spring pants. Does that sound like a plan?
Let's start with harem pants.
Below, I've curated a selection of eight currently available styles ranging in price from $59.95 through to $129.95.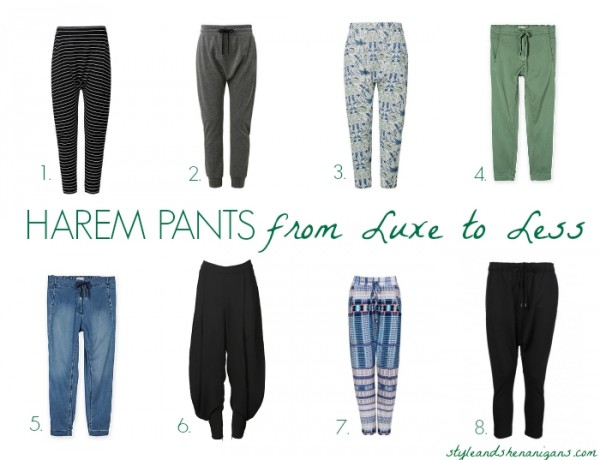 1. Jersey Harem Pant, $59.95 from Seed Heritage (these come in three other colours); 2. Flora Relaxed Harem, $89.95 from Seed Heritage; 3. Knit Harem, $89.95 from Seed Heritage; 4. Soft Harem Pant, $99.95 from Country Road; 5. Indigo Harem Pants, $99.95 from Country Road; 6. Harem Pant, $129.95 from Witchery (limited sizes online, try in store); 7. Noumea Draped Pant, $129.95 from Metalicus; 8. Taylor Harem Pant, $129.95 from Decjuba.
As you can see, some styles are dressier than others. For every day wear there's the casual denim, knit or jersey options. The printed and black styles would carry through to dressier smart casual too.
If you're after a cropped style, check out the new range of drop crotch pants over at Bohemian Traders.
Seed Heritage and Country Road have loads of options on the harem pant front, so if you are looking to try a variety of colours, styles and prints, they would be a great place to start.
Now let's turn to utility pants slash joggers.
Utility pants/joggers are another variation again and essentially the same idea as the harem pant, minus the drop crotch but with the addition of an elasticised cuff.
They are a bit easier to dress up than harem pants and provide an easy trans-seasonal alternative to jeans.
Below, I've rounded up 8 new season styles beginning at $20.
1. Soft Jogger Pants in Cross Hatch Print, $20 from Target;  2. Elasticised Cuff Pant, $47.99 from Glassons; 3. Reese Marle Joggers, $89.95 from Decjuba; 4. Navy Casual Pinstripe Pant, $99.95 from Sussan; 5. Lyocell Jogger Pant, $99.95 from Sportsgirl; 6. Utility Pant, $99.95 from Sussan (available also in charcoal and black); 7. Woven Jogger, $129.95 from Country Road; 8. Chambray utility pant, $129.95 from Witchery.
So how to style harem pants and joggers this Spring?
I think the key with styling harem pants, which have extra fabric for the drop crotch, is to keep the pants the feature and to not add any extra bulk to your bottom half.
So for example, I'd stick with fitted tees, shorter, boxy tops and cropped knits.
If you prefer some derriere coverage, opt for fine longer knits that don't add any extra bulk, like I've done here.
Denim jackets and other cropped jackets (like biker styles) also suit harem pants.
In terms of footwear, for more casual styles of harem pants, I'd stick with trainers, sandals or Birkenstocks. For dressier styles, a wedge or ballet flats would also work well.
Because joggers are generally slightly more streamlined than harem pants, they are essentially a substitute for jeans, so anything you'd usually wear with your jeans would work here.
The only caveat to that would be footwear. The elasticised cuff makes them best suited to footwear that finishes below the cuff – one of the design features of this style – such as trainers, ballet flats and, for dressier styles, heels as opposed to boots.
Are you a fan of harem pants or joggers? How do you style yours?