The humble tracksuit pant has had a noughties makeover.
Now, instead of your old school fleecey numbers, you'll find trackies coming in all sorts of guises.
I'd even go so far as to say that trackies have gone a bit, well, posh.
There are trackies with drawstring waists and a cuffed or ribbed hem.
In a modern print (hello leopard) perhaps or even a knit with a tapered leg.
Or they might be tricky trackies that kind of look like jeans.
They're trackies that you'd put on to go out in. Not just the gym, the local shops or school drop off but out out.
Not just because they're comfy but because they look fab. It turns out that "cool trackies" are not, as the delightful Kath would say, a foxy moron.
And with more varieties than you could poke an ugg boot at, you're sure to find a pair that's right for you – whether that's a casual pair of everyday pants through to an embellished, dressy style.
Unsurprisingly, these new versions aren't $15 at Tarjay. They come in a range of price points but the dressy ones are around the $100 mark.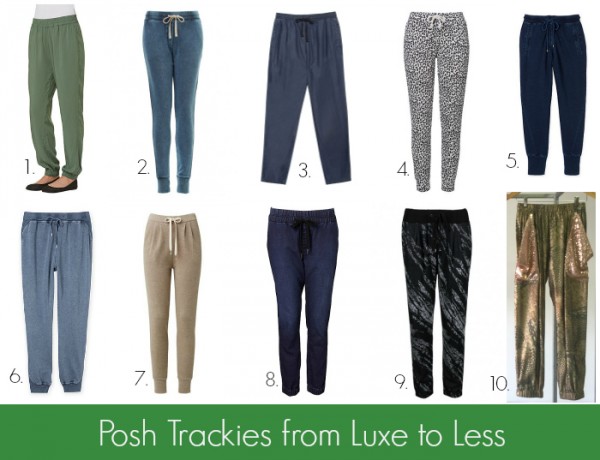 1. Soft Jogger Pants, $20 from Target; 2. Adventure Sweat Pant, $59.95 from Sportsgirl; 3. Twill Track Pants, $79 (on sale) from Gorman; 4. Leopard Track Pants, $79.95 from Seed Heritage; 5. Indigo Jogger, $79.95 from Country Road; 6. Seam detail track pant, $89.95 from Country Road; 7. Knit Trackie, $89.95 from Seed Heritage; 8. Slouch joggers, $99.95 from Witchery; 9. Vivian Jacquard Track Pant, $99.95; 10. Rose Gold on Bronze Python Party Pockets, $140 from The Cult List.
So how to wear posh trackies this Winter?
Here are five styling ideas:
1. Team with a cropped or swing style knit and Converse, high tops or New Balance trainers for casual but cool off duty style;
2. Throw on an oversized jumper and runners/trainers for lazy weekends;
3.  Wear with a tee and Canvas runners (like these) come Spring;
4. For wider legged styles (like the Gorman trackies above), pair with brogues and a silky bomber jacket to channel your inner hipster;
5. Dressy styles (like 9 and 10 above), work well with pointed flats or heels and a silk jersey top or a metallic knit.
If these trackies are too dressy for you but you are looking for some versatile casual pants, try a harem pant or a jersey jogger. They are loads of styles available now as the Spring ranges come through.
* This post contains affiliate links. You don't pay any extra and I earn a small commission.
Are you a fan of the posh trackie? Or do you like old school fleece? Or are you sitting this one out in yoga pant land?