As we shiver through the coldest start to Winter in Melbourne in nearly forty years, I'm critically assessing the capacity of my wardrobe to keep me toasty over the next few months.
Inside the house, I've got things sorted thanks to a combination of ugg boots, T2's Licorice Legs tea, my flannelette pjs and much loved electric blanket.
Sadly, I can't take most of these creature comforts with me when I leave the house in retina freezing temperatures. And, I'll be frank, my aim when I leave the house is to feel like I'm wearing a blanket without looking like I'm wearing a blanket.
And that's wear the knit dress comes in. It's basically an oversized jumper that keeps you warm while looking the goods.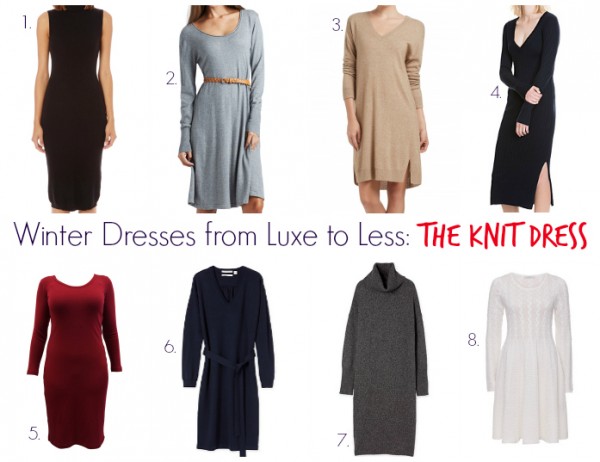 1. High Neck Knit Dress, $49.99 from Glassons; 2. The Cool Comfort Knit Dress in Grey, $89.99 from Birdsnest; 3. Pleat Back Knit Dress $109 from Sussan; 4. V Neck Rib Neck dress, $129 from Country Road; 5. Merino Wool Dress in Cherry, $139 from Woolerina; 6. V Neck Knit dress, $169 from Trenery; 7. Rollneck knit dress, $179 from Country Road; 8. Carly Cable Dress in Cream, $179.95 at Metalicus.
As you can see from the selection above, most high street retailers have their own interpretation of this classic style from the straighter, high neck styles (1 and 4) through to looser, more casual styles (2, 3 and 6).
If you like what you see but would prefer a different colour, you'll be pleased to hear that almost all of these styles come in at least one other colour, so if you like a style, it might be worth looking to see if your preferred colour is available.
For example, if it looks familiar, I've worn this gorgeous red Woolerina dress (5) in black on the blog before (see it styled three ways in trans-seasonal weather here). I'm loving this warm cherry red version which is a nice change from the usual neutrals and would look the business paired with tights, boots and a faux fur vest or sleeveless coat or gilet.
Below, I've paired my black Woolerina dress with a boiled wool wrap knit from Trenery (the same style in a different colour is available here), my Seed Heritage ankle boots and earrings from Flock Curious Assembly (now stocked at selected Gorman stores incidentally). I wore this outfit to a school parents' dinner last night – a typically very cold Winter Melbourne night – and it was warm, comfortable and sufficiently dressy.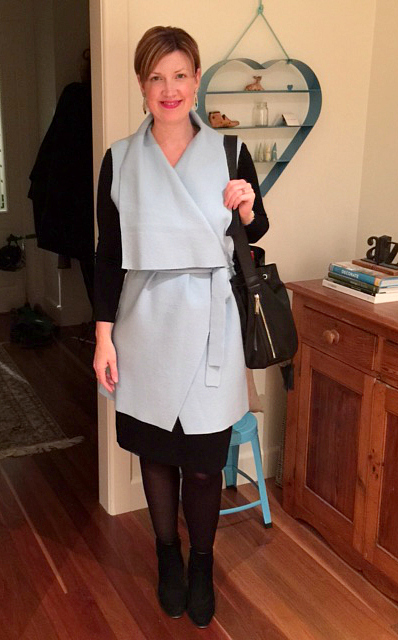 If you live somewhere milder, you may be inclined to think that the knit dress is not for you. However, with sleeveless options and various fabrications from cotton blends through to 100% merino wool knits, there is likely to be a knit dress to suit most climates.
In Melbourne, I tend to gravitate to full length sleeved or 100% wool styles as I need the warmth, even though I would still always need an outer layer in any event. I do love the look of a high necked sleeveless knit dress with a pointed pair of ankle boots/shooties though. Very chic indeed.
In terms of how to style a knit dress in Winter, here are a few ideas. I'd love to hear how you style yours in the comments below.
– I generally keep it pretty simple with a nice pair of tights and a pair of ankle boots – either flat for casual/day and heeled for dressier do's/by night. If it's milder, leggings and ballet flats would also work well;
– For shorter lengths that hit mid thigh, wear as you would a tunic and add either skinny jeans or ponte pants, as I've done below;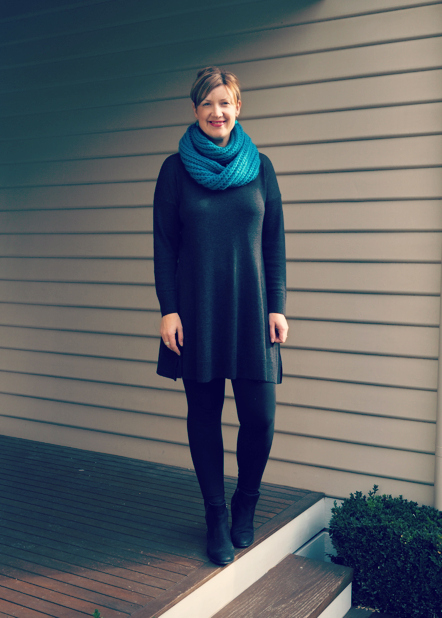 I'm wearing the Knitted Swing Dress, $82.80 (currently on sale) from Boden with Sussan ponte pants, Country Road ankle boots and a snood picked up from a city chemist last year.
– Straighter, ribbed styles can be unforgiving so it might be worth investing in quality shape wear (check out the great range at Bella Bodies) or look for hosiery with a control top panel. If you have the foresight, trying on a knit dress wearing the hosiery/pants/leggings you'd wear with it is a very good idea;
– If you are wearing a block colour and would like to introduce some colour or pattern, try a printed scarf or a contrasting coloured snood. If you're wearing a rollneck style, try adding some statement earrings or a great bag.
If you're after a patterned/printed knit dress, check out the gorgeous Fern Jacquard dress, $135 (on sale) and Dot Dash dress, $249 from Gorman.
For an evening style complete with thigh high split, check out the Merino Blend Long Sleeve Dress, $59.99 from Glassons.
Is there a knit dress in your Winter wardrobe? Should there be? How do you/would you like to style yours?