Welcome to the fourth instalment in our series on Winter Dresses from Luxe to Less.
So far, we've covered the printed dress, the shirt dress and the knit dress.
Today, the focus is on work dresses – smart casual frockery that is comfortable to wear and looks professional enough for work, whatever that may involve for you.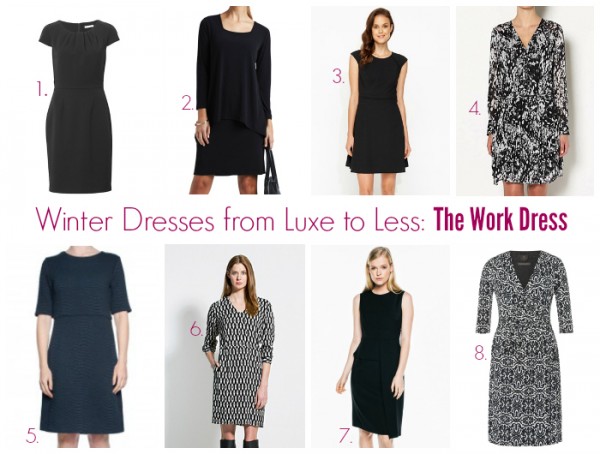 1. City Dressing, Pleat Neck Dress, $39 from Target; 2. Rita Dress by Bird Keepers, $79.95 from Birdsnest; 3. The Highline Suit Dress, $99.95 from Portmans; 4. Soft Tie Dress, $149.99 from Witchery; 5. Hazy Daze Dress, $169 from Gorman; 6. Tribal Printed Dress, $179 from Trenery; 7. Stretch Fold Detail Dress, $195.30 (on sale) from Veronika Maine; 8. Belinda Jersey Dress, $199 from David Lawrence.
While most of the dresses above would be suitable for a corporate office, I've also included styles that are smart and versatile enough to work across a range of workplaces as well as having weekend potential.
I've also tried to include a variety of sleeve lengths and shapes to cover as many scenarios and climates as possible.
So why the work dress?
Well, pants or skirts often form the basis of a work wardrobe and rightly so, as they can be mixed and matched with all sorts of tops from shirts to knits for a polished, professional look.
However, if you have those bases covered, it's worth considering adding a dress into the mix.
When I worked full time in a corporate office/court, I also always had a work dress or two that I would wear at least once a week, particularly on days when I was heading out for drinks or dinner after work.  I'd wear a shirt or a thin knit under shift styles in cooler weather to get more wear from them too.
In my last office job, I wore dresses more regularly as the dress code was less formal i.e. not strictly suits and because I find dresses more comfortable to wear.
I found them easy to wear too as they don't require much, if any styling. To get dressed for the day, all I needed to throw on was a dress, coat, hosiery and a pair of shoes. I didn't need to co-ordinate separate pieces – a very good thing when you're trying to get the kids sorted for the day and have 8 minutes total to get ready.
Have you been there?
If you'd like to add a dress into your work wardrobe, here are a few tips to consider before you do:
– I think the key, when shopping for work dresses, is to look for a style that is flattering and relatively timeless. Unlike weekend wear, our work wardrobes are generally built on classic pieces that can be updated with a few key accessories or a statement piece or two each season. Tailored shift dresses, like 1, 3 and 7 above are a great place to start;
– Colour wise, anything goes, but you'll probably get more mileage out of those hard working neutrals: black, navy, camel and grey or anything for which you have co-ordinating shoes and handbags;
– Look for dresses that have layering potential i.e. they can be worn with a light knit underneath or a cropped cardigan over the top or underneath one on your tailored jackets or coats;
– I'm partial to a printed dress, but for work, the hardest working option over time will be a monochrome print. It won't date and will work back with black accessories and shoes. I've found three great versions above (4, 6 and 8) which would happily cover work and other smart casual do's as well;
– If your workplace is less corporate, look for a dress that you can wear out of hours too – a smart shirt dress or a knit dress might be a great option.
For more outfit inspiration, check out this recent post What to Wear to Work.
Next week, I'll cover party dresses.
Do dresses feature in your work wardrobe? What style/colour do you find works for you?