Putting together a workable work wardrobe can be something a lot of us struggle with.
When we shop, we can often gravitate to and multi buy those things we love that we know look good on us, bypassing those key pieces that will make our every day work wardrobe work better and harder for us.
Have you ever bought another pair of great statement shoes instead of investing in a basic neutral coloured top or pair of pants that would really increase your options come Monday?
Although I no longer work in a corporate environment or an office, I still go to work every day in my dual capacities as a Mum at home caring for young children and a part time blogger. I need outfits that I feel comfortable enough to work in in between loads of laundry, endless food preparation and drop offs and pick ups.
Monday morning wardrobe despair is a first world problem if ever there was one but still, it's not a lot of fun. Work Routine Treadmill Central can be tricky at the best of times, especially in the cooler months, so I'm here to try to help us find our collective work wardrobe mojo. Let's start our work weeks feeling good, like we have options and inspiration. The rest will follow, right?
That's why I'm kicking off this regular series, What to Wear to Work. We'll cover every day work outfits for the seasons and across workplaces. I'll share work wardrobe basics, outfits and identify key new season pieces that may breathe new life into your work wardrobe. If you have regular work wardrobe dilemmas, I'd love to hear from you too. Either shoot me an email or leave a message in the comments below.
Ok, let's start with the corporate workplace. Generally speaking, in this context, tailored, modern and professional is the way to go. Depending on the culture of your workplace or the profession itself, it may also be on the conservative end of the fashion spectrum. It's still very possible to rock a great look at work though.
When I worked in a corporate environment, my basic work wardrobe consisted of two or three suits, some with co-ordinating pants, dresses and skirts; printed silk and cotton tops and tailored shirts; fine knits in a range of colours and a couple of pairs of quality, mid heels for all the walking – to and from the train, through the city for lunch or client appointments/court hearings and the odd dash to David Jones. I also added great accessories – statement earrings and printed silk scarves to reflect my personality and love of colour.
Being on a limited budget, I invested in quality basics in black – pants, shoes and handbags, such as those below, that went with everything.
I also had several fitted scoop neck tops (6) and seamless tanks from Witchery that were perfect pieces for wearing under jackets and knits.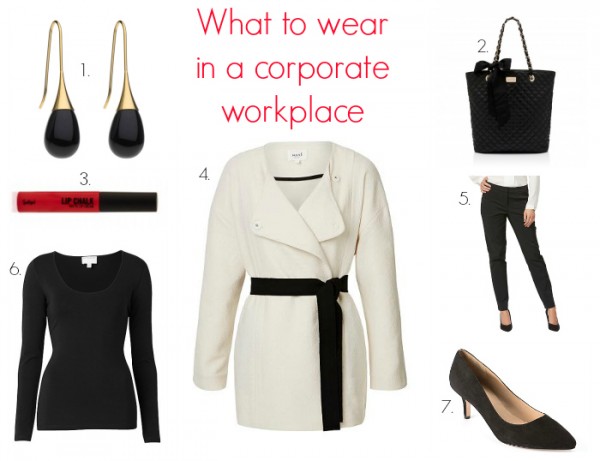 1. Duplicity Earrings by Najo, $49 from Birdsnest; 2. Jennifer Quilted Bow Bag, $39.99 from Forever New; 3. Lip Chalk in Road Trip, $9.95 from Sportsgirl; 4. Kimono Wrap Jacket, $169.95 from Seed Heritage; 5. Slim Fit Zip Pocket Pants, $49 from Target; 6. Long Sleeve Scoop Neck Tee, $39.95 from Witchery; 7. Evon Heel, $149 from Country Road.
Occasionally, having covered off these basics, I'd pick up a fabulous statement jacket or top on sale, such as this stunning (and reasonably priced) Seed Heritage Kimono Wrap Jacket above. This jacket is bang on trend and works beautifully over a classic pair of slim line pants but would also look chic over a tailored LBD. It would look fabulous over a red or green tailored dress too. It's monochrome tones keep things polished and professional, while the wrap style with it's flattering belt, injects something modern and interesting into an every day work outfit. A bright red lip keeps adds a touch of colour and femininity too.
Come the weekend, add some bling, black skinny jeans and ankle boots and take this jacket out for dinner or cocktails.
I've gone with gold hardware here, but look for accessories with hardware that co-ordinate with your investment or sentimental jewellery.
If the budget doesn't allow for a suit or a new jacket at this stage, head to Target for their basic black work range and make a bee-line to Cue, Marcs and Veronika Maine in the sales.
A comfortable heel that you can walk in all day is well worth the investment. I tended to opt for a mid heel or kitten heel that I could wear all day instead of the stiletto at work/sneakers on the way to and fro work scenario. A gorgeous pair of pointed flats are a great alternative too. Check out Mimco or Boden who often feature dressy jewelled or printed flats in their Autumn/Winter ranges.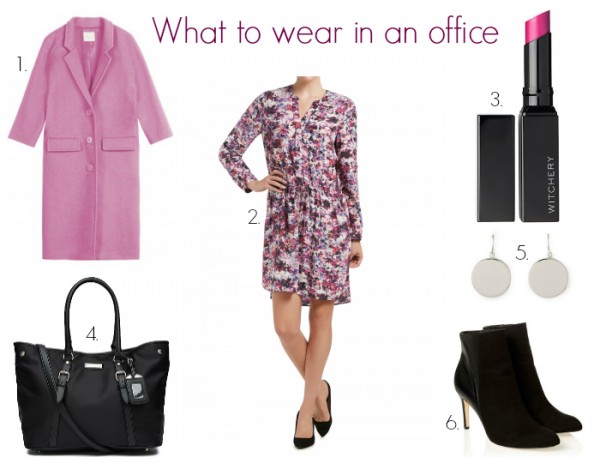 1. Copenhagen coat, $369 from Gorman; 2. Abstract Floral Dress, $129 from Sussan; 3. Lipstick in Orchid, $16.95 from Witchery; 4.  Vanessa Bag, $99.95 from Witchery; 5. Disc Earrings, $49.95 from Country Road; 6. Suzy Pump Chelsea Ankle Boots, $89.95 from Portmans.
My most recent workplace, in an office, albeit professional and involving some client contact, did not mandate suits. The dress code, while still professional, allowed for plenty of creativity, flair and fashion.
This more relaxed yet smart dress code is appropriate for a range of workplaces and can be a lot of fun.
In this context, I generally wore a dress with a jacket or coat or a comfortable pair of slim line pants with a top/tunic, fine knit and heels.
The best thing I found about working in this environment was that I had more scope for fun and to wear clothes from my "non work" wardrobe, provided the look was still polished and professional i.e. nothing too short or revealing. A pair of stockings or opaques, heels and make up easily transformed these pieces from weekend to work wear too.
If you work in a workplace like this, while key basics such as slim line black pants, a pencil skirt, a tailored jacket are still essential, it's easier to justify investing in versatile pieces like this Sussan dress above. This dress looks great for work but can easily be worn on the weekend too, with a denim jacket and flats.
While there is more scope to be creative here, it's still important to invest in quality shoes and accessories if your budget allows. There is often more leeway shoe wise though, and flat knee high boots and heeled ankle boots can make great Winter options.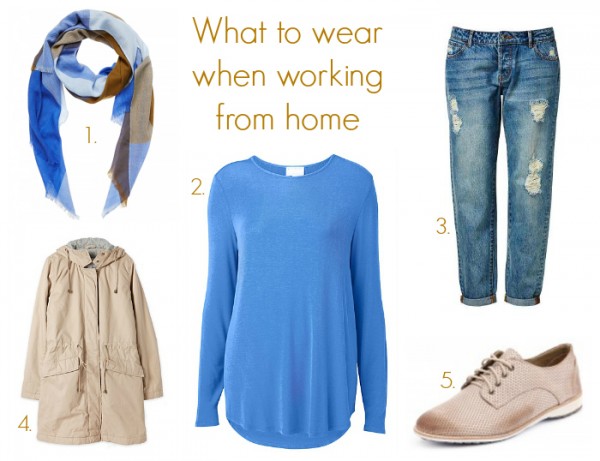 1.  Check Weave Scarf from Sussan; 2. Split Hem Top in Azure, $49.95 from Witchery; 3. Boyfriend Jeans, $89.95 from Seed Heritage; 4. Quilted Anorak, $249 from Trenery; 5. Rollie Derbys in Antique Latte, $129 from Styletread.
Finally, let's turn to the those of us who work from home. Sure, this may not require much of mention because many of us work in our pjs and tracksuits when we can – one of the bonuses of working from home after all – but still, there are times throughout the day when we need to duck out.
As a Mum at home, I am running around the neighbourhood with school and kinder drop offs/pick ups and am basically in and out of the house all day. As a blogger, I generally work at the kitchen table intermittently in between coffee runs, family commitments and regular trips to the post office to collect parcels.
Therefore an outfit of some description is required but one that is comfortable and easy to dress up when I (temporarily) leave the house. For me, flats are necessary so too comfort and layers, taking into account the heating inside and the cooler temperature outside.
Most cold days, I like to wear a soft, comfortable pair of pants or worn in jeans. A light knit over which I can throw a heavier anorak or coat is also ideal. Add to that a scarf, which doubles as an injection of colour and practical warmth and a comfortable pair of flats, and I'm ready for anything my threenager day can throw at me. Well, nearly.
I've found that one of the bonuses of working from home is that I can wear anything I like any day, depending on my mood. I don't feel restricted colour wise either and I wear a lot less black than I used to. On the flipside, so much choice can be overwhelming.
What you feel comfortable in when you work from home varies but I find texture and comfort are good guides – wearing soft merino (like this super soft dress), cotton jersey, worn in denim and leggings. In terms of footwear, flats work best for me (Converse, runners and ankle boots) and seem to cover most contingencies. I'm also planning to buy a pair of Rollies this Winter too (thank you Colour Me Anna for putting me on to them) – they are lightweight, look fab and come in a range of colours and fun prints.
What's the dress code for your work? What do you usually wear? Do you suffer from Monday Morning Wardrobe Despair?