How was the weather in your neck of the woods, this last week?
While we've had a bit of everything going on here in Melbs as per usual, on the weekend we had two beautiful days of sunshine and mild temperatures.
You could practically feel the collective surge of positivity and lifting of spirits.
Not to mention the Spring cleaning: lawn mowers were out in full force all over the 'hood; washing lines were filled with sheets (is there anything better than line dried laundry?); and I for one was airing the house like a woman possessed.
The beginning of Spring according to the calendar is one thing.
The start of mild weather is another.
When it finally comes, it means a change in our collective headspace.
It can also have some of us looking at our every day wardrobes with fresh eyes.
At the changing of the season, I tend to do a wardrobe edit of sorts. I've already put away my long boots and heavier knits (possibly wishful thinking but I still have my coats at the ready). I'm now thinking about what Spring/Summer clothes I can wear now with a layer over the top or underneath.
The beginning of a new season is a good time to rethink our work wardrobes too.
The idea behind these What to Wear to Work posts is to help you with your wardrobe edit, help you use what you already have and identify any gaps that may need filling in your every day work wardrobe.
All the outfits I'm sharing today are examples of easy work outfits that value comfort as much as style. After all, you're wearing them all day so you want to feel great as well as look good.
In terms of workplaces, I'm covering work wear appropriate for an office environment, those of us working from home and, thanks to a reader request, some inspiration for those working with children in schools, preschools and child care. If you'd like some inspo for your workplace for my next post, feel free to message me or leave a comment below.
(If you're after some ideas for a corporate work place, check out my previous What to Work post here).
I've also deliberately chosen super versatile "hero" pieces in all these outfits too – pieces that can be worn in a number of different ways as the weather warms up and those invitations for all the end of year do's start flooding in.
So, let's start with some inspo for what to wear in an office.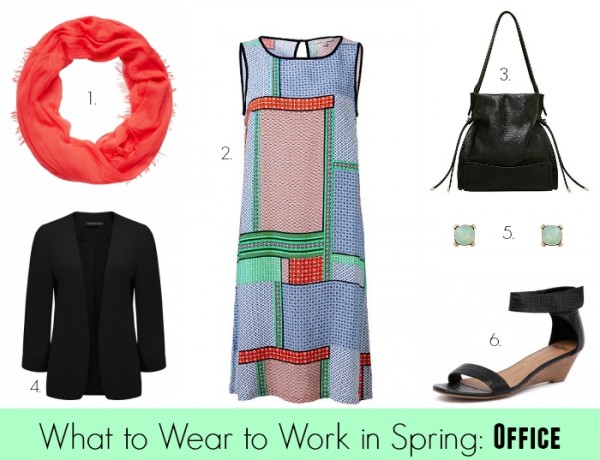 1. Red Loop Scarf, $24.95 from Sussan; 2. Sleeveless Shift dress in Tile Print, $29 from Target; 3. Slouch Drawstring Tote, $89.95 from Seed Heritage; 4. Molly Boyfriend Blazer, $69.99 from Forever New; 5. Mini Jewel Stud, $49.95 from Mimco; 6. Muscles wedge in Black by Mollini, $139.95 from Styletread.
The hero of this outfit is this great dress from Target. Coming in at $29 and in sizes 6 – 20, it's an easy and well priced wardrobe update.
The vibrant jewel tones of green, tomato red and cobalt blue brighten things up while the inclusion of black in the print makes it easy to work back with a black based work wardrobe.
This is also one of those dresses that you can dress up or down all Spring/Summer long. Come the weekend, all this dress needs is a pair of sandals, thongs or espadrilles and a denim jacket and you've got yourself a relaxed but stylish casual outfit.
If you're living in a cooler climate, the blazer and scarf will provide some warmth for fresh mornings and uncomfortable levels of air con. If it's already warm where you live, a simple pair of studs and a great pair of wedges might be all you need.
Now some inspo for those who work with kids. I don't do this professionally of course, but this outfit would also work for me at home caring for Mr 4.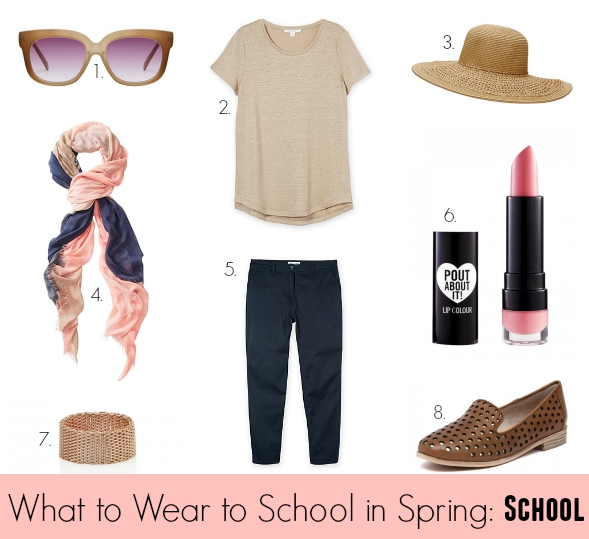 1. Sabrina Sunglasses, $49.95 from Seed Heritage; 2. Linen Tee, $49.95 from Trenery; 3. Woven Sunhat, $69.95 from Witchery; 4. Block Scarf in Blush Pink, $20 from Target; 5. Washed Chinos, $99.95 from Country Road; 6. Pout About it Lipstick in Beauty Queen, $9.95 from Sportsgirl; 7. Meshing About Ring, $12.95 from Sportsgirl; 8. Quefty in Tan by Mollini, $169.95 from Styletread.
The three main elements of this outfit are more expensive but neutral investment pieces, while some of the accessories are more budget updates.
You don't want to be updating your work basics all the time so investing in some quality pieces, particularly if you can also wear them on the weekend, is a sensible way to go.
This Trenery linen tee is breathable, comfortable but dressy enough for work and provides some arm coverage. If you're after a dressy sleeveless tank, check out the one I wore here.
I've bought a pair of these chinos myself to wear with trainers and a tee but here I've paired them with a super cool pair of loafers which provide some ventilation on warm days. Pants are easy to throw on of a work morning and also work well when you're with kids on the floor/mat or busy running around the place.
I've also been sure to include sunnies and a wide brim hat for sun protection for yard duty and time spent outside.
And now on to our third and final outfit – an outfit idea for someone who works from home. Whether that's working for yourself, caring for your kids or a bit of everything.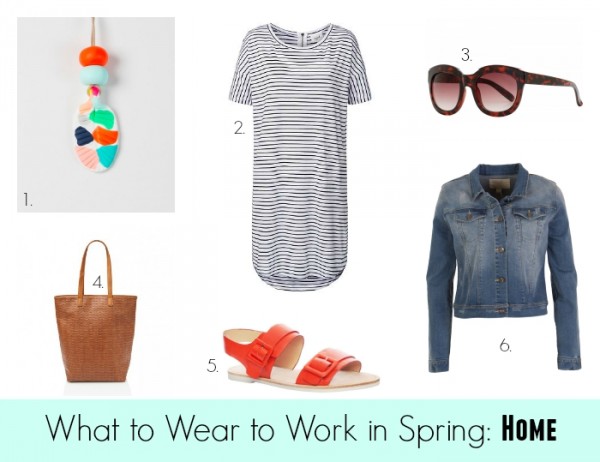 1. Multi Coloured Neon Feather Necklace, $44.95 from Dear Mabel Handmade; 2. Two Stripe Tee Dress, $49.95 from Seed Heritage; 3. Tortoiseshell Mae Sunglasses, $34.95 from Sussan; 4. Woven Unstructured Tote, $49.95 from Sportsgirl; 5. Phoenix Sandal in Orange, $189 from Gorman; Boho Bird denim jacket, $99.95 from Birdsnest.
As someone who works from home blogging slash caring for our kids, I need a predominantly casual wardrobe with exercise gear and the occasional smart casual outfit thrown in to the mix.
Easy dresses are my Spring staple and the striped t-shirt dress has to be the casual dress of the season. You'll find them across most stores and price points too.
I'm loving this well priced Seed Heritage option here. It's relaxed, comfortable and an easy every day option when you work from home in between running errands, multi-tasking or caring for kids.
I've dressed it up here a bit with these absolutely gorgeous orange sandals from Gorman. I don't think you can go wrong with navy and orange at the best of times, although when a stripe is involved, I'm all love heart eyes and then some.
This fun pendant from Dear Mabel is a fun way to add a pop of colour and brighten up a plain or striped tee or dress. It would look the goods with anything chambray too and has plenty of colours to work with.
If you'd prefer a scarf to a pendant, something like this fab Abstract Print Scarf, $39.95 from Sussan would also work.
Given the changeable weather here down South, it's always good to have a jacket on hand in Spring. A denim jacket is a great wardrobe basic and can be thrown over almost anything.
If you'd like to update your denim jacket or are looking for a slightly dressier alternative, it's worth checking out a denim trench coat, like this Denim Trench Coat from Sussan.
For more ideas and inspo, check out my everyday style here.
This post contains affiliate links. You don't pay any extra but I earn a small commission. You can read my Disclosure Policy here.
Are you wearing anything from your Spring wardrobe yet? What do you generally wear to work in Spring? Which of the above would work for you?