I remember fondly many Springs where my social calendar was peppered with weddings.
With wide social networks and the fact that Mr SnS was able to perform marriage ceremonies, we were lucky enough to be invited to many weddings in our BK (Before Kids) lives.
And of all the events I've been invited to over the years, I'd have to say that weddings are definitely and absolutely my favourite. There's that palpable atmosphere of love, optimism and support as a couple commits to each other in front of all their loved ones.
Deciding what to wear to such an event is a big part of the fun for me. I LOVE planning my outfit in the weeks – OK months – leading up to the event, but I know that this can be a bit overwhelming or stressful, particularly if you haven't been to a wedding for a while or you're just not sure where to start.
If you are looking for some inspo for an upcoming event – whether it's a wedding, engagement party, birthday party or other special soiree – you'll find plenty of ideas and direction in this post.
1. Embrace Colour – after the muted neutrals and bold jewels tones of Winter, an occasion is the perfect opportunity to embrace the fresh colour palettes of Spring.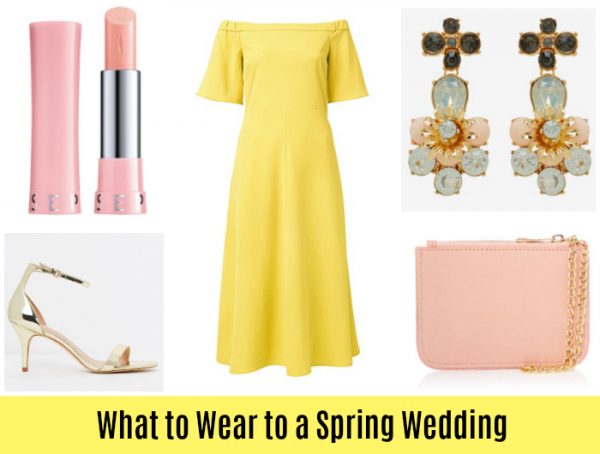 ABOVE, CLOCKWISE FROM TOP LEFT: Delicate lipstick, $20 from Sephora; Off the Shoulder Flutter Dress, $159.95 from Witchery; Ornate Earrings, $29.95 from Seed Heritage;  Chain Purse, $9.95 from Dotti; Zenavia Heels, $89 from The Iconic.
Spring fashion is usually brimming with pastels, pinks and lighter neutrals. This Spring, if you're looking for colour, you're spoilt for choice. You'll find acid yellows – I love this show stopper pictured above – pale blush through to rose pinks, corals and apricots. French and nautical inspired palettes of navy, red and white are also well represented.
I'd steer clear of white and cream block coloured dresses though. Unless you know the bride is wearing a different colour – which some brides do – leave your white or cream frock for another day.
2. Pretty Prints  – I'm especially partial to a floral at this time of year and this Spring you'll find everything from oversized colourful floral prints through to modern monochrome variations. Paired with simple accessories and a bold lip, a floral dress with complimentary accessories is always a winner in my book.
3. Use the Venue and Time of the Event as a Guide – Often invitations will specify a dress code to help their guests but you can also take cues from the location, venue and time of the event as well.
Is it an evening affair at an inner city location with a cocktail party or formal dress code? Maybe incorporate some  statement earrings, a fabulous LND (Little Navy Dress) or variations and finish the outfit off with some metallic accessories, as in this outfit below.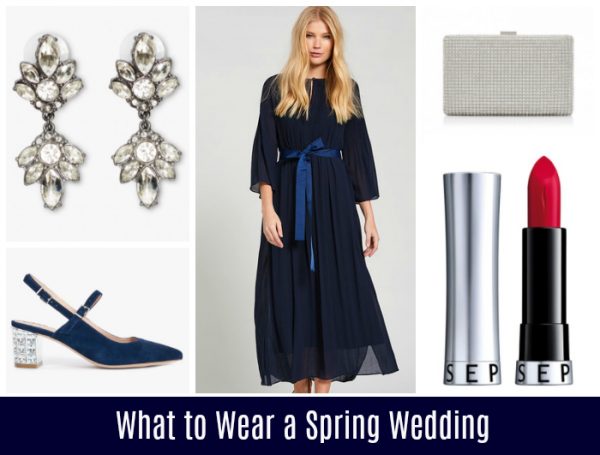 ABOVE, CLOCKWISE FROM TOP LEFT: The Sparkler Earrings, $39.95 from Alannah Hill; The Yacht Maxi, $179 from Bohemian Traders; Christy Embellished Clutch, $69.99 from Forever New; Sephora Collection Lipstick in Royal Wedding, $17 from Sephora; Millionaire Moment Heels, $149 (on sale) from Alannah Hill.
Is it a day wedding in a garden? Perhaps consider a beautiful floral print or blush and pastel tones. For botanical modern prints, head to Veronika Maine and Witchery. For pretty floral prints, head to Portmans and Mister Zimi.
Is the wedding being held on a farm, in a vineyard or an orchard? Find a beautiful boho style dress in silk or viscose to suit the occasion and leave the stilettos at home. I love the dress ranges at Bohemian Traders and Spell Designs.
Likewise, for weddings held at the beach or in a tropical location, think beautiful maxi dresses with statement earrings, leather espadrille wedges or bejewelled flats.
4. Think All Day/Night Comfort – there's often a fair bit of standing around at weddings, especially if the reception is a cocktail party and not a sit down affair. Plan your outfit to include shoes that you can comfortably walk, stand and dance in and don't forget a co-ordinating cape, jacket, wrap or pashmina for when things cool down.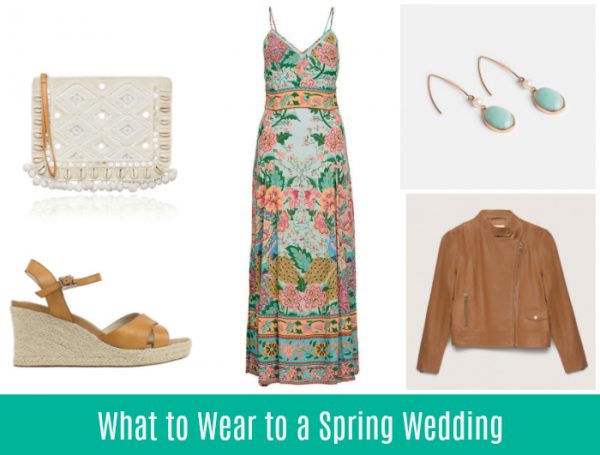 ABOVE, CLOCKWISE FROM TOP LEFT: Vera Shell Clutch Bag, $39.95 from Sportsgirl; Lotus Strappy Dress in Peacock, $279 from Spell Designs; Stolen Moment Earrings, $119 from Samantha Wills; Motto Leather Jacket, $299 (on sale) from Gorman; Alyce Tan Wedges, $219.95 from Frankie 4 Footwear.
5. Beg, Borrow, Recycle – Always shop your wardrobe before a big event. Chances are you can recycle an outfit you've worn elsewhere before or borrow bits and pieces from friends and family. Or, depending on how well you know the crowd and how many weddings you have on the calendar, it may make sense to buy one outfit and wear it multiple times.
Another thing I do to save cashola is to look for a dress that will work back perfectly with shoes, clutches or jewellery I already have, so the total outfit outlay is considerably less. Alternatively, update an old favourite with a new pair of shoes (such as an embroidered or metallic pair) or jewellery.
5. Book a blow wave – I always get my hair done for a wedding – it immediately makes me feel a million bucks. I usually try to time my usual cut and colour for the morning of the wedding but if they don't coincide, I will book a blow wave instead.
I'm also inclined to use a wedding as an excuse to book a spray tan and to get my nails done. Obviously, some of these things can be DIY-ed but it's worth planning the time it will take or booking your appointments in at least a couple of weeks out from the big day.
This post contains some affiliate links. You don't pay any extra and I earn a small commission. Read more in my Disclosure Policy here.
Do you have a wedding on the horizon? Or another special event? Which outfit would work best for you?