If, like me, you are finally boxing up your boots after a long, wet winter, you'll no doubt be happily re-acquainting yourself with some warmer weather foot wear.
And, once a bit of post winter foot maintenance is sorted (hello nail polish and a quick buff and moisturise), those formerly sock clad tootsies will be ready to enjoy some Spring shoe offerings.
This Spring, there is more variety on offer than ever before, with loads of styles, colours and detailing to choose from in both casual and dressy departments.
There really is something for everyone whether you spend your days running after little ones, in the office or from one party to the next.
So in today's post, I'm rounding up my picks of what's on offer to help you plan your shoe-drobe for the coming season.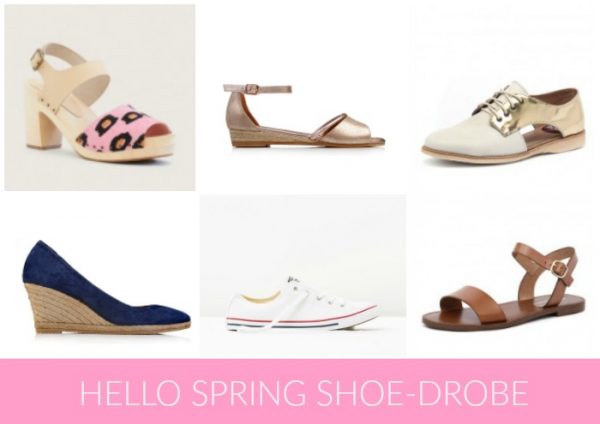 TOP ROW, L-R: Wild Life Clogs, $249 from Gorman; Valerie Wedge Espadrilles, $169.95 from Jo Mercer; Rollie Nation Sidecut Off White/Gold, $159.95 from Style Tread.
BOTTOM ROW, L-R: Teva Espadrilles in Navy, $199 from Jo Mercer; Chuck Taylors, $80 from The Iconic; Bondi Sandals in Tan, $89.95 from Style Tread.
The Derby – I'm a recent but nonetheless enthusiastic devotee of the derby.
As someone who spends her days working from home, running around after the kids and doing endless admin, these super comfortable but smart shoes seriously pack a style punch. They also work back nicely with my coffee.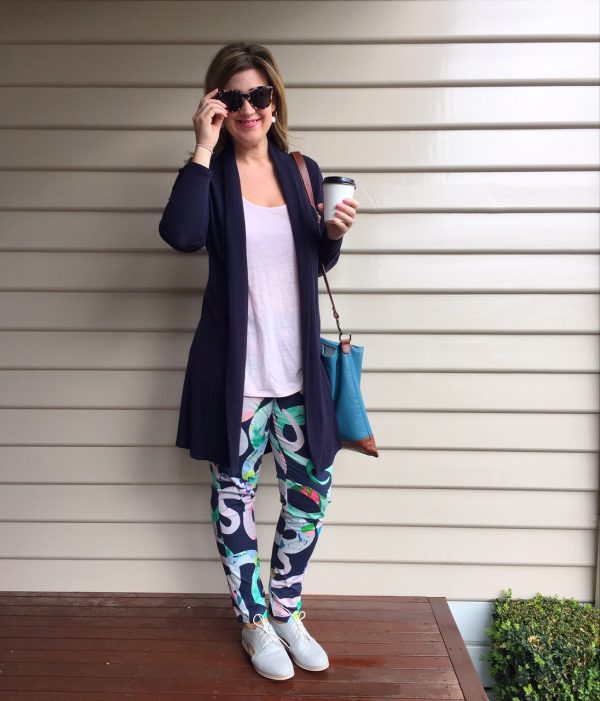 Above, I'm wearing Rollie Nation Slingbacks in Antique Silver, now available from Style Tread;
Better still, they can be worn with pretty much everything from a simple jeans/scarf/tee combo through to a dress and denim jacket scenario.
For a classic look, opt for white leather or tan with old school patterns and detailing or for a more modern take, consider metallic or perforated styles as I've done above.
The Block Heel – If you're looking for a good looking heel which offers more support than sky high stilettos, it's hard to go past a block heel.  With a decent block heel, you can go higher than you might otherwise without sacrificing stability.
I'm loving new season styles incorporating suede and braid detailing or colour, perforations and laces as well as classic, pared back styles which move between work and play effortlessly.
The Sandal – a great pair of sandals is a must have in any casual wardrobe.
From your regular, every day tan sandals (such as those pictured above) through to an embellished pair of statement sandals, you'll generally get plenty of wear from any pair of sandals, particularly if you, like many of us, take an extended break over the summer or have a predominantly casual wardrobe.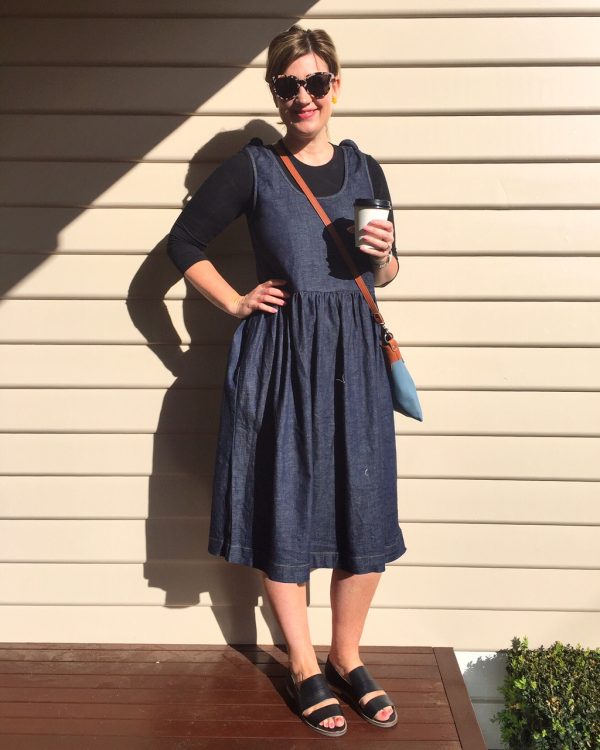 Above, I'm wearing the Reim Sandals  from Elk Accessories
I've been after a new pair of black sandals and recently came upon this Elk Accessories version above, but I'm also feeling drawn to retro styles and colourful variations.
Perhaps once I've sorted the basics (tan and black in my case), I can justify some fun pairs. I'm seriously loving the new range at Bared Footwear too, with plenty of on trend gladiator, snakeskin and lace up styles.
The Espadrille – If there's a shoe that says relaxed holiday vibes, it would have to be the espadrille.
If you've been in store or online of late, you'll have seen more espadrilles than you could poke an icypole stick at: wedge espadrilles like those pictured above, peep toe sandal style espadrilles and flat espadrilles in a range of fabrications from denim, metallic through to leopard and floral prints and suede.
I love a low wedge for weekdays and a more substantial high wedge, like the navy pair above, for dressier scenarios.
The Trainer – when you're spending your days literally running around after family, kids or pets, you'll probably be needed a comfortable pair of trainers.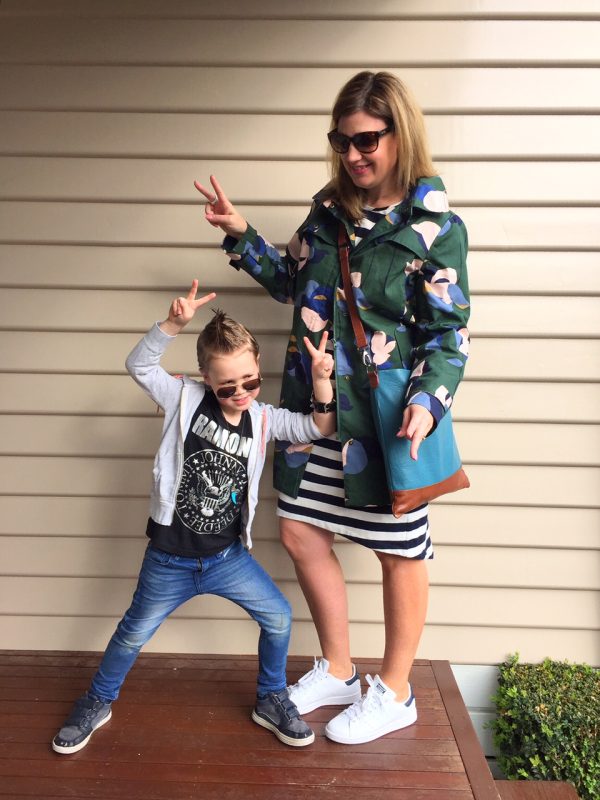 Above, I'm wearing Stan Smith Originals by Adidas from The Iconic.
You might opt for actual running shoes, with all the latest cushioning and support features, or a fashionably faux pair of trainers might be all that's required. I generally save my expensive running shoes for exercise and invest in a much less expensive but street cool alternative for casual days.
If you're in the market, metallic trainers have been all the rage for some time and with good reason – they add instant glam to an otherwise super casual outfit.
If you're looking for something different but equally versatile though, perhaps consider white, classic navy or leopard print.
The Clog – Some people wear clogs all year round, looking fabulous with socks and tights while they read their Frankie magazines (how I love this look), but I find that I tend to wear clogs mostly at this time of year sans hosiery.
As well as classic Euro brands such as Funkis Swedish Forms and Lotta from Stockholm, you'll always find some fun clogs at your local Gorman store.
Pair with a vintage dress or a full skirt for retro fun or with Marimekko or geometric prints for a modern, designer look.
The Wedge – if you're looking for a shoe style that happily traverses sensible work wear through to high fashion, it's hard to go past the wedge. This versatile and comfortable shoe is a mash up of so many good things and looks great paired with skinny jeans and a blazer, a statement or fitted denim dress or a pencil skirt.
I love a tan or light neutral coloured wedge too as it elongates legs.
This season, you'll find lots of lace up detailing, perforations and other embellishments in higher styles while there are still plenty of low wedge, ankle strap variations around if you're looking for an everyday work or play shoe.
So what to buy this Spring?
If you spend your days kid wrangling or working from home, I reckon you're covered if you have sandals, derbys, trainers and one dressier shoe (clogs, block heels or a decent wedge).
If you split your week between home and work, two pairs of flats (sandals, derbys and/or trainers) and two mid heels such as a low wedge and a mid block heel should cover most conceivable scenarios.
If you work full time and have a few functions and parties coming up, I'd go with a neutral high fashion wedge for weekends, a quality but comfortable block heel that can cover both work and dressier do's and one to two pairs of flat shoes for weekends. A comfortable but dressy derby could be a versatile option here.
This post contains some affiliate links. You don't pay any extra and I earn a small commission. Read more in my Disclosure Policy here.
What's on your shoe wish list this Spring? What's your favourite style of the above?