We're officially half way through Spring.
I know. Can you believe it?
Already.
I don't know about you, but I've been adding pieces to my Spring wardrobe for at least two months, hoping that we will see plenty of sunshine and mild days – i.e. opportunities – to wear them.
I've been slowly adding a few key pieces that will serve me well this Spring not to mention over Summer and into Autumn next year.
I know a lot of people, however, who find this time of year baffling in terms of what to wear and what to buy. The weather is often unpredictable, and in the southern states, can lurch from summer to winter and everything in between. As soon as you dip a toe in your summer wardrobe, it's back to rain and cool temps.
Or, the focus can be on finding outfits for Spring Racing (I'll cover that next week) or other special occasions like weddings, birthdays and end of year functions. This is fine, but of course, most days call for casual, comfortable basics.
Building a workable wardrobe of casual basics can be tricky. I think the key is to find the gaps in your existing wardrobe, add a couple of pops of new season colour, if you need to, and only invest in the pieces that you know you will wear this Spring and beyond. For me, this is a new pair of pants (8) and a new denim skirt (3).
In this post, I've put together a casual Spring capsule wardrobe which can be dressed up or down, according to what the day holds. The idea is that the pieces can be be worked back with each other (and what you already have), in various combinations. It might be that you have several similar items but are just looking for that one or two piece/s to bring it all together. I hope this post helps you with that.
I've included a pair of flats but of course there plenty of shoe options that would work and a heel or wedge will add another set of outfitting possibilities.
The statement accessories include fun prints, texture and metallic accents which shooj up a basic outfit and are neutral enough to work across most wardrobes.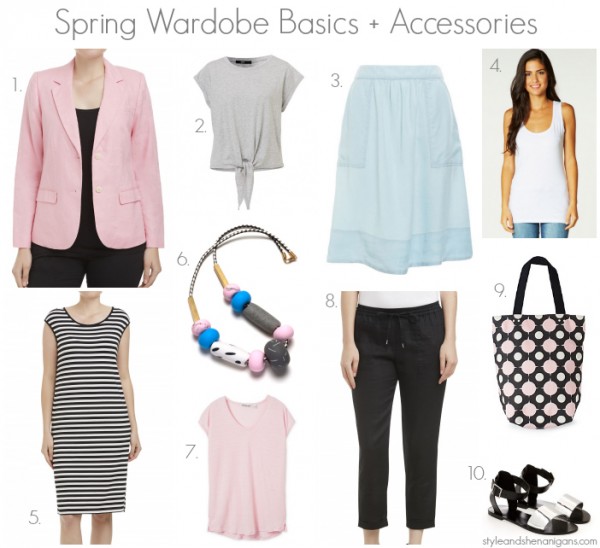 1. Linen Blazer in Petal, $99.95 from Sussan; 2. Tie Front Tee, $29.95 from Sportsgirl; 3. Reyna Soft Skirt, $149.95 from Sportscraft; 4. Plain Tank, $12.99 from Glassons; 5. Stripe Cap Sleeve Dress, $89.95 from Sussan; 6. Anita Big Bead Necklace, $82 from Emily Green; 7. Linen T-Shirt $49.95, from Country Road; 8. Summer Linen Pant, $69.95 from Sussan; 9. Circle Geometric Print Shopper, $59.95; 10. Rihanna Sandal, $79.95 from Portmans.
So, without further ado, my Spring wardrobe of casual basics includes:
1. A couple of basic tees in neutral colours and different styles (2, 4 & 7). The tie front tee is everywhere at the moment – I've bought a couple from Sportsgirl and Zara. They look great with a pair of cropped jeans or pants, a high waisted skirt or shorts.
A fresh white singlet top is always a good thing too. Glassons are doing a great range of basic singlets in a range of colours, lengths and styles and they currently on promotion for 2 for $20;
2. A comfortable pair of pants (other than jeans) to add some variety to your wardrobe and that you can dress up or down. I've chosen these fab Summer Linen Pants from Sussan (8). I have a pair of these and they are versatile, comfy and go with practically everything. The fold up cuff detail is nice touch too. If you're happy with last year's soft pant, go with those;
3. A denim skirt (3). I've gone with a light chambray full skirt here which is very summer 2014 and looks a dream worked back with pastels but a denim skirt of any description is a great basic;
4. A comfortable dress that can be dressed up or down (5). I think we all know how I feel about stripes, suffice to say stripes are a great foil against a block colour, especially this season's pop of pastel pink;
5. A light weight jacket. This gorgeous pastel pink jacket (1) looks great paired with denim, is easy to throw over any neutral frock and will cover smart casual to work outfits;
6. Statement accessories (6, 9 and 10). A couple of great accessories can bring together a simple outfit and work across a wardrobe of neutrals, providing endless outfitting possibilities. As it warms up, scarves are out but a printed bag or jewellery can be another fun way to introduce some colour and interest.
Below, I've mix and matched the pieces to create a variety of smart casual outfits.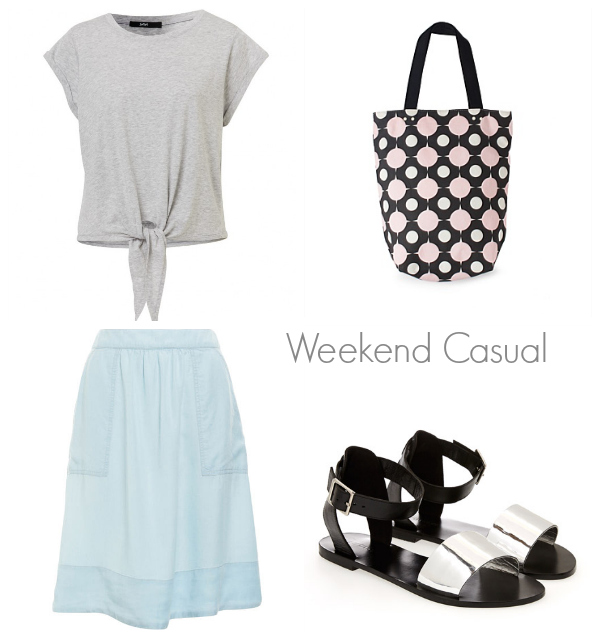 ABOVE: 2 + 3+ 9 + 10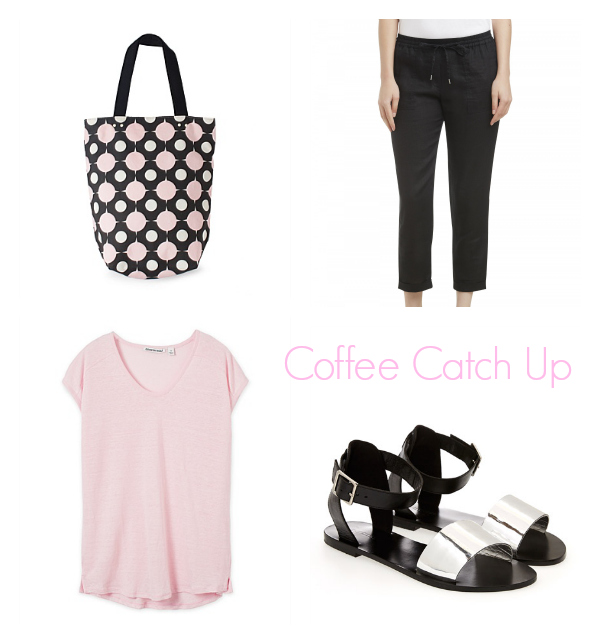 ABOVE: 7 + 8 + 9 + 10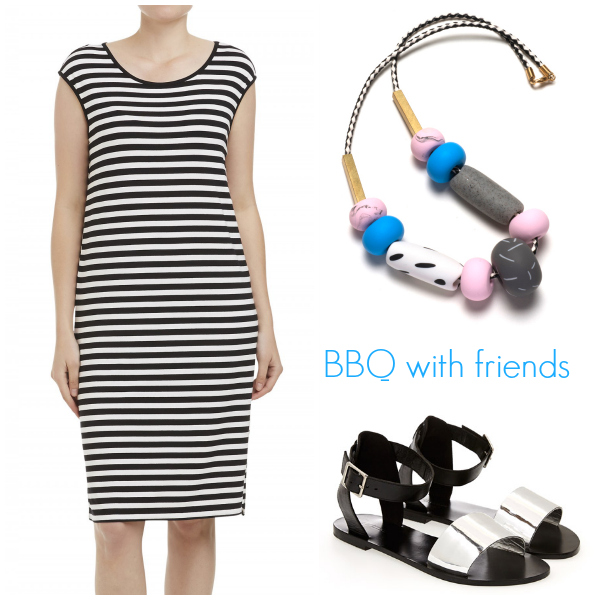 ABOVE: 5 + 6 + 10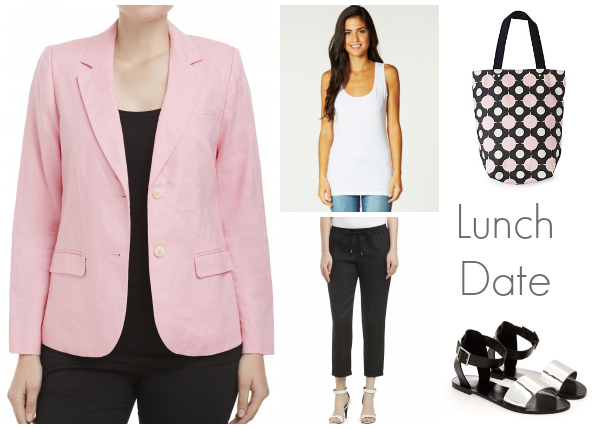 ABOVE: 1 + 4 + 8 + 9 + 10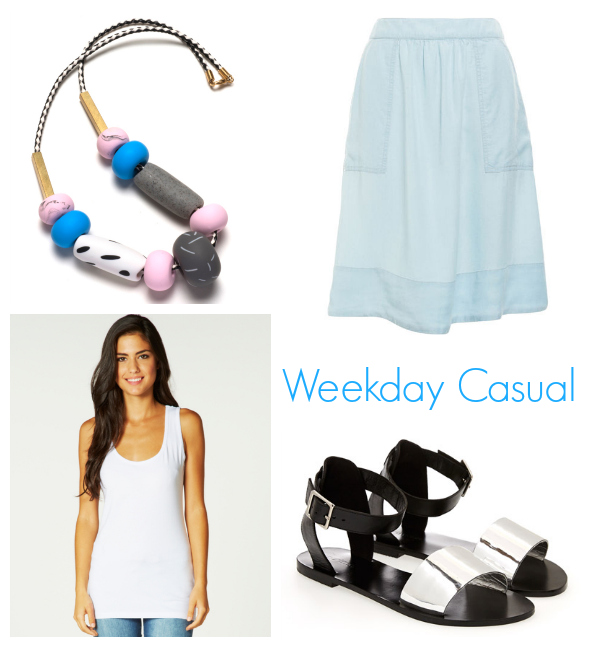 ABOVE: 3 + 4 + 6 + 10
What do you consider to be essential in your Spring wardrobe? Do you find it easier to dress casually or do you prefer to dress up? Do you find it easy to mix and match the pieces in your wardrobe? What's your fave outfit of the above?