How many of us have a functional and fabulous work wardrobe?
Or do you sometimes, or perhaps often, find yourself standing in front of the wardrobe wondering what to wear to work … again?
I'm hearing you ladies. LOUD and clear.
Whether you work full time or part time, the goal for many of us is to create a well edited capsule wardrobe of sorts where everything works back together while still having some variety, colour and personality.
When I was working in a corporate work environment, my starting point was quality, tailored pieces that were timeless yet versatile. With a few great foundation pieces in place, I could then have fun can with the accessories, colour and prints. I still take this approach and in this post, I'm sharing what I think are the core basics for a functional yet fabulous corporate work wardrobe.
If you work in a less formal environment, there's often much more overlap between work and weekend wardrobes, and my recent post Autumn Basics: Casual/Smart Casual Wardrobe will help you nut out those foundation pieces.
If you do need a few dressier or formal pieces for your work wardrobe (for presentations, training, interviews or other work functions), this post should give you some direction too.
Finally, if you're starting from scratch and re-entering the work place after a break, you might be asking what do I need in a work wardrobe? I think covering off the following pieces will give you a practical yet fabulous start.
1. A Great Pair of Black (Or Other Neutral) Pants and/or Skirt
Once upon a time I would have said a tailored black suit combo with a jacket, pants and a skirt would be the first and best place to start when it comes to building a corporate work wardrobe. I still remember my Mum and I going to Jigsaw to buy my first suit for my Articles year back in '00!
It may still be for some formal work places and if that's the case, I'd suggest a trip to Cue, Jigsaw, Country Road and Veronika Maine. They're definitely at a higher price point but are an excellent long term investment.  Portmans' more budget friendly workwear range is well worth a look too.
However, recognising that many corporate workplaces are now less formal than they used to be, a great pair of black pants or skirt, depending on your preference, or both if you're looking for more options, are still, in my view, the most practical foundation pieces.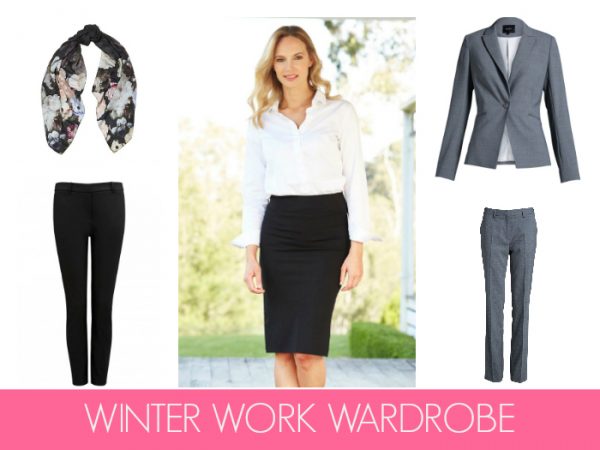 ABOVE, CLOCKWISE FROM TOP LEFT: In the Mist Scarf, $99 from Mimco; Ponte Knee Length Pencil Skirt, $59.99 from Birdsnest; Frances Suit Jacket, $399 from SABA; Frances Suit Pant, $199 from SABA; Faye Full Length Slim Pants, $89.99 from Forever New.
A black skirt or pants will go with coloured tops and knits, instantly changing up the look. I'd invest here as much as you can too as if you can find a style that is comfortable, great quality and flattering, it will be your go to piece.
I've suggested black here but navy, cream or grey are also excellent neutral options although the lighter neutrals will obviously require more washing and care.
I've found great trousers and skirts over the years at Country Road and Veronika Maine and more budget friendly options at Forever New, Decjuba, Portmans and Target.
2. Block Coloured Knits/Tops
A few coloured knits and tops to pair with trousers and skirts or under suits, will provide you with some variety over your work week.
For fitted merino wool knits that look great tucked into trousers and pencil skirts, I'd recommend Glassons, Portmans, SABA, Witchery and Seed Heritage.
For block coloured tops, I'd recommend Witchery, Veronika Maine, Cue and Country Road. All these retailers often include on trend styles of blouses, shirts, peplum and shell tops and have regular promotions, so keep an eye on any styles you like and make the most of the sales.
Marcs always have a beautiful range of silk shirts and stripe knits too.
For more inspo on how to work this classic look, check out my post on How to Dress Like Rachel Zane from SUITS.
3. Printed Tops/Knits
A printed top, blouse or knit can add some interest and depth to your work wardrobe.
I'm not necessarily talking here of big florals and geometric prints (although I do love those paired with a tailored skirt or pants). A chic black and white stripe or small polka dot print in monochrome colour way is an easy way to start here. You might then like to introduce more colour, like the striped knit and floral blouse below.
If you look for prints with black – or your main neutral – in their colour palette too, you'll find these pieces create some variety while still being practical pieces.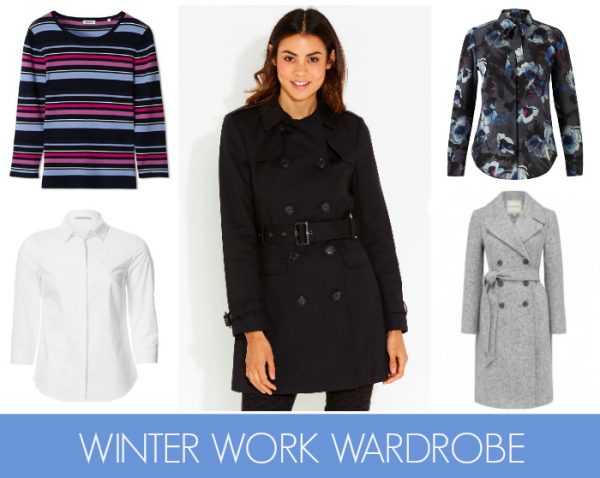 ABOVE, CLOCKWISE FROM TOP LEFT: Sweet Stripe Crop Sleeve Knit, $139.95 from Marcs; Timeless Trench in Black, $149.95 from Portmans; Lotus Print Silk Pussy Bow Tie Blouse, $149.25 from David Lawrence; Isla Midi Wrap Coat, $159.99 from Forever New; 3/4 Sleeve Basic Shirt, $15 from Target.
4. Coat/Trench Coat/Suit Jacket
In the southern states, a warm Winter coat is a must for the early morning commute. I'd recommend a camel, black or cream wool coat if you're looking for a long term investment, but once you've covered that off, a bright royal blue, red (like the Marcs version pictured below), green or pink is a wonderful addition.
For those milder days and in between times, a tailored jacket is another great option to throw over a dress or with a pants/skirt combo. I'm loving the cut and price of this Target version.
If you live in milder climes, a tailored trench coat might suffice during the cooler months, lending an instant dose of corporate chic to any outfit.
In terms of where to shop, Boden, SABA, Marcs, Forever New and Witchery are my go to's in the wool coat and trench coat departments. For jackets, try Veronika Maine and Cue.
You'll find more budget friendly options at Portmans, Target and Birdsnest.
5. A Dress 
I couldn't not include a dress in any work capsule wardrobe.
They not only provide an alternative to pants, but they're such an easy, ready made outfit option on those rushed mornings when you don't have time to plan an outfit. Simply add tights, heels, a scarf and pop on a coat and you're ready to roll.
A classic black shift is a great option for the warmer months – just pop a shirt or fine knit under it as it cools down for year round versatility.
I love the warmth of a knitted dress, particularly worn with tights and boots. Jersey and wool styles, like the Birdsnest dress below, are also great options.
SABA always have a great range of wool dresses, and you'll always find a knitted dress or three in Boden's Autumn/Winter ranges (being a UK brand, their AW17/18 range will launch in early July).
For jersey and printed dresses, you can't go past Leona Edmiston. I'm also a fan of the well priced Jersey Drape Dress and  Ruched Waist Midi Dress, both from Birdsnest.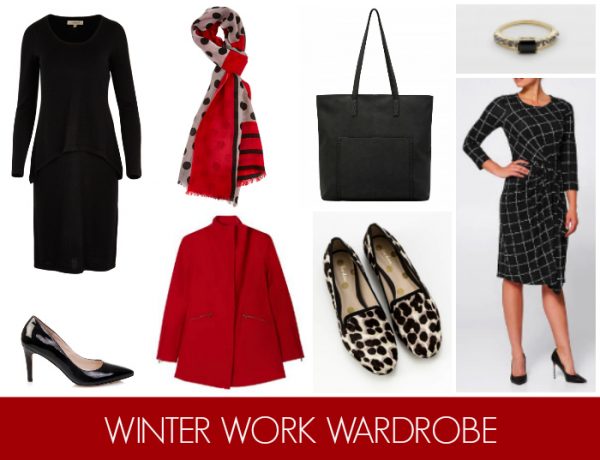 ABOVE, CLOCKWISE FROM TOP LEFT: Natural Knit Dress, $229 from Birdsnest; Merino Wool Scarf, $54.95 from Birdsnest; Black Tote, $69.95 from Sussan; Eva Ring, $29.95 from Country Road; Mock Wrap Dress, $39 from Target; Slipper Shoe, $130 from Boden; Rose Felted Wool Jacket, $269.96 from Marcs; Nigella Patent Pumps, $149.95 from Jo Mercer.
6. Shoes
If I had to drill down what shoes are essential for a tightly edited work wardrobe, I'd say a heel that you find comfortable to wear all day long and a pair of dressy flats. By dressy, I mean a pointed flat, a jewelled or patent pair of ballet flats or a dressy pair of brogues/loafers/slippers like the Leopard Print style from Boden above. Retailers like Joanne Mercer cover off all of these styles.
Frankie 4 Footwear also do great brogues, boots and heeled sandals too if all day comfort is a priority.
If I had a third or fourth option, I'd add in a mid heeled pair of Mary Janes, a suede wedge or a pair of boots. Again, over time, these options can be added once the basics are covered off.
7. Accessories
I don't think you need a lot in the accessories department for a work wardrobe but a couple of fabulous pieces can add some real interest and depth to a block coloured wardrobe.
I'd generally include a couple of scarves in different colour ways to pair with block coloured tops and knits; some small earrings that pick up or introduce colours in your favourite metallic (Portmans and Country Road do some great costume jewellery); and a decent sized handbag that fits all your techie or comfort requirements for a day on the job.
If you're looking for a new season printed scarf to add to your neutral work wardrobe, check out this new printed scarf from Witchery.
Once the basics are covered off?
Once I've covered off some of the key foundation pieces, I'd add in a second neutral base colour in the pants/skirt/suit department and have some fun with statement pieces such as printed pencil skirts or trousers, a boucle or other textured jacket or a bold block coloured jacket or dress in say cobalt blue, teal, red or emerald green. Basically whatever suits your budget, personality and work environment.
I've also been known to graduate some of my favourite going out pieces to the dressier end of my work wardrobe after several wears.
This post contains some affiliate links. You don't pay any extra and I earn a small commission. Read more in my Disclosure Policy here.
What are the key, foundation pieces in your work wardrobe? Where do you shop for great work wear? Please ask if you have any questions!