It's not just Prince Harry who is mad for Suits' star Meghan Markle who plays the clever, beautiful and always stylish paralegal Rachel Zane.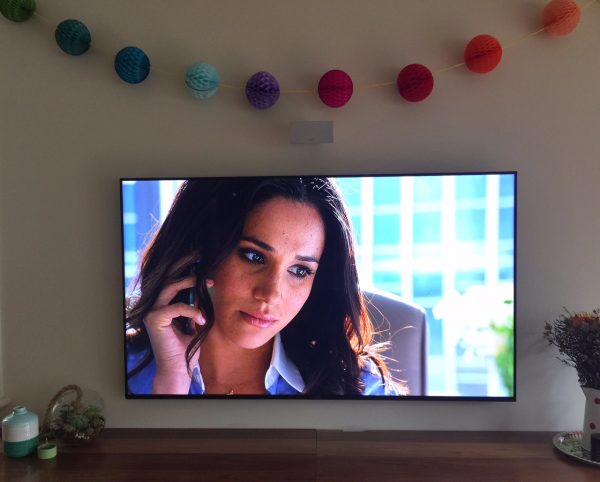 This is how I'd like to look when I receive any phone call.
As a SUITS newbie – I only started watching it on Netflix three weeks ago but I'm midway through Season 4 already – I've been lapping up and LOVING all the office politics at Pearson Hardman.
From the impeccably dressed, perfectly coiffed, highly attractive yet arrogant Harvey Specter; the street smart, conscience riddled and enterprising Mike Ross; the hilarious, straight talking and all round Babe Town Donna Poulson; to the brilliantly complex, approval seeking, origami, photo shopping and feline loving Louis Litt, I'm loving them all.
And then's there's Rachel.
How fab is she?
The feisty paralegal has got it going on – brains and boldness, tenacity and loyalty and, of course, an enormous heart. I love that she has emotional intelligence as well as being a force to be reckoned with. Sure, she ain't perfect but I still reckon she'd make an awesome friend or work colleague. Gosh, I'd even love her for a sister or a daughter in law. She also knows how to decorate an apartment but that's another post.
I digress.
I also love her fabulous outfits and her ah-mazing hair.
Like Carrie from Sex and the City and Clare from House of Cards before her, Rachel Zane's corporate wardrobe is fabulously chic and very distinctive. She somehow manages to always look professional and gorgeous – a look many of us would love to emulate. (That's clearly the case as there's a whole Pinterest board of her outfits which you can check out here).
And, having watched nearly 4 seasons now, I reckon I've nailed what makes Rachel's outfits so well put together. I also think that, physical features aside, Rachel's corporate look is actually achievable on some level for us ordinary peeps.
Don't believe me? Well, all you need to dress like Rachel Zane from Suits are the following …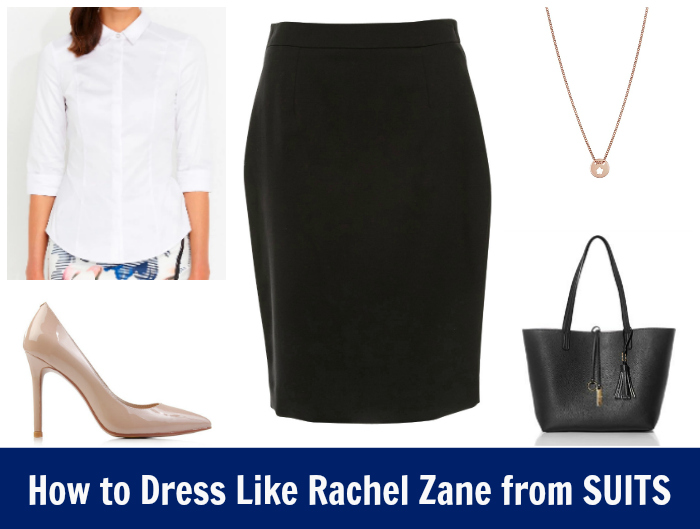 ABOVE, CLOCKWISE FROM TOP LEFT: The Classic Tailored Elbow Shirt, $69.95 from Portmans; Katelyn Pencil Skirt, $125.30 from SABA (currently 30% off); Open Star Pendant by Nicole Fendel, $89 from Birdsnest; Reversible Shopper, $96.75 from Marcs (currently 25% off); Eliza Dress Shoes in Nude Patent, $179.95 from Jo Mercer.
1. A Wardrobe Full of Pencil Skirts
Like Clare from House of Cards, Rachel Zane knows how to work a pencil skirt.
And then some.
In fact, it's rare to watch an episode where she's wearing anything else.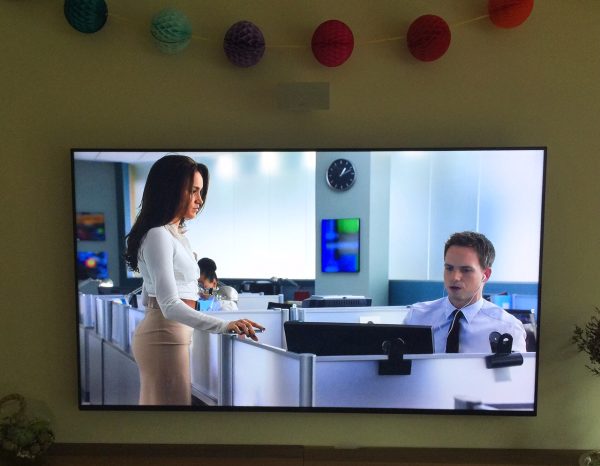 Hello, I'm looking fabulous. You must be Mike Ross.
She mixes up her tops but you can always rely on her wearing a high waisted, curve hugging, knee length pencil skirt for work. She often wears skirts with small belt loops so she can add a belt into the mix too.
Rachel's pencil skirts give her a polished and professional look as well as being incredibly flattering.
Sometimes, we see Rachel in jeans or pants but it's always leisure time, never for work.
Very occasionally, Rachel might wear a tailored shift dress to work (this is very much a Donna look though) but it will always be a fitted knee length dress, often with a high or boat neck, with a straight skirt.
If you're looking for pencil skirts to up your Rachel-ometer, head to Portmans, Zara, Saba, Cue, and Veronika Maine.
2. Fitted Shirts and Knits
In Seasons 1 – 3, Rachel's daily corporate uniform was a pencil skirt and fitted shirt combo. Her shirts are always unbuttoned tastefully to show some skin without being too revealing for the office.
She always cuffs too, for a more relaxed, 'I'm on the job' look.
She prefers lighter colours too – to contrast again her amazing hair perhaps – and she definitely has a rack in her wardrobe devoted to white fitted shirts.
Rachel's also a fan of the fine V-neck knit, which we've seen more of in Season 4. Again, tucked in to fitted pencil skirt, this is a tasteful corporate look that also flatters her amazing figure.
If you want to achieve this look, look for shirts, merino wool and other fine knits from Glassons, Cue, Veronika Maine, Zara, Portmans and Marcs.
3. Sky High Stilettos
I've never seen Rachel wear anything but sky high stilettos.
There are no wedges, block heels, flats and certainly no runners for the morning commute going on here.
She particularly favours a nude, pointed patent variety.
This might not be achievable, or frankly safe, for those of us dropping kids off en route to work or ordinary peeps doing the groceries or errands during our work lunch break, but you'll find nude pointed heels in less death defying heights at Nine West, Styled Tread and Joanne Mercer.
4. A Killer Blow Wave
Rachel has amazing hair and she knows how to use it.
There's no pony or top knot going on here. She always has her hair out in a great blow wave with plenty of volume, with her hair styled away from her face.
In fact, along with pencil skirts, I'd say Rachel's perfectly blow waved locks are the key to her overall look.
5. Awesome Brows, Big Eyes and Glossy Lips
Rachel has a beautiful face and her make up accentuates her natural beauty.
Her make up tends to highlight her eyes – think smoky eyes, dark eyeliner and plenty of mascara.
Her eyebrows are a work of art and frame her face beautifully.
To balance this, Rachel's lips tend to be glossy and in nude and light pink tones.
If you want to achieve a similar look, check out the great range of glossy lippies and eye products at Sephora and Sportsgirl. I can also recommend Blinc eyebrow mousse – I use it to darken and thicken my eyebrows.
6. Block Colours Rule
It's rare to see Rachel wear anything other than block colours. There are no spots, stripes or florals in Rachel Zane's wardrobe.
The nearest I have seen her come to wearing a print is a textured formal outfit – tweed with flecks of black, gold and white.
She often wears tonal outfits too – a top and skirt in similar colours but she does also love a classic white shirt/darker skirt combo.
She also tends to wear neutrals – creams, taupes, charcoals – steering away from bold and bright tones. Occasionally she'll wear a pastel on top (I just watched an ep where she wore a baby blue shirt) but she tends to stick to lighter, neutral tones overall.
7. Minimalist, Fine Jewellery
Like Australia's Nina Proudman, Rachel prefers a fine necklace to compliment her fab outfits.
You won't see big earrings or chunky, statement jewellery here, but she often wears small circular pendants on fine chains.
I've noticed that she doesn't tend to wear earrings too – perhaps they provide a distraction from her beautiful face and hair.
Check out Nicole Fendel for similar styles.
8. Designer Accessories
Mike Ross might love a messenger style satchel slung over his shoulder Uni student style, but Rachel Zane is all about the designer hand bag – preferably square and a decent size – held in her hand.
If she's wearing a coat, it'll be a very expensive trench or a neutral coloured double breasted option.
Check out The Iconic or Lyst for designer bags and Boden for designer looking coats and trenches without the price tag.
To keep up to speed with all things Rachel Zane, you can follow Meghan Markle on Instagram here.
This post contains some affiliate links. You don't pay any extra and I earn a small commission. Read more in my Disclosure Policy here.
Are you a big fan of Rachel Zane? What's your favourite outfit?