Welcome to the latest instalment of Styled Three Ways.
I love this regular post here and I hope you do too.
It's always fun and a bit of a challenge to work a fab new season piece several ways to hopefully provide some everyday styling inspo.
As I said in this post earlier this week, I know that at the start of any fashion season, many are looking for those pieces that will go the distance across both smart casual and work wardrobes.
The Rita Dress by Bird Keepers from Birdsnest, ticks both these boxes and more.
If you're not already familiar, the Bird Keepers range is one of Birdsnest's in house labels. It's a great collection of affordable and contemporary pieces that work separately and together that you can wear for many years to come.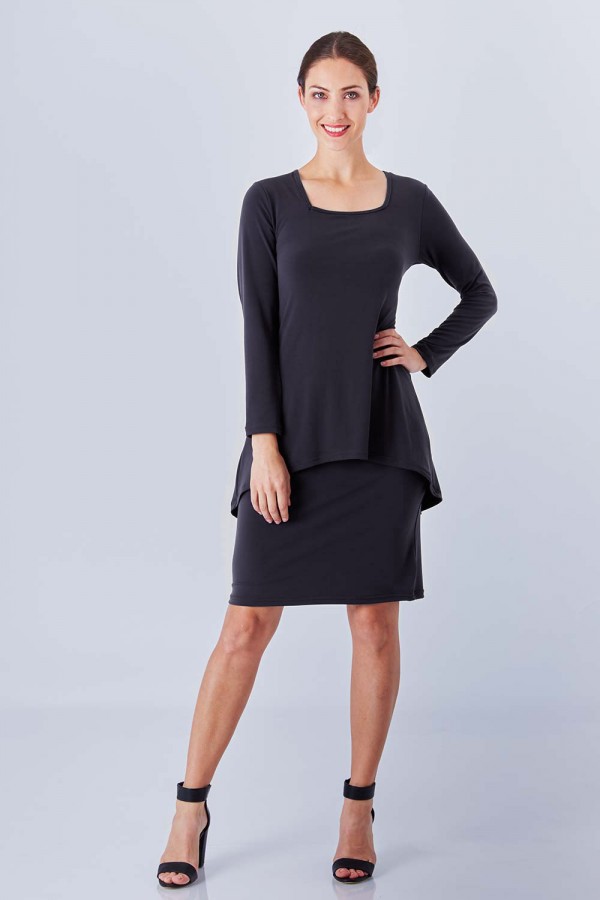 There are several reasons why I chose this dress.
To begin with, it's both an excellent LBD and a super versatile trans-seasonal dress that will see you from work to the weekend.
In terms of sizing, it's available in sizes 8 – 22 and I'd say the sizing is on the generous side too although the stretch of the fabric no doubt helps on that front. More on sizing below.
At $79.95, it's well priced too. I've seen similar styles in much more expensive labels.
Finally, this fab dress is available in three colours – black, khaki and smokey grey – so there's bound to be a colour to suit. It's good to know too if you love it so much, you want a second. I'm leaning towards the khaki for my next purchase!
So let's kick things off with me wearing the dress unadorned, so you can see the fit.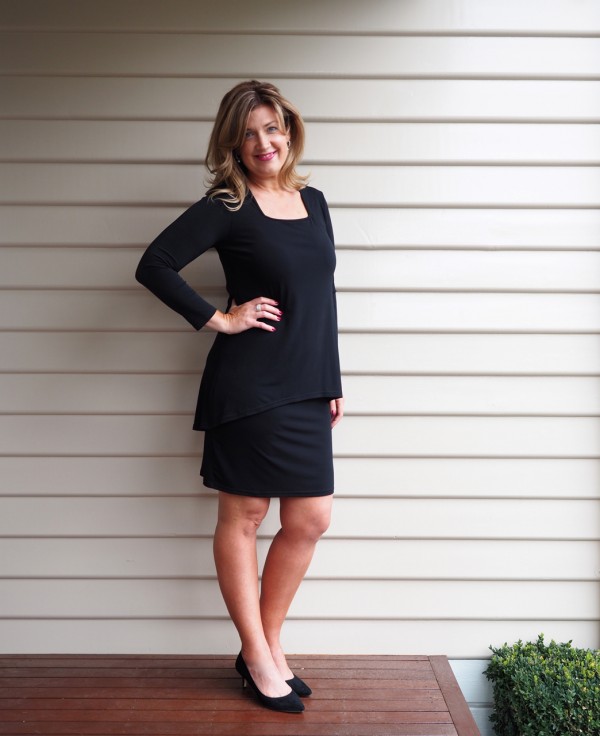 I'm wearing a size 12 and as you can see, it's a comfortable, generous fit thanks to the stretchy jersey fabrication. I often size up when things are on the fitted side but I didn't need to with this dress. If you're in between sizes, I'd size down, not up.
One of the things I love about this style is that it's fitted and flattering around the arms, chest and skirt while the overlay (made of the same fabric) skims and covers the stomach/hip/upper thigh area.
The slim pencil skirt and above knee length offset this nicely too but you still get the coverage of full length sleeves in the cooler months. Win win.
The square neckline is a point of difference too. If you're wearing this to work you'll be pleased to see that it's high enough for professional modesty not to mention coverage when it's cold.
It's ample enough to wear a necklace though and a nice change from the usual scoop and V neck offerings.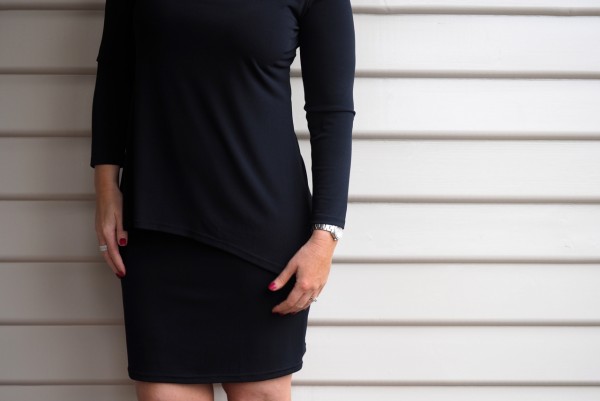 In the first outfit, below, I've gone for a smart casual look by simply adding a denim jacket and a pair of boots.
If it was colder, I'd add tights and a scarf.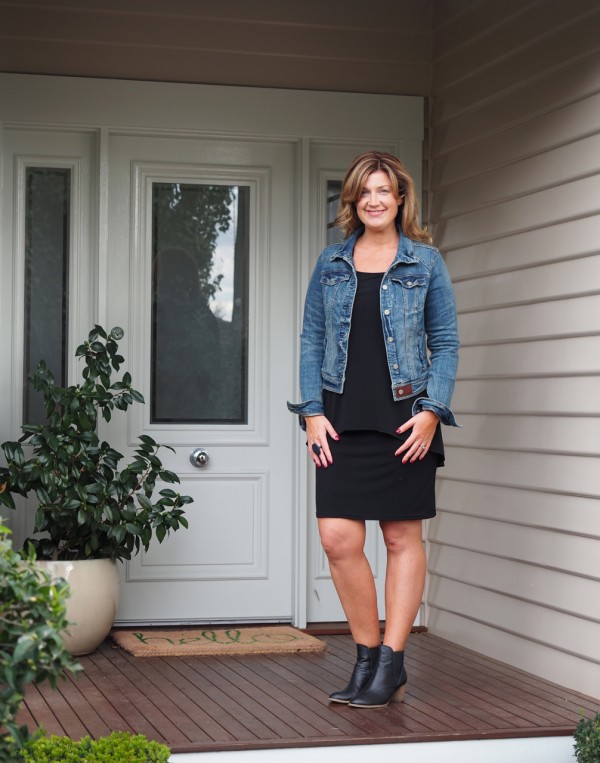 Above, I'm wearing a denim jacket from Anthropologie (bought in the US last year) over the Rita Dress from Bird Keepers from Birdsnest; ring from Elk Accessories and Sadore boots by Django and Juliette, available at Style Tread.
I'd wear this outfit for dinner with the girls, to the movies, out for a family brunch or on a date night with Mr SnS.
For the second and third outfits, I've put together two work appropriate looks. They'd also translate well to dinner dates, parties and other dressier do's.
Below, I've simply added a camel trench coat and a pair of leopard print heels. This is such a classic but chic combo which manages to look professional but fabulous all at once.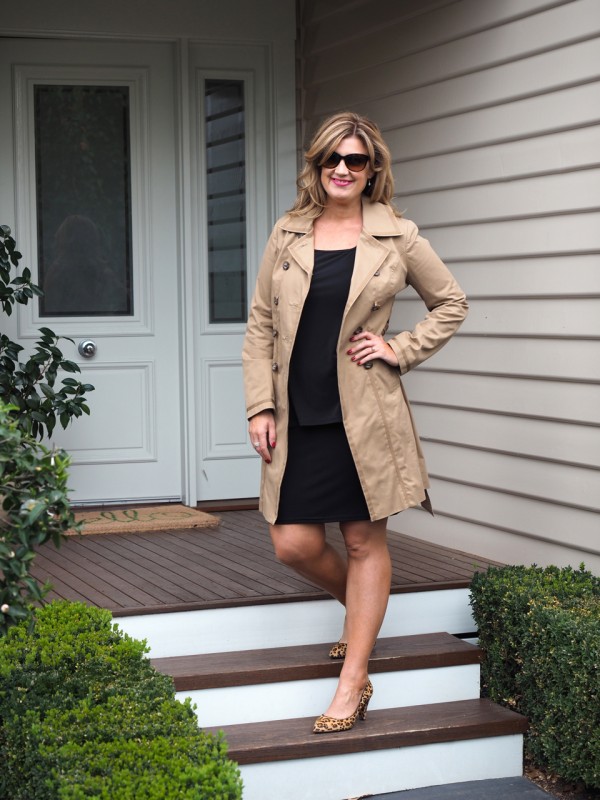 Above, I'm wearing a trench coat from Boden (for a similar style try this) over Rita Dress from Bird Keepers from Birdsnest; leopard print heels from Mimco (for a similar style try these Tan Leopard Heels, $159.95 from Style Tread.) and sunnies from Coach, bought in the U.S. last year.
If flats are more your thing, a great pair of pointed flats (especially in leopard print) would also look fabulous here.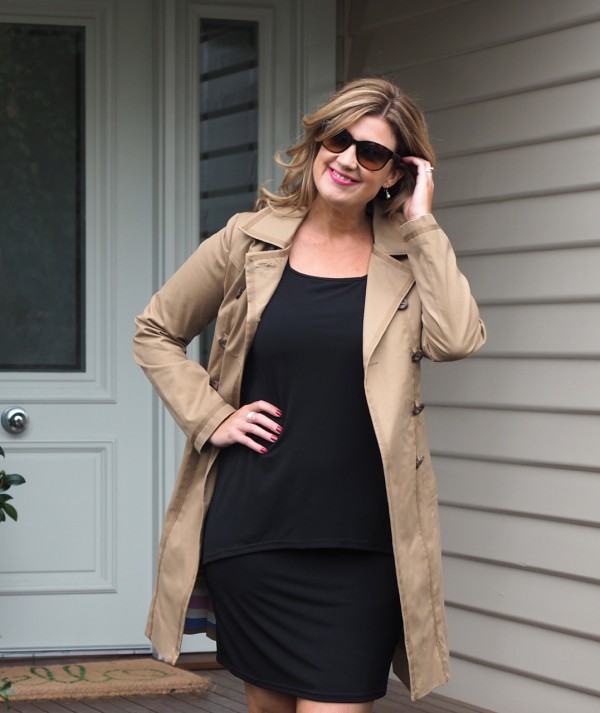 The final combo is simple but effective – just add a beautiful statement scarf to add a bit of colour and interest and finish the look off with a great pair of heels.
I picked these Country Road heels up for $53 at the very end of summer and they are a perfect mid heel for me, not to mention a major bargain. The sale section of Country Road is always worth a trawl.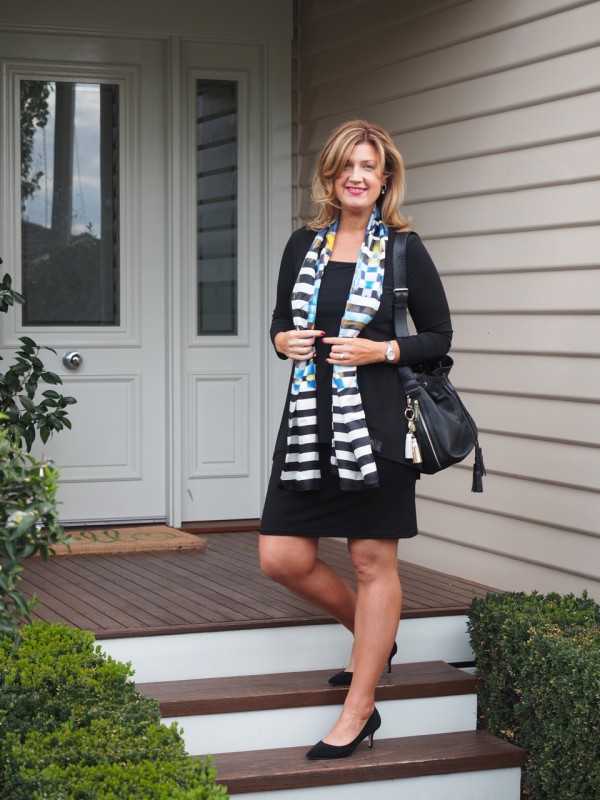 Above, I'm wearing a silk scarf from David Lawrence from a couple of seasons ago (for a similar style, try this Sportscraft style) over Rita Dress from Bird Keepers from Birdsnest; bag and heels from Country Road. This new season style is an almost identical style of heels.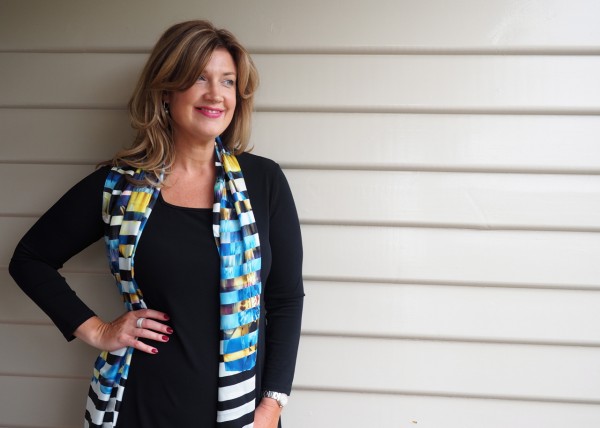 It never ceases to amaze me how by just mixing up your accessories (a scarf, statement necklace or earrings), you can totally change the look of a dress.
I reckon if you wore this dress to work on Mondays and Fridays with different accessories and/or in a different colour palette, people would think it's a different dress, particularly if the scarf covers the distinctive square neckline.
Finally, I always love to inject a bit of blue and yellow with my monochrome which is why I bought this scarf in my corporate days – it's a fresh but fabulous look and works beautifully with a bright lip.
This post contains some affiliate links. You don't pay any extra and I earn a small commission. Read more in my Disclosure Policy here.
Do you have a dress in your wardrobe that provides you with endless outfitting options? How would you style this dress to work for you?