As I was researching this month's What to Wear post, I put a call out to the fabulous SnS community on Facebook to see what they wanted to see this month outfit wise.
The call, overwhelmingly, was for smart casual and work options (which definitely overlap depending on how formal your workplace is), which is not surprising really, as this is how many of us spend the majority of our weeks. I've heard your call for everyday styling inspo!
There were also a few requests for special occasion and casual/what to wear to watch the kids play sport outfits which I'll cover in the coming weeks, so stay tuned.
But back to today.
In this post, in each of the three collages below, I've created a mini capsule wardrobe and worked a key piece two ways.
I've also tried to create overlapping work and smart casual outfits combos as I know for many of us – particularly part timers or those who work in a less formal workplace – it's important that our pieces can work across both scenarios.
In this first collage below, I've returned to one of my favourite combos – navy and orange. This is such a gorgeous autumnal colour combo combined with tan and also a dream paired with denim.
The hero of this capsule are these amazing statement boots from Melbourne label Elk Accessories.
ABOVE: 1. Tote from Louen Hide, $109.95  at The Iconic; 2. Dolly Dress, $110 from Birdsnest; 3. Chunky Knit Sweater, $145 from Elk Accessories; 4. Favourite Tank, $19.95 from Seed Heritage; 5. Hal Heel Leather Boot, $210 from Elk Accessories; 6. Indigo Skinny Jeans, $129 from Bohemian Traders.
You might think a pair of boots like this would be restrictive but not necessarily so. I'd pair mine with denim (dresses, tunics, jeans), navy knits, and especially navy and white stripes, grey and and of course orange. If your smart casual wardrobe consists of those block colours, this might be away to inject some serious fun into your every day style.
Likewise, this sublime orange knit (which comes in several other colours include acid yellow and a bright blue) is the perfect trans-seasonal piece which can work across work and smart casual outfits.
Above, I've styled it with a white singlet and jeans for smart casual but pair it with black tailored pants or a pencil skirt and boots or heels for a dressier work place.
This fabulous tote is a versatile piece which would easily carry you from school drop off to work and back.
Last but not least is this fun Book Shankar Dolly Dress. This style is dressy without being serious with it's retro floral print.
It can also easily be dressed down with a denim jacket, leggings and ballet flats for smart days or dressed up with navy tights and boots (tan or those above).
I'd definitely need some leg coverage happening here because I'm tall, but my shorter sisters could possibly go bared legged with sandals in milder weather.
Now on to mini capsule number 2: a dressier work capsule with accessories to wear across both work and smart casual outfits.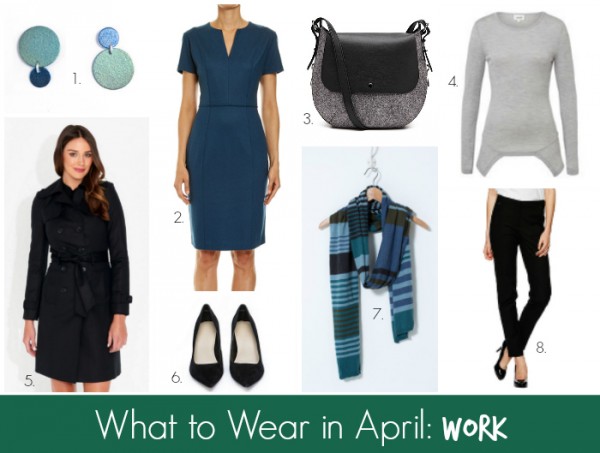 ABOVE: 1. Upside Down Confetti Earrings, $55 from Sarah Rothe; 2. Karlie Fitted Dress, $269 from Saba; 3. Eleanor bag, $129 from Witchery;  4. Babywool Peplum Knit, $99.95 from Seed Heritage; 5. Top Stitch Wool Blend Trench, $199 from Portmans; 6. Soraya Heels, $179 from Country Road; 7. Stripe Scarf, $85 from Nancy Bird; 8. Slim Line Pants, $49 from Target.
Oh how much do I love teal and grey in winter? A lot. Worked in with some practical black and silver accents, this colour combo is sophisticated, flattering and modern.
The base pieces of this mini work capsule are the black pants, peplum knit and the tailored dress. The accessories (earrings, scarf and bag), knit and pants though, can be worn across both work and smart casual wardrobes.
Most would agree that a great pair of black pants is an essential basic for any work wardrobe and it's great to see a nice pair like these at a reasonable price.
When I worked in an office, I had a rainbow of fine knits to wear under my suits and jackets. In the depths of winter in Melbourne, where the commute to work can be freezing, a blouse, shirt or jersey top would not cut it in the comfort department even under the warmest of coats. I found knits like the one above looked smart enough for work with a suit or tailored pants/skirt (just add work approps bling and a great suit) but they could also be worn on the weekend with denim.
I do love a tailored dress for work too and this Karlie Fitted Dress is ticking all the boxes for me.
The colour? Swoon Central.
Teal also works back nicely with black, grey and tan when it comes to shoes and handbags.
It's definitely a statement piece though but it could also be worn with a bit of bling and boots or heels for date night or an event. It is also available in black though if that works better for you.
I'm a huge fan of the trench and love that this woollen version from Portmans (Top Stitch Wool Blend Trench) can be worn all through winter.
As far as accessories are concerned, this is where I like to have a bit of fun. Even when I worked in the most conservative of work places (hello law firm), I liked to wear something a bit quirky or unexpected with my corporate pieces.
These gorgeous Upside Down Confetti Earrings and luxe Nancy Bird stripe scarf can be worn to work and will add some colour and interest to a block coloured outfit – a black suit, a grey knit dress – but they can easily translate to a smart casual wardrobe too.
A comfortable pair of heels and a tonal bag with textural detailing provide the final touches.
And now onto the final outfits – the hero of which is a modern take on the old school blouse or an alternative to a white shirt. This outfit is perfect for milder Autumn days here in Melbourne but could see you through to Winter in the northern states.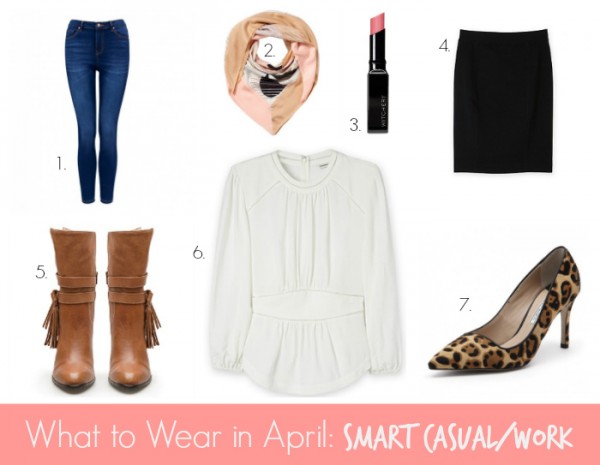 ABOVE: 1. Poppy Mid Rise Jeans, $89.99 from Forever New; 2. Abstracto Scarf, $99.95 from Mimco;  3. Lipstick (Blossom Pink), $16.95 from Witchery; 4. Ponte Pencil Skirt, $79.95 from Trenery; 5. Danielle Tassel Boots, $249 from Country Road; 6. Shoulder Detail Blouse, $129.95 from Country Road; 7. Tan Leopard Heels, $159.95 from Style Tread.
Above, I've taken the white blouse and worked it two ways – on the left, as part of a smart casual outfit (perfect for a lunch date, birthday party etc) and then on the right, for work.
The classic white shirt – jeans – boots combo is given a boho update here with the textural detailing of the blouse and boots. To dress it up a bit more, add a scarf like the Mimco silk scarf (2) above.
I'm a big fan of the pencil skirt for work and this ponte version from Trenery is a ripper.
A classic black pencil skirt always looks professional and can be worn with practically anything from fine knits (like the one in the first outfit) through to tailored shirts and pretty blouses, with or without a suit jacket or coat.
If you love a bit of Mad Men in your wardrobe, I'm sure you'll agree a pencil skirt is a no brainer.
While monochrome is timeless and always chic, I've added a leopard print heel here for a slightly edgier, modern look.
Alternatively, add a silk scarf like the one above and switch the leopard heels for a black pump or wedge to add a bit of colour. A bright lip never goes astray too.
This post contains some affiliate links. You don't pay any extra and I earn a small commission. Read more in my Disclosure Policy here.
What are you wearing so far this April? Which of the above outfits would work for you?