I love Love LOVE putting together these What to Wear posts at the best of times but this month?
Well, it was better than ever.
There's a veritable feast of fashion in store right now, with most retailers well into their AW17 drops.
There are loads of new season styles and colours to choose from and, finally, the opportunity to wear some of it!
KA-CHING.
So I've gone to town with April's What to Wear post – I've found some gorgeous new season pieces as well as some everyday, hard working basics (more of those in last week's Autumn Casual/Smart Casual Basics post).
But, as I've said before, these posts are designed to give you ideas and inspo for the coming month – I'm definitely not suggesting you need to go out and buy a whole new wardrobe every month.
No Way Jose.
But, if you are looking for an update or two, hopefully these posts save you some time or show you new options at different stores or price points. I like to think of them as retail reconnaissance and I hope you do too.
Ok, let's begin with an outfit that can easily go from the office to Friday night.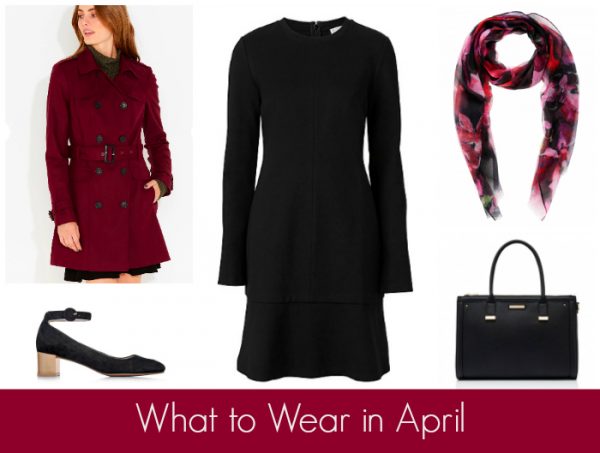 ABOVE, CLOCKWISE FROM TOP LEFT: Timeless Luxe Trench, $149.95 from Portmans; Ponte Swing Dress, $129.95 from Witchery; Oversized Floral Scarf, $39.95 from Sussan; Laptop Bag, $79.99 from Forever New; Paisley Ankle Strap Shoes, $159.95 from Jo Mercer.
A cool weather LBD is an excellent, versatile piece and one I'd highly recommend if you're looking for another option besides black jeans/pants or denim. The Witchery dress above is an a-line and above the knee ponte style, but if you're looking for a longer, knit version, check out this gorgeous Elk number I'm wearing here.
A long sleeved LBD is great for the office with a pair of block heels, pointed flats or boots and a printed scarf, a bright lip or a coloured coat/trench will add interest and change up the look.
Above, I've freshened up this classic look with a trench coat in this gorgeous, on trend, deep red and tied the look together with a pretty floral scarf.
Another update is the addition of these stunning metallic block heeled Mary Janes – the Paisley Ankle Strap Shoes – I was recently given a pair of these and they are a great, comfortable shoe that also pack a serious style punch.
On the practical front, this fab Laptop Bag also keeps all your techie bits organised and looking the goods.
This second outfit is perfect for casual, everyday or weekend scenarios …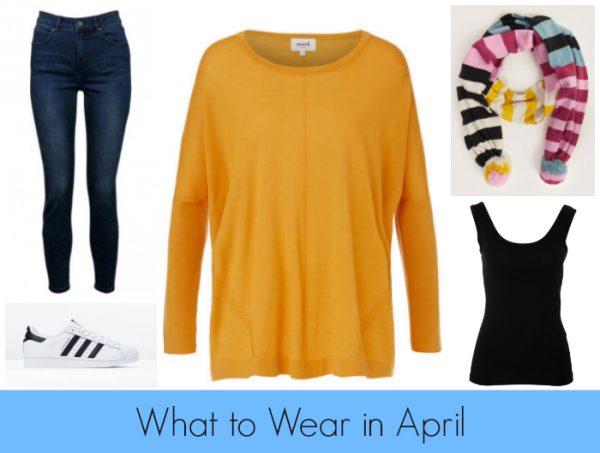 ABOVE, CLOCKWISE FROM LEFT: Kathryn High Rise Skinny Jeans, $99.95 from Decjuba; Oversized Merino Sweater, $119.95 from Seed Heritage; Pom Scarf, $99.95 from Gorman; Emma Scoop Tank, $18.95 from Birdsnest; Adidas Superstar Trainers, $130 from The Iconic.
I do love a pop of mustard teamed with denim and black and this gorgeous relaxed knit from Seed Heritage is ticking all the boxes.
To keep things fun, I've added this gorgeous striped scarf from Gorman – HELLO POM POMS – for extra warmth and layers on those cold mornings.
In the basics department, I'm always on the look out for great jeans and I reckon this Decjuba version, above, looks promising.
Likewise, a great pair of trainers such as these Adidas Superstar Trainers are always a winner in the cooler months particularly if you spend your week kid wrangling or working from home.
If you haven't checked them out already, the new range of Betty Basics have just landed at Birdsnest (check it out here). Betty Basics do a great range of affordable basics as you can see from this tank above. There's plenty more where that came from so def check it out.
Our final outfit is a gorgeous trans-seasonal boho combo featuring this divine dress Byron Bay's Spell Designs. I acknowledge that these dresses are definitely at the high end of price spectrum but they do sell out super quickly, so if you're keen, don't dally. If you're after a more budget friendly option, check out the selection here.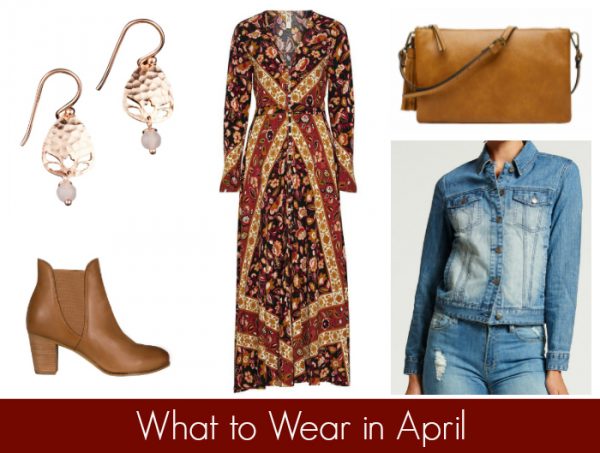 ABOVE, CLOCKWISE FROM TOP LEFT: Nicole Fendel earrings, $79.95 from Birdsnest; Lolita Gown, $299 from Spell Designs; Cross Body Bag, $69.95 from Sussan; Boxy Denim Jacket, $179 from Bohemian Traders;  iZZY boots in tan, $299.95 from Frankie4 Footwear.
This outfit above is one of my go to Autumn combos – a drapey, floral long sleeved maxi with tan ankle boots, fine jewellery and a denim jacket. I wear this combo year in, year out, adding a new maxi or two to my collection each year.
I'm also pleased to have added these gorgeous iZZY boots in tan to my boot-drobe recently thanks to the kind folks at Frankie4 who gave me a pair. With their podiatrist designed footbeds and updated styles (I'm loving this season's almond toe shape), they are a great option if you're looking for that one pair of tan boots to cover all conceivable outfit scenarios.
Oh and I haven't forgotten the party outfits this month – you'll find three party worthy outfits in this post, What to Wear to a Party in Autumn.
This post contains some affiliate links. You don't pay any extra and I earn a small commission. Read more in my Disclosure Policy here.
Which of the above outfits could you see yourself in? Are you a fan of deep red, pom poms or perhaps boho maxis?