Last Saturday night I broke my 40th party drought for 2017.
Yep, after 5 years of non stop Festival of Forty shenanigans, only a handful of thirty plus year olds remain in my circles.
In fact, I've recently started celebrating friends' 50ths, so there's plenty more fun to be had in Party Town around these parts. Maybe I'll call this the beginning of the Fiesta of Fifty. Hmmm, watch this space.
Anyhoo, it was nice to frock up for a night out and once again hit up the dressier end of my wardrobe.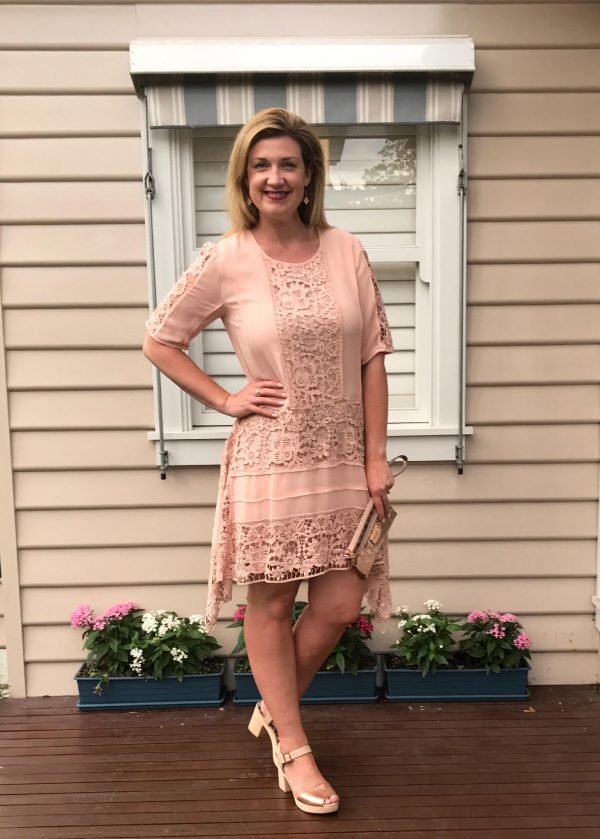 Wearing a Thurley Official dress from SS16, copper clogs from Gorman (a couple of summers ago) and a Michael Kors clutch picked up in the U.S. and these rose gold Nicole Fendel earrings I picked up in a storewide sale recently.
If you are approaching or in the midst of a run of milestone birthdays or just have a few events or dressy do's on the horizon, you might be wondering what to wear, as I was last Saturday arvo.
So in today's post, I've also put together three new season outfits to help with your retail reconnaissance.
1. The Jumpsuit
This OTS jumpsuit is ticking all the boxes for Autumn style – there's a nod to Summer and one last chance to show off those bronzed shoulders thanks to the OTS factor along with longer sleeves and pants to keep you covered and warm as it cools down.
With a classic black style like this, as with an LBD, simply add some fabulous accessories, shoes and a bright lip and you'll be shaking it off with Tay Tay in no time.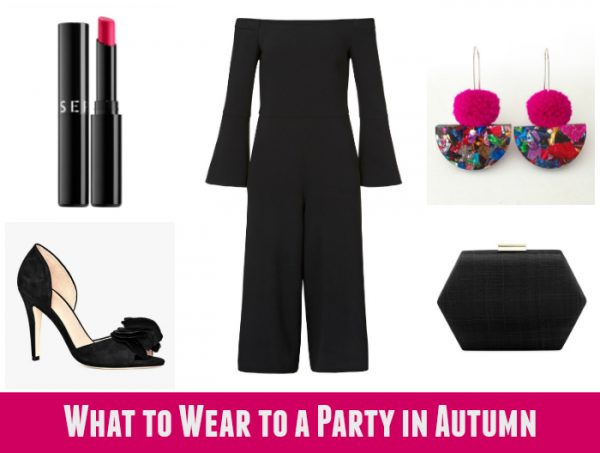 ABOVE, CLOCKWISE FROM TOP RIGHT: Colour Last Lipstick in Royal Raspberry, $19 from Sephora; Off The Shoulder Jumpsuit, $159.95 from Seed Heritage; Pom Pom Earrings, $42 from Each to Own;  $43.86 (on sale) from Olga Berg; Walk This Way Peeps, $129 (on sale) from Alannah Hill.
2. The Frock
Frocks are always a safe bet for parties. You might find an old favourite in your wardrobe and update with some new accessories or trot out a tried and true combo with a new crowd.
If you're looking for a new frock and an excuse to embrace Autumn's obsession with blush tones, this outfit is for you. With it's pretty pink hues and rose gold metallic accents, this is a dressier look that would suit weddings, engagement parties, formal lunches and dinners. The faux fur shawl is perfect for throwing on if the weather turns too.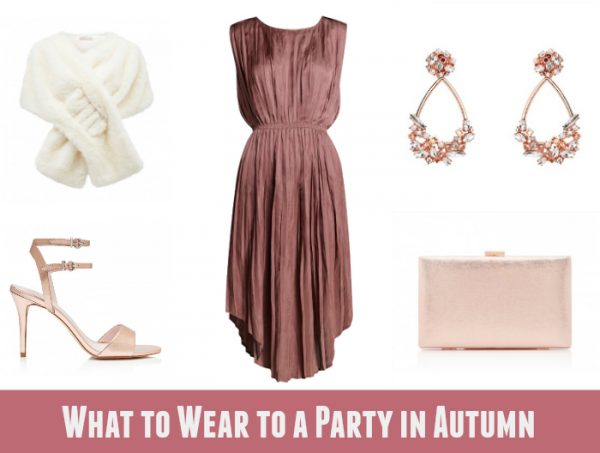 ABOVE, CLOCKWISE FROM TOP LEFT: Faux Fur Shawl, $69.99 from Forever New; Lily Pleated Dress, $299 from SABA; Enchantress Drop Earrings, $129.99 from Mimco; Carrie Clutch, $39.99 from Forever New; Octavia Heels, $69.99 from Forever New.
3. The Pants + Top Combo
If you like to mix and match or prefer pants, a top and pants combo is another great option.
Below, I've incorporated some beautiful jewel tones (how divine is this emerald #swoon), with some inexpensive statement earrings and classic black pants, an updated Mary Jane and a simple black clutch with gold hardware.
Mary Janes are making a comeback this Autumn, and I've always loved this classic style. They work well with pants as well as dresses and skirts. They're also a great dressy, closed toe alternative to boots.
With different shoes and less bling, you could wear this outfit to work down the track.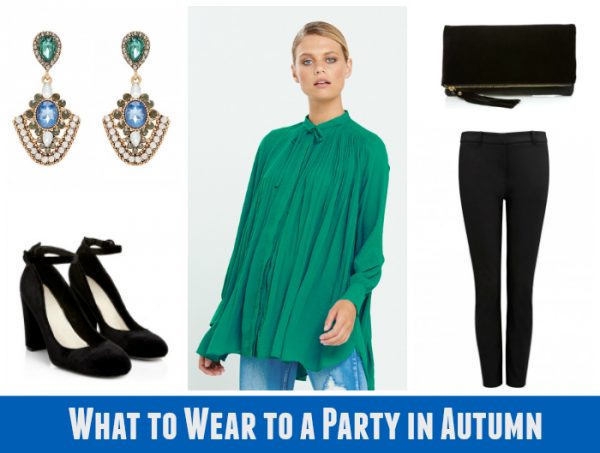 ABOVE, CLOCKWISE FROM TOP LEFT: Charli Earrings, $16.99 from Forever New; Emerald Josie Blouse, $159 from Bohemian Traders; Velvet Clutch, $39.99 from Portmans; Faye Full Length Pants, $79.99 from Forever New; Kelly Closed Toe Dress Shoe, $89.95 from Portmans.
If you're more of a top + skirt girl, do check out this recent post on Printed Skirts from Luxe to Less. There are some beauties there.
This post contains some affiliate links. You don't pay any extra and I earn a small commission. Read more in my Disclosure Policy here.
Have you got a party coming up? What are you planning to wear? Which of the outfits above would work for you?