Is it OK to mention the C word around here?
Phew, because it's only 6 or so weeks until D-Day.
Or should I say C-Day.
Chances are, a quick squiz of our collective diaries show that the next few weeks are choccas full of all sorts of Christmas parties and end of year get togethers.
It's like everyone likes to get in early these days making November the new December.
A work Christmas party may well be featuring in the mix too – whether it's your own workplace or you've scored an invite to your partner's do or there's a family Christmas function.
Whatever you've got on, in today's post, you'll find plenty of outfit inspo for your upcoming Christmas shindig whether it's a cocktail party, sit down dinner, lunch affair or the more relaxed family Christmas day/picnic.
Let's start with an updated LBD combo.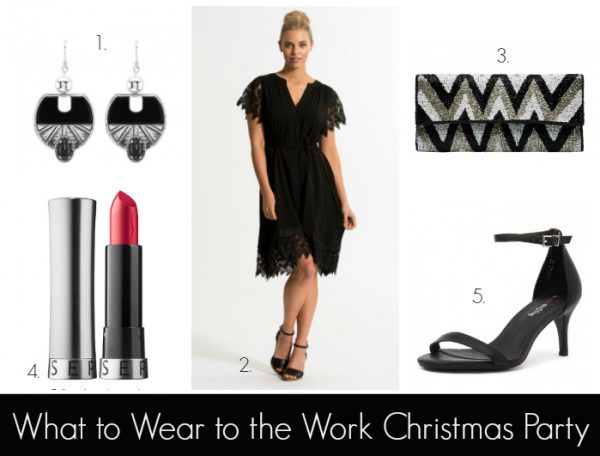 ABOVE: 1. Wildest Dreams Earrings, $99 from Samantha Wills;  2. Dreamer Dress in Black, $149 from Bohemian Traders; 3. Black Beaded Clutch, $69.95 from Sussan; 4. I Love Billy Connie Heels, $79.95 from Styletread; 5. Get Rich Lipstick, $12.50 from Sephora.
Some work places have a cocktail Christmas party for which this chic LBD outfit is perfect.
If the name rings a bell, this flattering, new season version of the Bohemian Traders Dreamer Dress is longer than it's predecessor which is good news for us taller gals.
With it's pretty lace sleeves and V neck, it's a style that flatters most and, with it's optional tie waist, it can be worn loose or belted to create shape too. (This dress also comes in several other colours – navy, emerald green and periwinkle blue if that's more your thing).
If you're sorted in the LBD department but looking for some new accessories to up the bling factor, I've got you covered too.
These beautiful Samantha Wills earrings and Sussan beaded clutch will update any LBD situation and a bright lip and strappy heels will provide the finishing touches.
The next outfit features one of my favourite colours for summer – coral – with this great set of accessories which will work with both clothing options.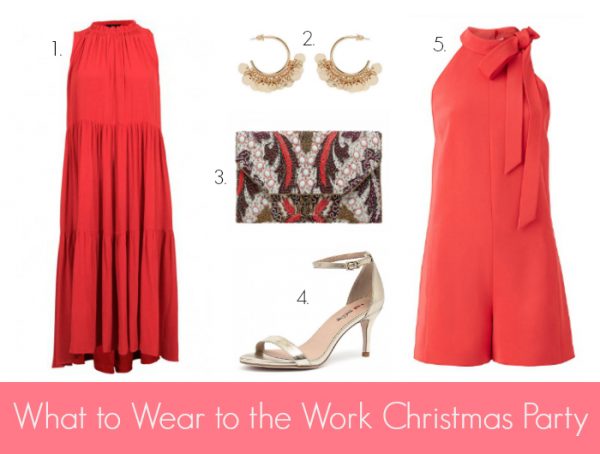 ABOVE: 1. Monpellier High Neck Dress, $129.95 (also comes in khaki and black) from Decjuba; 2. Disc earrings, $19.95 from Seed Heritage; 3. Multi Beaded Clutch, $69.95 from Sussan; 4. Gold heels, $79.95 from Styletread 5. Halter Neck Playsuit, $199.95 from Witchery.
The above two outfits will cover a range of do's – the Decjuba dress with it's high neck and drapey length will work for all sorts of Christmas parties from a fancy lunch to an evening do. I've included strappy heels here but it would also suit some statement metallic/embellished sandals – just ditch the clutch – if that's your preference.
If your workplace isn't conservative and you're happy to get your pins out, this fab new Halter Neck Playsuit from Witchery will look The Business too. I'm loving the tie detail on the neckline.
Meanwhile these beautiful accessories will also suit outfits featuring black and blush pink.
OK, now on to a fun and colourful outfit for a work Christmas lunch.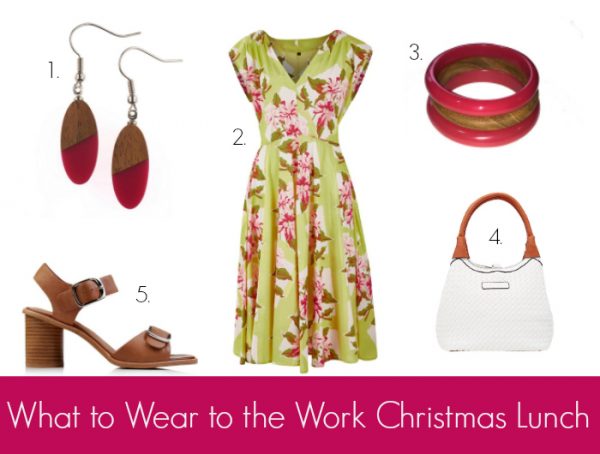 ABOVE: 1. Magenta Earrings, $24 from Ruby Olive; 2. Allegra Dress in Limetree by Lazybones, $145 from Birdsnest; 3. South Pacific Bangle Set, $35 from Ruby Olive; 4. Parker Double Strap Buckle Heels, $159.95 from Jo Mercer; 5. Poppet Plait Bag in White by Louen Hide, $99.95 from Adrift.
My last corporate workplace always did a great Work Christmas Lunch. We'd book a big table in a great restaurant – often with views, exceptional food or some other fabulousness – and spend the afternoon there. I'd always pick out one of my favourite dresses – or use it as an excuse to find a new favourite – and put together a colourful, fun and flattering look.
This is exactly what I've tried to achieve here using this stunning Lazybones dress as the centrepiece. I have this dress in several prints (see me wearing it here on Insta) and it's such a beautiful, flattering style with hints of romance and all things retro.
This limetree print is lovely and fresh for summer and it also comes in another style and a full length playsuit. The finishing touches are some accessories in complementary tones which also deliver in the textural department.
The final outfit is a casual look perfect for the family Christmas Party. Ours usually took place in a city park with a game of cricket or bocce often in the mix.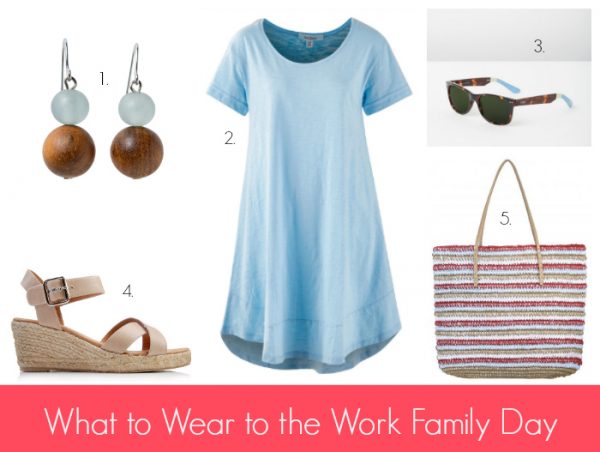 ABOVE: 1. Frosted Sphere Earrings, $22 from Elk Accessories; 2. Bird Keepers Swing Dress in Sky, $69.95 from Birdsnest; 3. TOMS sunnies, $160 from The Iconic; 4. Espadrille Wedges from Jo Mercer, $169.95; 5. Veneto Tote, $54.99 from JeansWest.
If you're looking for a great casual dress, this Swing dress is a great, well priced option. This dress now comes in 6 colours (black, khaki, navy/white stripe, stone, periwinkle blue, watermelon and sky, pictured above) and it's a versatile canvas on which to build an outfit.
I've added some texture here with these pretty Elk Accessories earrings and Jeans West bag and dressed it up with an espadrille wedge and designer shades. I'd just as easily wear it with thongs and a high pony tail though for casual days and weekends.
If you're after a dressier alternative to this t-shirt dress, check out the stunning Resort Monaco Kimono Dress from Bohemian Traders.
This post contains some affiliate links. You don't pay any extra and I earn a small commission. Read more in my Disclosure Policy here.
Have you got a work Christmas party coming up? What sort of a do is it? More importantly, what are you going to wear?