In every workplace I've been a part of, the work Christmas party was much anticipated and held a special place of significance.
Perhaps because we often dealt with high pressure, intense and conflict ridden situations and people, the opportunity to blow off some steam with some colleagues – with the boss picking up the bill – was, frankly, much needed indeed.
There were boozy cruises down the Yarra – not fun when you're in your first trimester and nauseous – barefoot bowls and long lunches at inner city restaurants, through to getting down to Funky Town with those quiet colleagues who save up a year full of energy for the Christmas party dance floor.
There were also family picnics at an inner city park, office Kris Kringles (you'll find loads of ideas for that here) and smaller, departmental lunches.
All of it was fabulous and was such a great way to end the working year.
To mark the occasion, I always wanted to wear something that made me feel as festive and fabulous as I felt, so I'd often pick up a new little something or recycle an outfit from a recent wedding or event.
Whichever way you roll, you might be thinking about what to wear for your upcoming work Christmas party, so in today's post I've put together three outfits as a starting point. You might be on the look out for a new look, accessory or that something that will pull what you've got together in a different way.
As you'll see below, I've covered the cocktail/evening function, the work lunch and more casual affairs, such as family day or picnic.
This first outfit is for a dressy evening look, featuring this gorgeous Decjuba playsuit …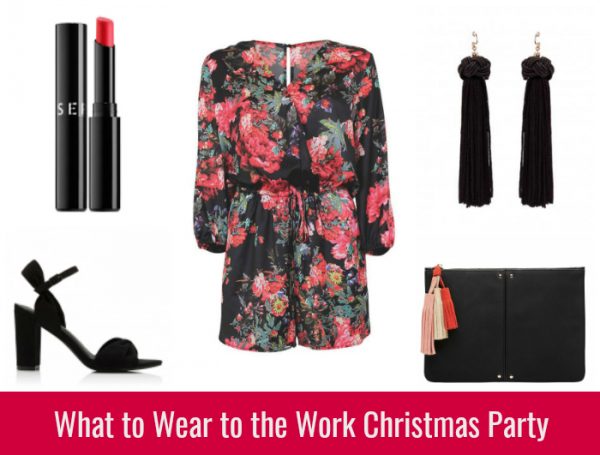 ABOVE, CLOCKWISE FROM TOP LEFT: Colour Fast Lipstick, $13 from Sephora; Daphne Wrap Satin Playsuit, $119 from Decjuba;  Tassel Earrings, $16.95 from Sportsgirl;  Black Pouch, $39.95 from Sussan; Sarah Ruched Block Heel Shoes, $69.99 from Forever New.
I do love a playsuit – they can be really flattering if you find the right length, shape and style so you might need to try on a few before you find The One.
I love that this one –Daphne Wrap Satin Playsuit – has some coverage on the arms to balance out the shorts, and a flattering wrap top half with it's drawstring waist. I'm also loving this pretty Kimono Sleeve Playsuit, $69.95 from Dotti and this gorgeous Limited Edition playsuit from Witchery.
If a frock is more your thing, the print in this playsuit also comes in a dress but it's not online, so do check in store. Also, check out the great range of budget friendly occasion frocks at Portmans here and the latest dress and playsuit styles from Marcs here. The latest Mister Zimi collection, Santorini, launches next week too, and that would be well worth checking out too, depending on when your Christmas do is.
OK, this next outfit features this gorgeously festive red frock – love this kimono sleeve – and some complimentary soft gold accessories and these well priced statement earrings from Seed Heritage. If there's a trend in accessories right now, it's definitely TASSELS.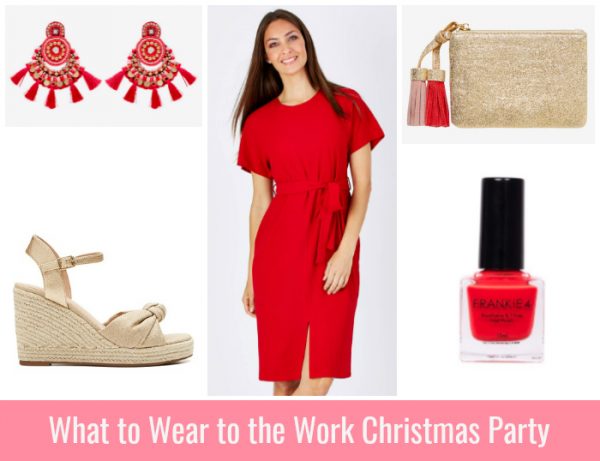 ABOVE, CLOCKWISE FROM TOP LEFT: Fiesta Tassel Earrings, $29.95 from Seed Heritage; Tie Waist Dress, $109.95 from Birdsnest;  Coin Purse, $19.95 from Seed Heritage; TRIBE Nail Polish, $24.95 from Frankie4 Footwear; Serena Wedge, $119.95 from Witchery.
I'm a big fan of this dress – it's such a flattering, versatile cut too – and better still, it's available in sizes 8 -22. If red's your colour, this is also a great option for festive shenanigans and beyond.
If you love red but this style is not for you, Sussan has some gorgeous new red frocks in stock which you can check out here.
I've included soft gold wedges and accessories above, but this outfit would also work with tan, silver and black shoes and accessories too.
This final outfit is relaxed, colourful and fun and features this well priced frock from Dotti.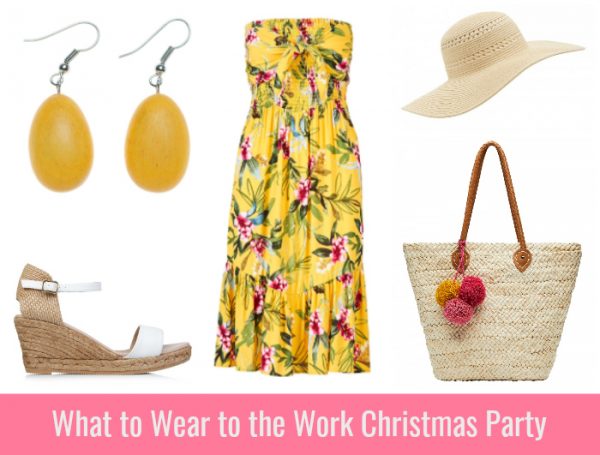 ABOVE, CLOCKWISE FROM TOP LEFT: Wooden Nugget Earrings, $23 from Elk Accessories; Bahamas Tie Bodice Midi Dress, $69.95 from Dotti;  Floppy Hat, $34.99 from Forever New; Woven Tote, $41.57 from Sussan; White Leather Espadrilles, $169.95 from Jo Mercer.
If you think Dotti is for women younger than you, think again. I always find fun, on trend and super well priced pieces there and they have amazing sales – often 40% off storewide.
Sportsgirl is also worth checking out from time to time too. I know I'm not their target demographic but I often find great pieces there, especially in summer. For example, if you're looking for a statement maxi with straps, Tiered Tropicana Maxi Dress, $129.95 is a winner.
This post contains some affiliate links. You don't pay any extra and I earn a small commission. Read more in my Disclosure Policy here.
So over to you, what's happening for your work Christmas party and more importantly, what are you wearing?