Has your invitation arrived for the Work Christmas party?
What form is it taking this year?
A cocktail party after work?
Lunch at a city restaurant or out of town at a winery? Or a less salubrious setting?
Or maybe slightly more casual, such as a function at a bowling alley or paintball?
In my last workplace, as well as our Christmas lunch at a restaurant, we also had a casual family Christmas get together with our partners and children at a local park in late November. It was always a fabulously fun day and a great chance to see colleagues in their "natural habitat". I've heard of other family days being held at Luna Park or the Circus.
I love the idea of and actually attending all these Christmas parties but added to the long list of other tasks, it's easy to be hit with a big case of The Overwhelm. Especially when it comes to decisions about What To Wear.
Dressing for work Christmas events need not be stressful though. Given most workplaces call for smart casual or corporate wear during the day time, you can pretty much trot out any evening outfit in your wardrobe as it will not have been seen by this crowd. Unless you're Facebook friends, that is!
So approach the Work Christmas party with enthusiasm and as an opportunity to wear some of your favourites, the only caveat being that it's best to leave the more risque outfits for another time – even though it's a party, it's still work and you've still got to front up on Monday.
Below, I've styled three outfits for different Christmas party events. I've attended all three – the Cocktail party, the Lunch at a City Restaurant and finally, the more casual Family Christmas do. I hope they might help you put together an outfit with what you already have or provide some inspo if you are looking for a new outfit.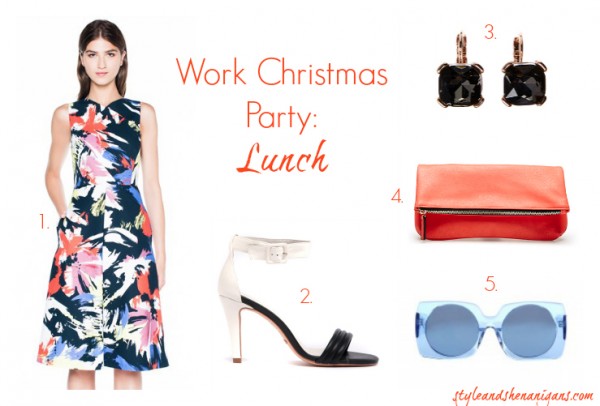 1. Graffiti Print Flared Dress, $229 from Veronika Maine; 2. Uni Heels, $159.95 from Midas; 3. Faceted Stone Earrings, $14.95 from Portmans; 4. Jet Fold Over Zip Clutch, $29.95 from Portmans; 5. Prowl Sunglasses, $169 from Gorman.
For the Work Christmas lunch, I've gone with a modern, abstract floral with a flared skirt and included some fun and colourful accessories. After all, it's party!
After the Christmas party, this dress could happily slot in to the dressier end of your corporate wardrobe and is also a great option for Christmas Day, New Year's Eve, engagement parties, your partner's Work Christmas do and any other upcoming dressy social functions.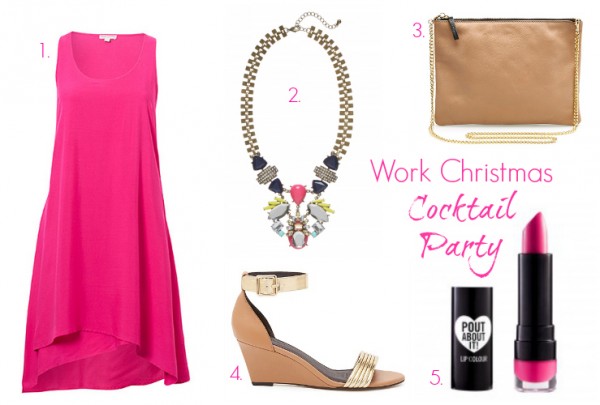 1. Layered Asymmetrical Dress in Pink, $40 from Target; 2. Coloured Statement Necklace, $39.95 from Sussan; 3. Isabelle Flat Cross Body Bag, $99.95 from Portmans; 4. Cosima Wedge, $149.95 from Witchery; 5. Raspberry Fields Lipstick, $9.95 from Sportsgirl.
Above, for the Work Christmas Cocktail Party, I've teamed a bright block colour dress (which is also available in green and cobalt blue and a great buy at $40 from Target) with a statement necklace and neutral accessories with touches of on trend metallic.
If you have a block colour dress in your wardrobe, all you may need to do to update your outfit is a new season statement necklace along these lines. A bright pop of lippy goes a long way too.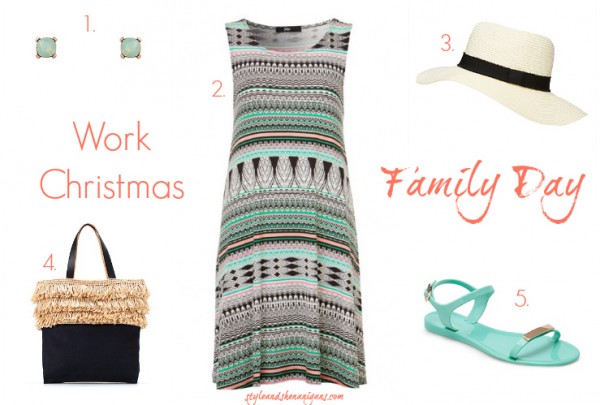 1. Mimco Mini Jewel Studs, $49.95 from Mimco; 2. Printed Swing dress, $79.95 from Sportsgirl; 3. Classic Panama Hat, $59.95 from Witchery; 4. Raffia Fringed Shopper, $99.95 from Country Road; 5. Tahlia Jelly Sandal, $49.95 from Country Road.
Finally, for the Work Christmas family get together, I've gone for smart but comfortable casual. After all, you might end up rescuing a toddler from the top of the playground or playing in an impromptu game of cricket.
A hat is essential to keep the rays at bays and a large tote to cart around drink bottles, snacks and the usual paraphernalia!
What is your work doing for the Christmas party this year? What has been the best or worst work party you've been to? Which outfit would be most suitable for your event?