With Christmas less than a month away, the usual end of year social tsunami is well underway here at Shenanigans HQ.
Last year we had grade 6 graduation, a music concert and various festive catch ups with friends.
This year, we're moving on to presentation nights, school and local Christmas carols, plus all the December birthday celebrations and early Christmas catch ups (plus we're moving into our new house next week, but I'll save that story for another post!)
One of my favourite festive functions each year is definitely the work Christmas party.
Now that I'm back working in Corporateville, it's nice to have an organised do to go to.
Our work Christmas party was held last week and was a lunch time affair. To begin with, we exchanged Kris Kringles (you'll find all my 2019 KK gift ideas here), played a funny KK game where we got to swap, open and pass KKs and enjoyed a glass or two of bubbles. We then jumped into cabs and took off for a lovely long lunch beside the Yarra river at the Studley Park Boathouse. I got home at 7pm and it was a very fun day indeed with a great group of peeps.
Here's what I wore on that very warm Summer's day. I absolutely loved wearing this fab frock and received plenty of compliments for my festive approach.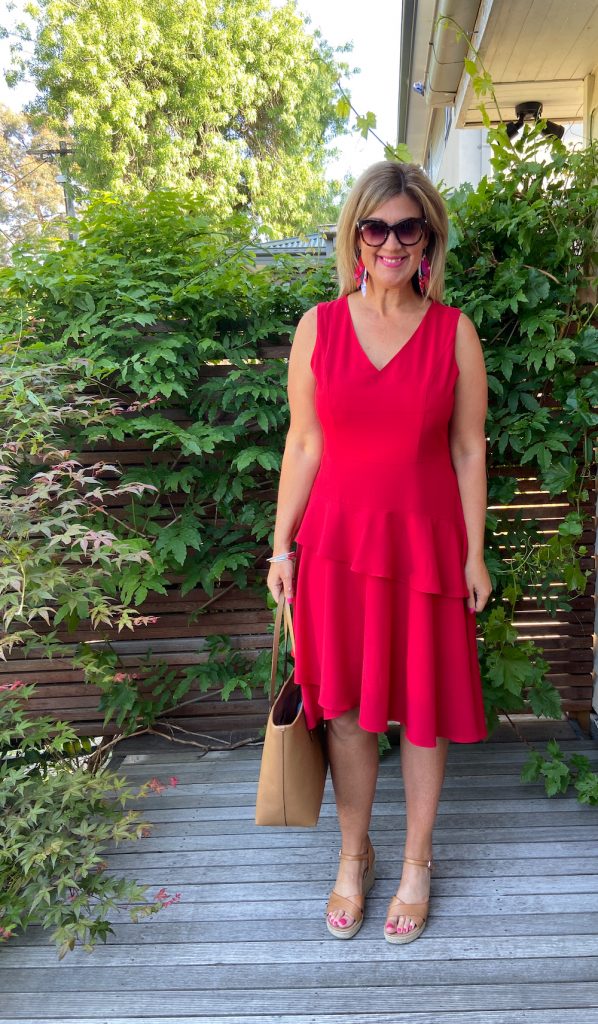 Above, I'm wearing the sleeveless tiered dress by Bird by Design from Birdsnest (size 14) which was gifted to me, earrings from The Colour Curator and ALYCE wedges in tan from FRANKiE4 Footwear.
So with my work Christmas party fresh in my mind, I've put together a few outfits in this post, so if you too have your work Christmas party coming up or some other festive soiree and are looking for some fashion inspo, you've got somewhere to start.
This first outfit is perfect for a warm Summer's day or evening. With its playful print and flattering wrap style, you'll be sure to feel fabulous and comfortable all day or night long. Complimentary accessories in neutral and blush tones complete this easy wearing outfit.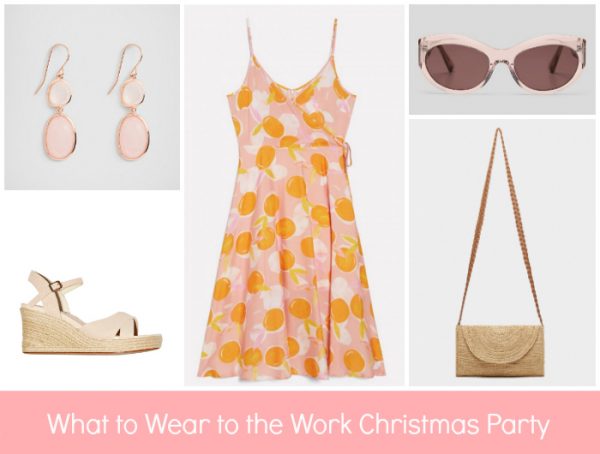 ABOVE, CLOCKWISE FROM TOP LEFT:
Earrings, $49.95 from Witchery;
Mandarino Wrap dress, $249 (but currently 25% off) at Gorman;
Dusk sunnies, $149 from Mimco;
Bag, $69.95 from Sussan;
ALYCE wedges in pale rose, $219.95 from FRANKiE4 Footwear.
If you're celebrating alfresco, check out this hat, $49.99 from Forever New which will keep you sun smart but chic and will work back perfectly with this outfit.
This next outfit elevates the usual casual short and tank combo into much more sophisticated territory. Worn with the tank tucked in to the shorts to show off the waist tie detail, it's ideal for a Christmas party on a hot day or sultry evening but it would also work for BBQs, family gatherings and dinner out with the girls.
Featuring stunning deep teal worked back with classic black basics, this outfit can also be varied in countless ways by subbing in a different top, shoes and co-ordinating earrings.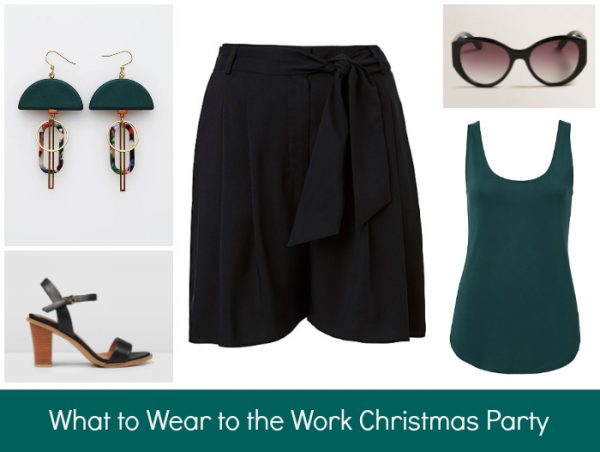 ABOVE, CLOCKWISE FROM TOP LEFT:
Earrings, $39 from Middle Child;
Soft Dress shorts, $89.95 from Witchery;
Sunnies, $39.95 from Seed Heritage;  
Sandwashed tank, $59.95 from Witchery;
Heels, $179.95 from Jo Mercer.
If you would like to elongate your legs even more, check out these Mules, $159.95 from Country Road. An espadrille wedge would also work here.
To dress this outfit up, I'd replace the tank with a silk cami. If you're a green fan, check out this stunning emerald green option from Country Road. For a slightly more bra and budget friendly silk cami in a range of neutral tones, check out the Steevie silk cami at Portmans here.
Finally, to dress these dressy shorts down, I'd opt for a linen tank and sandals or espadrilles.
This last outfit was put together with a family work Christmas party in mind, where the vibes and dress code are casual but you still want to hit some high notes in the style department. That said, I'd also wear this outfit out for lunch with girlfriends, a picnic or late arvo drinks.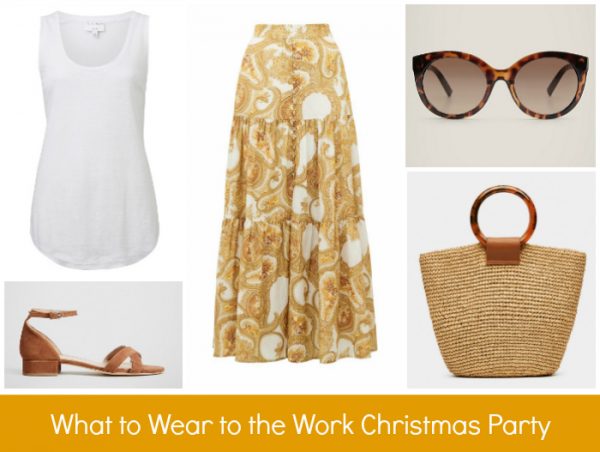 ABOVE, CLOCKWISE FROM TOP LEFT:
Linen tank, $49.95 from Witchery;
Maxi skirt, $119.99 from Forever New; 
Sunglasses, $69.95 from Witchery;
Tote, $69.95 from Sussan;
Sandals, $129.95 from Witchery;
I'm mad about maxi skirts at the moment, and love them worn with a tucked in tee, cami or tank. So above, I'd tuck this tank into the skirt for some shape and waist definition and to show off the pretty button detailing.
To dress this beautiful maxi skirt up another notch, I'd sub in a silk cami, a pair of gold hoops and pop on my ALYCE wedges in tan.
If the weather looked likely to turn, I'd throw on a denim jacket.
This post contains some affiliate links. You don't pay any extra and I earn a small commission. Read more in my Disclosure Policy here.
So over to you, what's happening for your work Christmas party and more importantly, what are you wearing?