A little while ago I put a call out over on my Facebook page asking for what you wanted to see here on the blog.
I was SO grateful to receive loads of feedback, some of which included requests for ideas of what to wear to upcoming special events.
When I drilled down a bit further, those special events included upcoming birthday parties – all milestones it seems – celebrating husbands, friends and family members.
I haven't been to too many weddings, engagements or christenings lately, but I have certainly been to my fair share of 40ths.
Our friends are spread out in age too so after four solid years of partying, there are no signs of the good times abating. If anything, we'll be heading straight into the the next round of milestone birthdays by the time our youngest friends have hit the big Four-O.
And I say cheers to that!
Most of the 40ths we've been to have fallen into one of three categories – the party at home from relaxed do through to the full marquee/DJ production; the cocktail party at a hip bar or the lunch or dinner at a beautiful restaurant.
Dress codes are rarely stipulated but everyone relishes the opportunity to dress up and have a fun night out.
In terms of how dressed up I dress, I usually take the lead of the host – often by getting a sense of what she's wearing – and the venue though to work out what to wear.
I usually go for a dress and heels combo while Mr SnS generally sticks to the nice shirt/jeans or pants/lace ups combo. Our outfits are often influenced by the weather too, particularly if there's an alfresco element to the celebrations (an outside bar/deck/marquee).
Here's a pic of an outfit I wore to a 40th recently which was held on the rooftop of an inner city bar. If I went to the same do this weekend, I'd need to add hosiery and a coat. (I've added links to blog posts with other outfits I've worn to 40ths in the last little while – including my own – at the end of this post).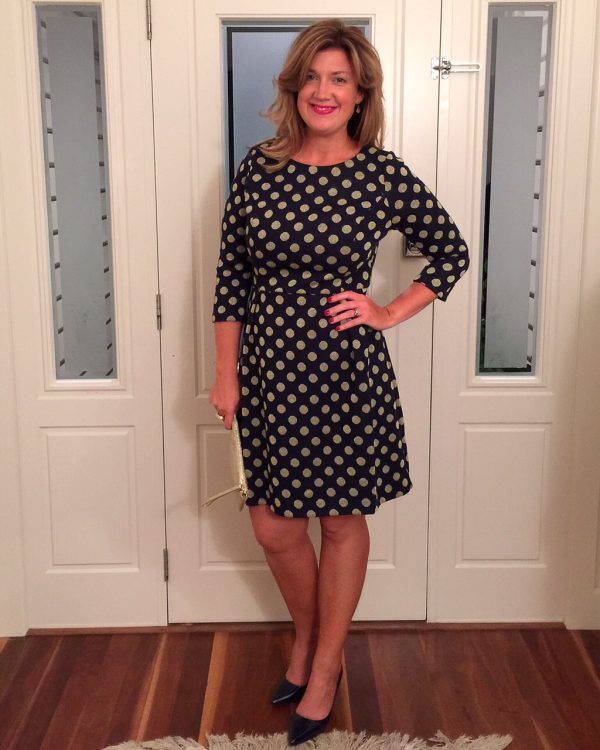 Above I'm wearing the Sparkle Spot Jacquard dress from Boden in 14R which I bought last year- there are some limited sizes still available.
Now it's approaching winter, a whole new world of dressing up is at hand. For me, one of the best things about winter dressing is the play and layering of textures – wool, suede, lace, silk, satin, fur, leather – which can add so much sophistication and interest to any outfit outfit.
So in today's post, I've put together FOUR outfits to wear to parties of varying formality, picking up on some of those gorgeous textural elements.
The first two outfits are dressy but not formal and would be ideal for parties at a home, bar or a birthday lunch or dinner.
This first outfit is essentially an on trend LBD with some shoulder exposing action, paired with some fun but fabulous accessories. I've added a warm coat for the walk to and from the venue from the car or if the party venue has an outside area.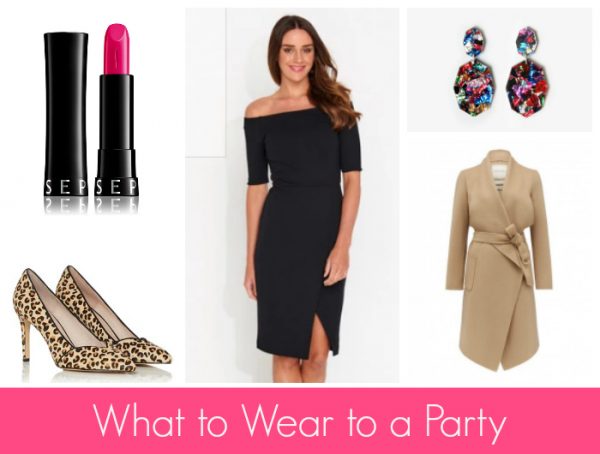 ABOVE, CLOCKWISE FROM LEFT: Sephora Collection Rouge Cream Lipstick in Say My Name, $17 from Sephora;    Ingrid Off the Shoulder Ponte, $99.95 from Portmans; Each to Own Confetti Drops, $59 from Obus; Willow Wrap Coat, $229.99 from Forever New; Le Coeurs Pumps, $179 from Marcs.
If you don't have a great pair of leopard print heels in your wardrobe, take it from me – they are an excellent investment. I pair mine with everything from black to block colour dresses to jeans all through winter.
They add not only a textural and print element to an outfit (my Mimco pair are a faux fur) but they set off a pair of great statement earrings beautifully as well.
I'm loving these perspex earrings, above, from Each to Own as they incorporate plenty of colour but are also light to wear.
If you're in the market for an LBD, this Portmans dress, above, is a great option. If you're after a longer sleeved, merino version of this dress style, check out the Natalia Dress, $229 from SABA.
For a sleeveless, more affordable option, check out this lovely Frill Back Dress from Target, $69.
I'm also crushing on this gorgeous Lace Zip Dress, $189.95 from Witchery (you wouldn't need much in the way of accessories here as the dress is such a feature).
This second outfit is in a similar vein but also has the advantage of incorporating a dress that can easily transition to your work wardrobe with the simple addition of a tailored jacket. (On that note, if you're on the look out for a versatile jacket, this Raquel Ponti Fitted Blazer, $69.95 from The Iconic is pretty great value).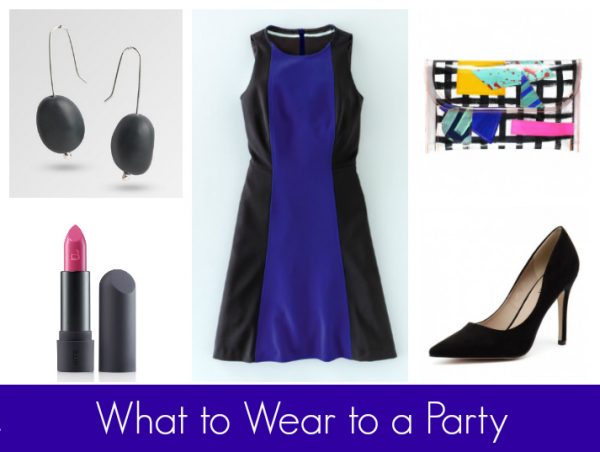 ABOVE, CLOCKWISE FROM TOP LEFT: Resin Earrings, $75 from Dinosaur Designs; Audrey Dress, $83.50 from Boden;A-ha Clutch, $110 from Tiff Manuell; Harold Heels, $79.95 from Style Tread; Bite Beauty Luminous Creme Lipstick in Vento, $38 from Sephora.
Block coloured styles are a perennial favourite of mine and I particularly love a black and cobalt blue combo in the cooler months. It's particularly flattering for those of us with blue and green eyes too.
To contrast against the classic a-line shift cut of this dress, I've added some modern touches – these resin earrings from Dinosaur Designs and this fun clutch from Adelaide's Tiff Manuell.
A simple heel and a bright lip add the finishing touches. A shootie or heeled ankle boots would also work here.
The next two outfits are much dressier and would suit more formal occasions or celebrations.
I reckon this outfit below is perfect for the partner of the birthday boy or girl or the birthday girl herself or a more formal dinner or cocktail party.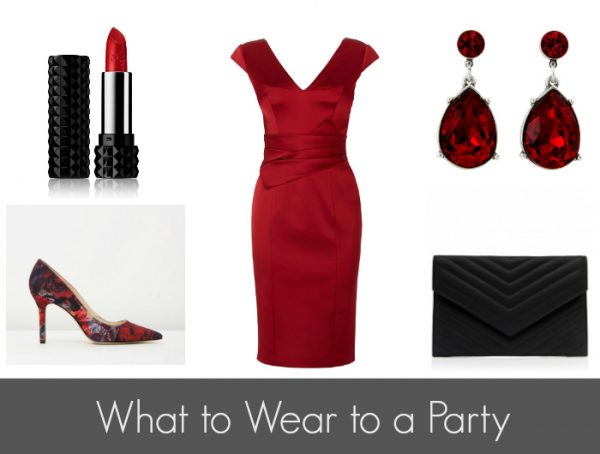 ABOVE, CLOCKWISE FROM TOP LEFT: Kat Von D Lipstick in Fire Engine Red, $31 from Sephora; Red Signature Satin dress, $395 from Karen Millen; Alula Ruby Crystal Earrings, $79.95 from Peter Lang; Abby Quilted Clutch, $34.99 from Forever New; Nine West Martina 2 heels, $139 from The Iconic.
Now this is clearly not the dress for someone who likes to go unnoticed at a party – the red is vibrant and makes a bold statement and will be clearly visible in a sea of LBDS.
If you're hosting an event (it's your party or your partner's), it's a brilliant way to be noticed too.
I tend to dress up just that little bit more when I'm hosting an event as well – it's an excuse to go all out, sets the tone for the event and for me, rightly marks the occasion as a significant one.
I've paired this stunning Red Signature Satin dress with these gorgeous floral pumps, drop earrings and a simple quilted clutch – a winter floral combo of sorts – but if you prefer silver accessories (picking up the silver hardware of the earrings), another option would be these Silver Heels, $129.95 from Style Tread paired with the Missy Embellished Clutch, $49.99 from Forever New.
This hero of this final outfit is this simple but stunning navy dress from Alannah Hill …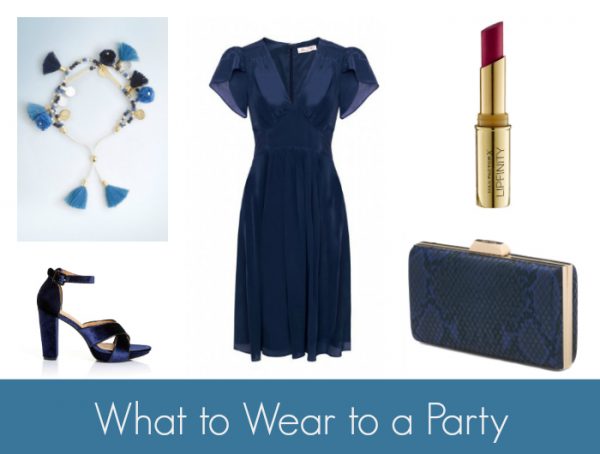 ABOVE, CLOCKWISE FROM TOP LEFT:  Tassel Bracelet, $28.50 from Boden; Baby I Love You Dress, $289 from Alannah Hill; Max Factor Lipstick, $23.95 from Target; Harlee Snake Skin Pod, $89.99 from Olga Berg;   Roxy Velvet Heels, $229 from SABA.
Navy is such a classic but any suggestion of conservatism is countered here with this feminine, floaty details and flattering V-neck.
And how fab are these velvet heels? Love Heart Eyes! I couldn't go past them but if you already have a pair of metallic heels, they would also work well here and pick up the metallic elements of this pretty tassel bracelet.
I've added a snakeskin clutch for some texture but a metallic clutch would also work. A deep pink or red lip against the navy would finish this outfit off beautifully.
Looking for more? Check out what I've been wearing to 40ths in this post and this post. All the details of my 40th birthday outfit are in this post.
If you have a winter wedding coming up, check out this great post from my blogging pal Nikki at Styling You here.
This post contains some affiliate links. You don't pay any extra and I earn a small commission. Read more in my Disclosure Policy here.
Do you have any special occasions or parties coming up? What's your go to party outfit?