We've been lucky enough to have regular invitations to friends' 40th's covering our fridge for the last three years or so.
Besides the fun associated with celebrating a friend's milestone with a bunch of great peeps, I love the excuse to get dressed up, have a champs not to mention a night off the dinner/bed/bath shenanigans.
Over the next couple of months, we have another couple of 40th's to celebrate and I'm already planning my outfits, booking the Uber and the babysitter. It's so fun being a grown up sometimes!
Last weekend we celebrated my friend Peisha's birthday – a gorgeous friend with whom I catch up regularly and who is also part of our Donna Hay Food Club.
With the dress code "cocktail" and the venue a cool inner city pub (complete with a rooftop bar), I knew I had the perfect frock for the occasion – the Classic Cocktail dress from Bohemian Traders, now reduced to $109 but now only available in black.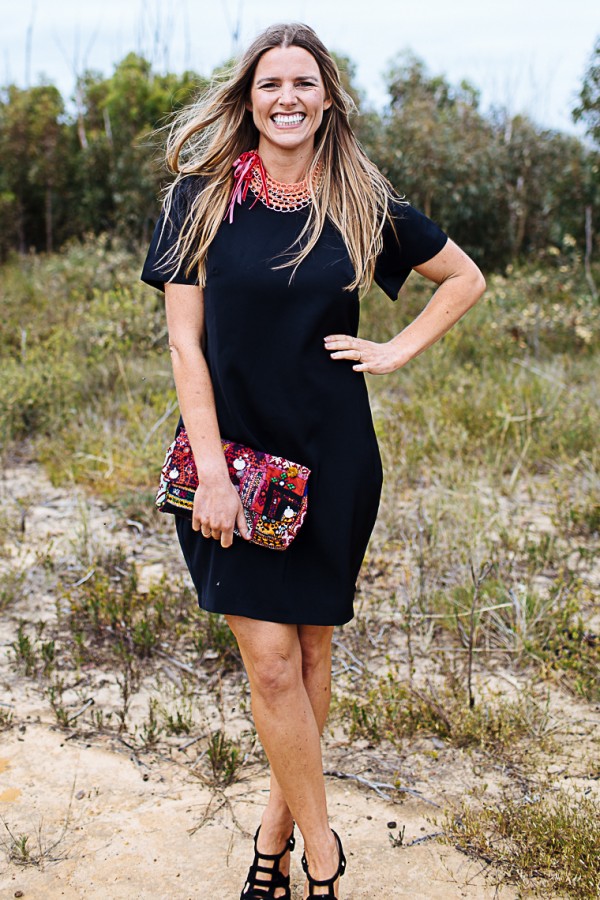 When I first bought this dress, I loved the cut so much I also bought it in the black, pictured above. The black version is still available in sizes XS to XXL here.
Nikki from Styling You then told me that the Sunlace dress (a cotton broderie style which I'm wearing here) was also the same cut, so then I picked that up on sale too.
The Cocktail dress, above, though, is much more substantial than the Sunlace dress (and I think flattering on me), mostly due to the weight of the fabric, making it more of an Autumn option for me. I certainly couldn't wear this on a hot day/night but it was perfect for a balmy 19 degree evening.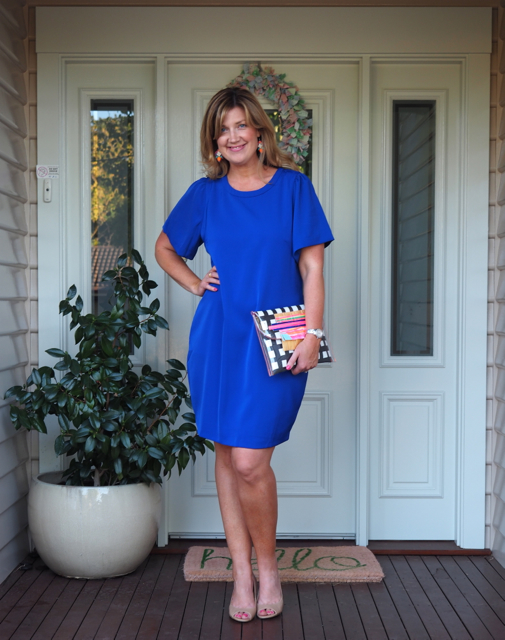 This really is a simple dress but it's the little things that make it work for me.
The main thing, which I touched on above, is the medium weight of the fabric which is substantial enough to drape flatteringly in the tulip shape. How much do we love a fabric that drapes not clings!
I don't normally love this shape on me but the length and weight of this dress combined make it work. You can also see this dress on Nikki from Styling You, who is a bit shorter than me and a different shape, here.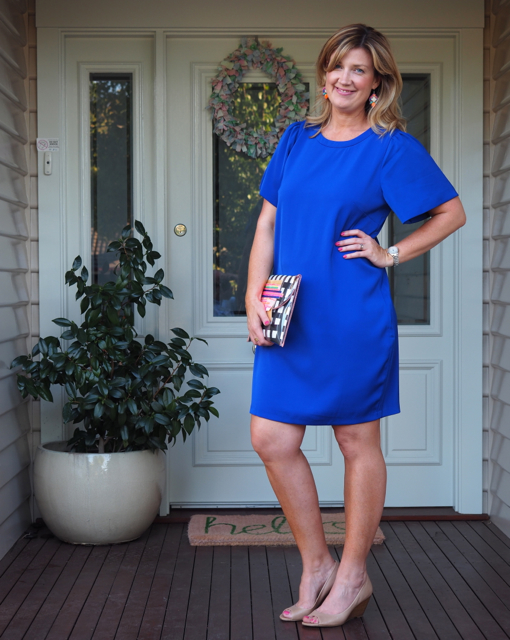 I'm always a sucker for an elbow length sleeve and the pretty bell shaped sleeves here balance out the otherwise modern cut of the dress.
I also love the oversized keyhole at the back which creates some interest without creating bra iss-shoes. (It's much smaller than the oversized keyhole in the Sunlace dress though which comes down to my bra level).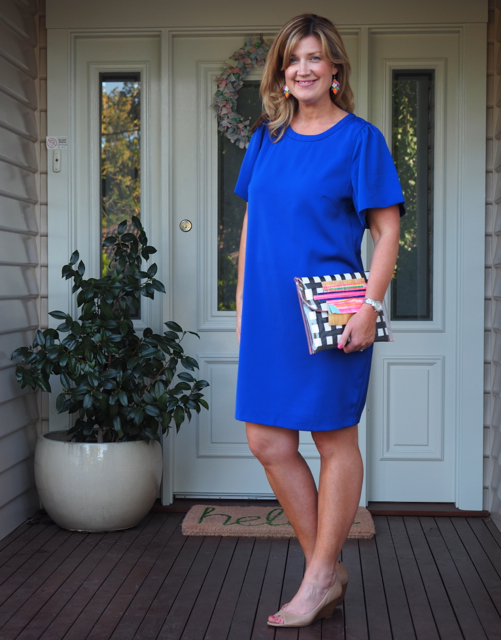 A dressy dress that is machine washable is always a good thing too, cutting out expensive trips to the dry cleaner.
I've styled it here with a pair of nude wedges from Nine West (bought at least 5 years ago), some beaded earrings and my fabulous Tiff Manuell clutch, a gift from one of my besties for my 40th, which picks up the cobalt blue.
This dress would also look great with metallic shoes (gold/silver/rose gold) shoes and accessories.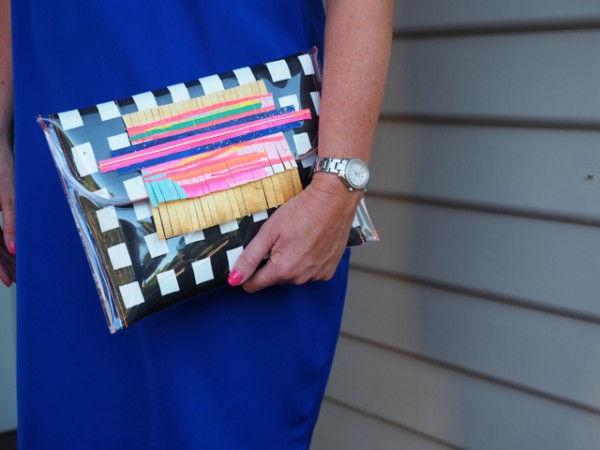 Size wise, I opted for a Large, which is on the generous size perhaps for me, but doesn't swamp me because of the length and shape of the dress. It's really nice (not to mention comfortable) to wear a dressier style of dress that isn't too fitted, especially for those days when you're feeling bloated or a bit blah. Or you might have had Maccas for lunch. You know those days?
The gorgeous cobalt blue also gives this dress the WOW factor, and is a great canvas upon which I've added some fun, bright, mod accessories. The black version, which you'll see me wearing in the next little while, is super chic and a great little LBD.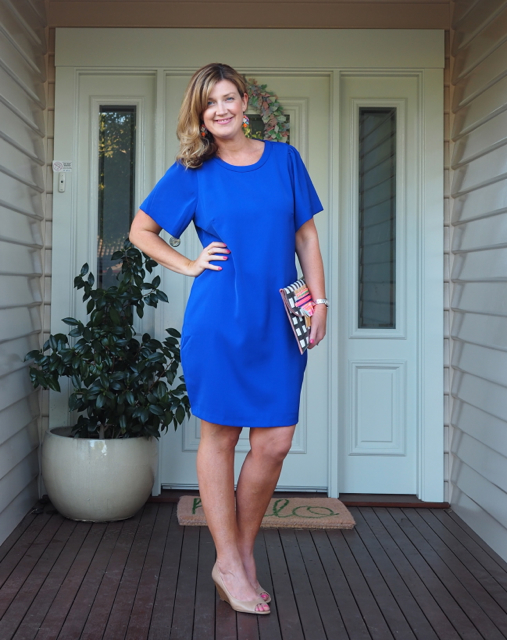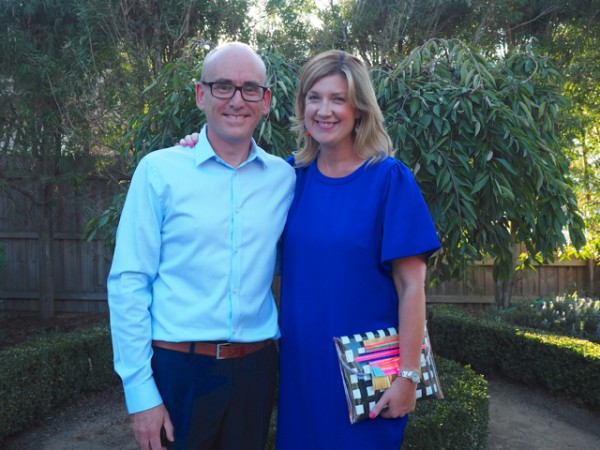 Finally, in breaking news, Bohemian Traders' latest collection, Desert Wanderer has just dropped and it's all sorts of awesome. Check it out here.
This post contains an affiliate link. You don't pay anymore and I earn a small commission.
Are you a fan of cobalt blue? Or perhaps dressing up for parties?