Can you believe it's May already?
It's a shock of sorts for some of us, with an unusually mild Autumn fooling us into believing winter is months away.
When June is four weeks away in fact.
So while it's mild now in many parts of this fair but fickle country, by the end of May we're sure to be experiencing more in the way of crisp mornings and evenings and of course, much cooler days.
Indeed, here in Melbs, I wouldn't be surprised if we just woke up one morning to find that winter has arrived well and truly. Crazy, unpredictable weather is totally our thing.
With this in mind, for this month's What to Wear post, I've put together three outfits that incorporate layers, so they can be worn now, when it's still relatively mild, as well as when it turns colder. Simply add a warmer coat, an extra layer, hosiery or a pair of boots and you'll be sorted all month long.
So on to the first outfit – a smart casual outfit to take you from weekdays (if you work at or from home) and casual Fridays through to weekends.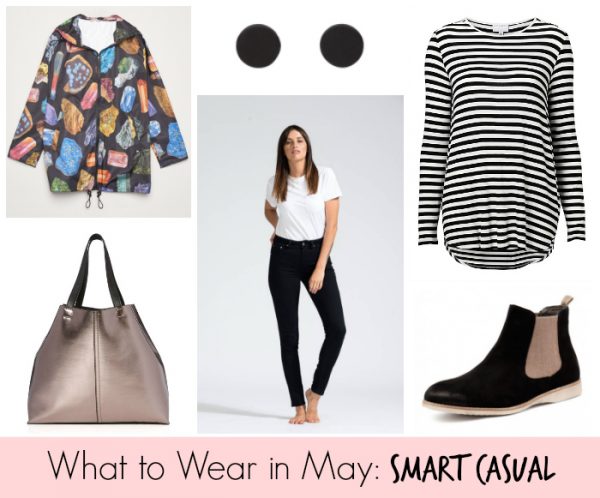 ABOVE, CLOCKWISE FROM TOP LEFT: Rocky Raincoat, $99 from Gorman; Metal Circle Earrings, $24 from Elk Accessories; Stripe Longsleeve Curved Hem Top, $49.95 from Witchery; Black/Blush Pink Boots, $179.95 from Style Tread; Black Skinny Jeans, $129 from Bohemian Traders; Wooster Metallic Tote, $49.95 from Portmans.
This outfit is essentially a fun take on classic monochrome.
The print clash (of the raincoat and top) creates a bit of fun and interest while the metallic accents in this functional oversized tote and the boots complement the gems in this Gorman printed raincoat.
This striped top from Witchery is my latest find and I've bought it in the stripes and navy so far – I have my eye on the black. It's super comfortable, has a bit of length, skims but doesn't cling and is perfect for wearing over jeans. You can see me wearing mine here, in an outfit's that a slight variation of the one above.
As for Rollies, they are my current shoe of choice – they are so light and comfortable and a great shoe if you're on your feet for extended periods throughout the day.
A pair of trainers would also work here or heeled boots or ballet flats for a dressier look.
If you need more warmth than this raincoat offers, check out this fab quilted Face to Face Jacket as an alternative. Otherwise a puffer, sleeveless knit cardy or denim jacket would also work.
Now on to our second outfit, a versatile work combo, the hero of which is this knockout navy dress from Trenery.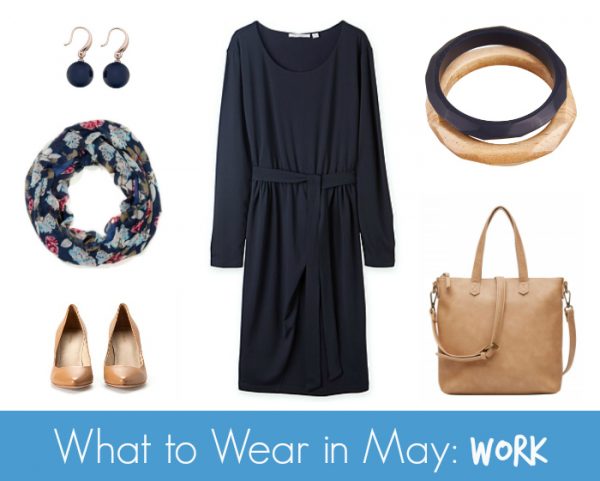 ABOVE, CLOCKWISE FROM TOP LEFT: Navy earrings by Louen Hide, $19.95 from Adrift; Draped Jersey Dress, $149 from Trenery; Rare Rabbit Bangle Set, $39.95 from Birdsnest; Camel Cross Body Bag, $48.97 from Sussan; Angela Mid Heels, $149 from Country Road; Blue Floral Snood, $39.95 from Portmans.
Like the LBD, a great navy dress will never let you down. Wear it with tan heels and a co-ordinating bag for work with your favourite metallic jewellery.
Above, I've also added a scarf if you need some extra warmth on your commute and to add some colour with the print. I'd also add a bright fuchsia lip to pick up the pink in the scarf.
A camel trench would finish this look off nicely too. If you're in the market for a new one, I'm currently crushing on this beauty at Marcs.
Come the weekend, add some heeled boots, a colourful necklace and a denim jacket.
The final outfit is a dressy outfit which would be perfect for a party or a dinner date. As you can see, it incorporates beautiful tones of berry, one of autumn's recurrent trends.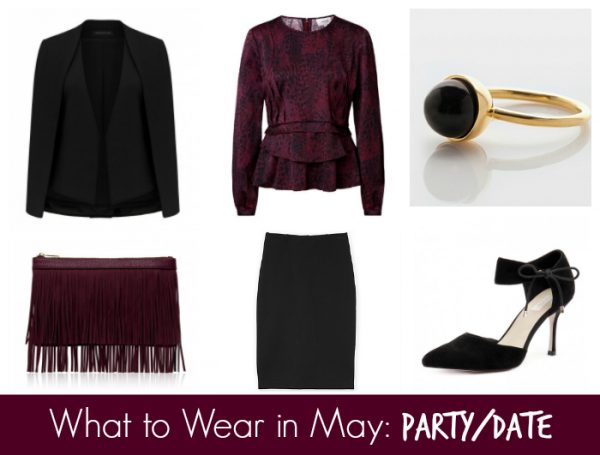 ABOVE, CLOCKWISE FROM TOP LEFT: Alice Capelet, $129.99 from Forever New; Layered Frill Blouse, $129.95 from Seed Heritage; Half Orb Ring, $49.95 from Country Road; Black Heels by Nude, $189.95 from Style Tread; Ponte Skirt, $79.95 from Country Road; Freya Fringed Clutch, $29.99 from Forever New.
The hero of this outfit is this beautiful blouse from Seed. This is such a great print and ideal if you have a wardrobe full of black basics or suits.
The flattering peplum style makes it an ideal piece to wear over pants (black jeans or trousers) or a pencil skirt too.
I've included this Country Road ponte skirt but Target have a less expensive version – the classic skirt, $29, which is available in limited sizes online. I'm also loving this leather pencil skirt, $149.95 from Portmans.
The stiletto and fringed clutch provide a bit of an edge to this otherwise classic outfit but they could be replaced with a sensible mid heel and tote for work.
Likewise, this fabulous capelet is a modern take on the suit jacket but could be replaced with a woollen coat, trench or suit jacket.
Finally, there are some great, understated pieces in Country Road's jewellery range too, so if you're looking for the final touch for an outfit, it's a good place to look, particularly during one of their regular promotions.
This post contains some affiliate links. You don't pay any extra and I earn a small commission. Read more in my Disclosure Policy here.
What's your daily uniform at the moment? Which of the above outfits would fill a gap in your wardrobe?