Today's post is in response to a reader question:
Hi Vanessa, I have just started back at work after a long break having children. I have the business dress part sorted but forgot all about casual Friday. Would love you to do a post on this tricky style to navigate, especially for me in my 40's! Jane.
When I asked Jane to describe her workplace, she replied:
My workplace is corporate, very conservative, lots of suits and black and navy. But then casual Friday was surprisingly relaxed, lots of jeans. I have stuck with quite dressy so far, checking out what others are wearing. Have been looking at Jcrew and Boden etc for inspo but haven't really got it figured out yet!
I thought Jane's question was an excellent one and well worth covering here on the blog. Navigating going back to work is tricky. Once you've actually found a job, there's a lot to get your head around – a new routine, meeting new colleagues, the work itself as well as working out what to wear – both during the week and Casual Friday.
I've returned to work several times post kids – four times and counting – and each time, it's presented a new set of challenges. With changes in my personal style, budget and body shape after each of my three boys, what to wear has always been one of them.
While I've addressed Jane's question specifically, the tips and outfits I've suggested below could apply equally to other, less conservative workplaces as well as smart casual ideas for those of us who work from home but want to dress "up" every now and then too.
So with Jane's workplace in mind, I've come up with the following styled outfits and tips to help her get started. We'd love to hear your ideas too, so please feel free to comment below so we can pool our intel.
TIPS FOR CASUAL FRIDAY OUTFITS
Aim for smart casual – a polished but relaxed outfit – as opposed to super casual. If it's a corporate workplace, a conservative but stylishly classic approach would be a good place to start. Jeans and a blazer, shirt or striped tee – see below – are all understated but smart casual looks which can mix and match together.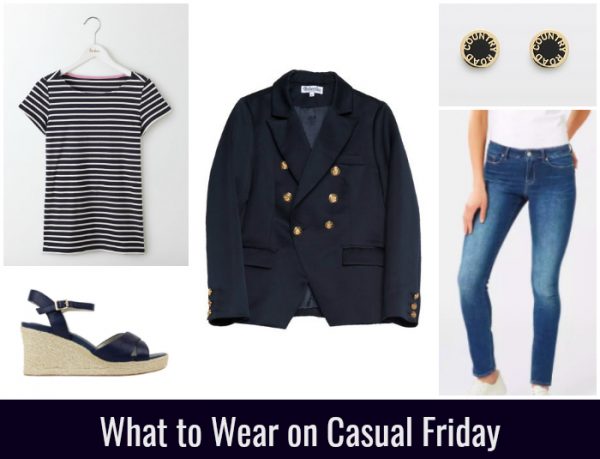 ABOVE, CLOCKWISE FROM TOP RIGHT: Short Sleeve Breton, $45 from Boden; Navy Blazer, $189 from Bohemian Traders; Enamel Stud Earrings, $29.95 from Country Road;  Buttlifter Jeans, $79.99 from Jeans West; ALYCE wedges in navy, $219.95.
Opt for comfortable, quality natural fabrics such as linen or those with some stretch to maximise comfort;
A great pair of shoes – such as a colourful or printed pair of loafers, leather espadrilles or on trend flats like derbys – or statement accessories can really dress up a simple casual outfit and elevate it into much more interesting territory;
In the short term, to save cash and from having to buy a whole new smart casual wardrobe, dress down more formal workwear – ie. tailored pants or a shift dress. For example, wear a fresh tee with a denim jacket and tailored pants or throw on a denim jacket over a shift dress;
Take cues from more senior staff – if the CEO is wearing trainers and distressed jeans, feel free to do likewise;
Printed pants – either soft, jersey styles or more structured trousers – are a great alternative to jeans if you find them more comfortable to wear/work in. Add a block coloured silk tee, tank or knit;
Similarly, a printed top paired with jeans and great accessories – see below – is always a winner;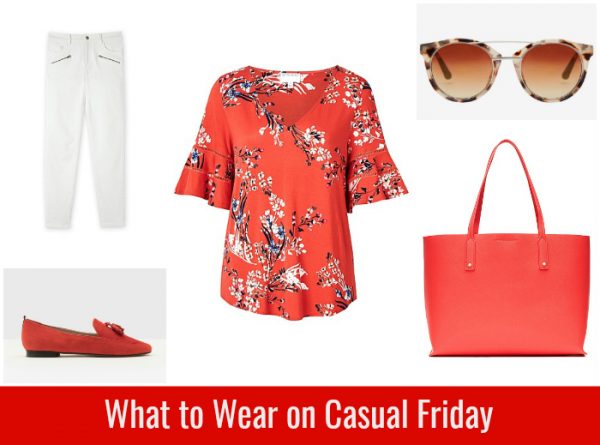 ABOVE, CLOCKWISE FROM TOP LEFT: Zip Jeans, $119.95 from Country Road; Print Trim Tee, $69.95 from Witchery; Sophie Sunglasses, $49.95 from Seed Heritage; Tote, $99.95 from Witchery; Ines Loafers, $170 from Boden.
In a conservative work place, perhaps leave your favourite OTS tops and frocks and asymmetrical necklines for the weekends. Likewise, avoid shoe string straps, beach dresses and kaftans. Keep things relaxed but professional and keep the resort wear for holidays;
Think about where you're going directly from work and try and factor this in, whether it's Friday night drinks or 3 hours of watching the kids play cricket – hypothetically speaking of course! If you're on parent duty as soon as you clock off, a practical but fashionable combo like the one below is sure to be a winner.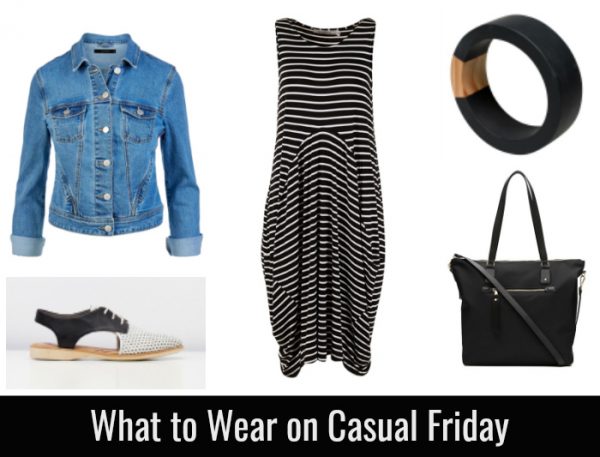 ABOVE, CLOCKWISE FROM TOP LEFT: Maddie Denim Jacket, $89.95 from Portmans; Stripe Tulip Dress, $89.95 from Birdsnest; Wood Inlay Bangle, $40 from Elk Accessories;  Nylon Tote, $99.95 from Witchery; Sidecuts, $169.95 from Rollie Nation.
This post contains some affiliate links. You don't pay any extra and I earn a small commission. Read more in my Disclosure Policy here.
Do you have Casual Friday at your work? What do you usually wear?