Hello August, the third and final month of Winter.
The weekend just gone, the forecast maximum for Melbourne on Saturday was 11C and rain.
It was grey, cold and icy.
Last night's forecast for the coming week is for more of the same.
I don't know about you, but sometimes, I've totally found my Winter fashion groove by August. I know exactly what will work and have no trouble putting outfits together.
Other times (i.e. now), I'm somewhat less inspired and mindful that Winter still has a long way to go here in the southern states. It's been a long Winter here too – it's been cold in Melbourne since late April and reportedly the coldest Winter for twenty or so years.
I hadn't noticed.
So, in today's post, I'm putting together three outfits for some inspo if you're looking for some new ways to keep warm, dry and looking good this Winter.
While the stores are slowly filling up with early Spring ranges, I've managed to find some warm layers for high Winter dressing in between all the new season chambray and stripes (you can check out my new season stripe edit here).
If you live in a milder climate and are having the odd glimpse of Spring already, just take off one of the layers.
I've even thrown in a few umbrellas which will no doubt come in handy for those rainy Spring months.
So let's begin. The first outfit is a smart casual, every day look.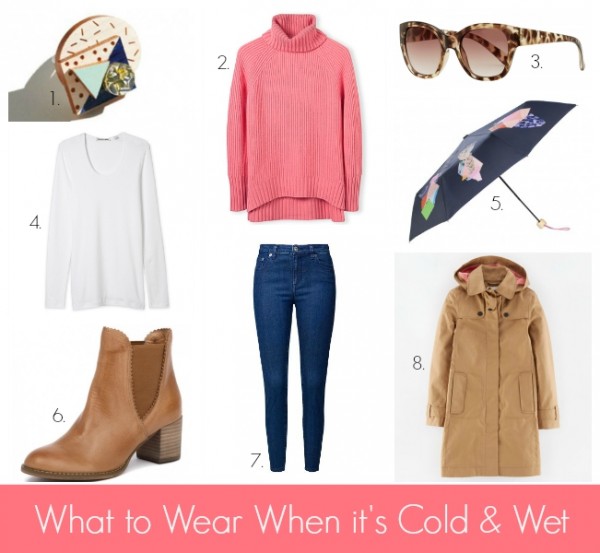 1. Shapes and Glitter Ring by Martha Jean, $29 from Lark; 2. Rollneck Slim Knit, $44.96 (on sale) from Country Road; 3. Ellery Tort Sunglasses, $39.95 from Sussan; 4. Scoop Neck t-shirt, $39.95 from Country Road; 5. Miranda Skoczek Umbrella, $49 from Gorman; 6. Sadore Tan Leather ankle boots, $189.95 from Styletread; 7. Raw Denim Jeans, $89.95 from Seed Heritage; 8. The Mac, $218 from Boden.
The hero of this outfit is a merino blend yarn knit from Country Road which is heavily reduced from $129 to $44.96 and is still available online in all sizes from XXS to XL.
The relaxed roll neck keeps your neck warm and means you don't need a scarf, which is handy if you spend your day both in and outdoors (this is me on days with 6 – 8 pick ups and drop offs with the kids).
I've been needing a full length sleeve top under my knits lately but if you prefer less bulk or need less warmth, a simple tank would suffice. Or ditch the knit and just wear a long tee under a warm coat.
I have one of these Boden Macs and they are excellent coats for Winter, with their warm fleecy lining and shower resistant outer. I wore mine to New York in April and it is often trotted out for early mornings spent watching sport outside.
This one (8) is part of the new Boden Autumn range which has just dropped (it's a British brand so they are heading into Autumn), so there are plenty in stock in sizes 6-22, and 4 other colours/prints to choose from.
These Django & Juliette boots are super comfy and a great option if you are after a mid heel you can wear during the day. I've got them in black and while I've only had them for a month, I've had loads of wear from them already. (You can see me wearing mine here).
The addition of a couple of co-ordinating but fun accessories (1) and (3), and a statement print Gorman umbrella (5) finish off this outfit nicely.
The second outfit is a dressier look, perfect for dressier work places or a night out.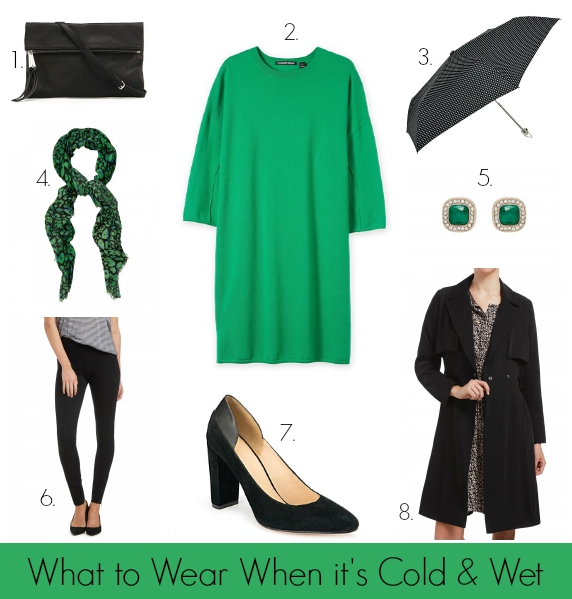 1. Vicki Foldover Bag, $179.95 from Country Road; 2. Kimono Sleeve Dress, $149 from Country Road; 3. Mini Spot Umbrella, $19.95 from Target; 4.Emerald Animal Scarf, $29.95 from Sportsgirl; 5. Alexia Stone Stud Earrings, $9.99 from Forever New; 6. Seamed Zip Back Legging, $79.95 from Sussan; 7. Clean Pump, $199.95 from Trenery; 8. Classic Black Trench Coat, $189.95 from Sussan.
I adore emerald green with black in Winter, it's such a simple but effective combo and if you have blue or green eyes, this is a very flattering look. I know for me, when I feel drab and blah, a nice pop of colour can make me feel and look a lot brighter.
This outfit is basically a short dress/tunic over a pair of ponte pants with statement and complementary accessories adding the finishing touches.
A great pair of ponte pants are great to have on hand in Winter. As they are much more substantial and thicker than ordinary leggings, they keep you warm, and, if they fit correctly, they can streamline and flatter.
I've generally bought mine from Sussan and this pair (6), with the ankle zip detail is another great option.
This dress would also work with a pair of opaque stockings and black heeled boots if you are shorter or happy to show off some leg. A more casual approach would be with leggings and a pair of ballet flats.
As the weather warms up, ditch the pants, leggings or tights and wear it with a great pair of pumps or ballet flats. (Nikki from Styling You has some tips on how to chose the right leggings here).
Over the top I've added a black trench coat which, paired with the jewelled studs, elevate this outfit into versatile evening/date night or even corporate work place territory. Add a pair of killer heels like (7) above or a pair of black boots if you prefer.
The final outfit is an every day casual look.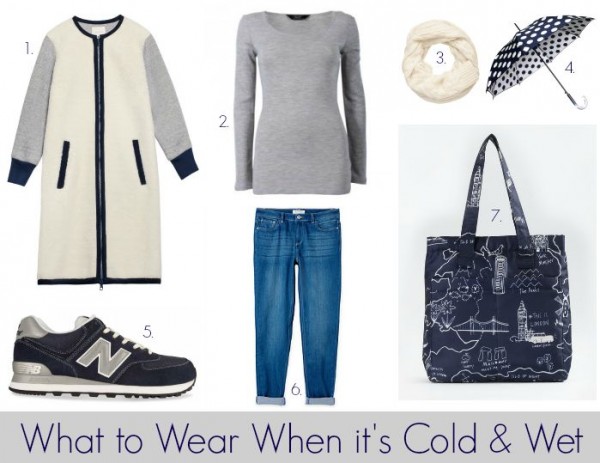 1. Hibernate Coat, $349 from Gorman; 2. Zia Scoop Babywool knit, $59.95 (on sale) from Decjuba; 3. Cable Knit Scarf, $49.95 from Witchery; 4. Clifton Double Cover Dot Series in Navy Umbrella, $56.95 from Parasol Umbrellas; 5. New Balance 574 in Navy, $109.95 from Hype DC; 6. Slim Boyfriend Jeans, $89.95 from Trenery; 7. Printed Shopper, $98 from Boden.
This is the sort of outfit I'd wear when working from home, for days spent running around after the kids or on casual weekends.
I've gone for layers of wool here with the warm, aptly named Hibernate coat (1), a lightweight merino knit (2) and a cable knit scarf (3). The layers allow for easy peeling off in heated indoors but keep you warm enough when out and about.
If you live in a warmer climate, you'd probably substitute a lightweight casual jacket (such as an anorak) for this heavy Winter weight coat.
I've got a pair of New Balance trainers and they are super comfy for every day wear.
The boyfriend jeans keep things relaxed and casual and this printed shopper (7) and spotty umbrella (4) add some fun and interest.
Are you in a Winter dressing rut or just finding your groove? Which of the above outfits appeal to you? Are you seeing any glimpses of Spring where you live?