Hellooo Winter.
After a beautiful mild autumn, Winter has certainly arrived with a vengeance in the southern states over the last couple of weeks with icy mornings, cold winds, grey skies, torrential rain.
This week we had a run of lovely sunny days but the trade off was chilly 6 degree mornings.
We've been expecting it for some time of course, but still, it takes a while to acclimatise doesn't it? Even for us seasoned Melburnians!
It takes a while to become accustomed to dressing for the season doesn't it?
As I've thought about what to wear lately – and as I thought about this month's What to Wear post – I thought of layers to cope with all scenarios and temperatures: coats, puffers, ponchos, knits and cardys over tops, tunics, pants, dresses and skirts.
Even though I prefer warmer weather, I have to admit that there's actually a lot of variety in Winter dressing even when the main aim is staying warm.
Accessories – scarves, tights, beanies and hats – play an important role in keeping us warm as well as adding some colour and interest too.
A statement piece of jewellery can add the finishing touch or simply bring out the colour in a coat or scarf, as I've done in this first outfit below.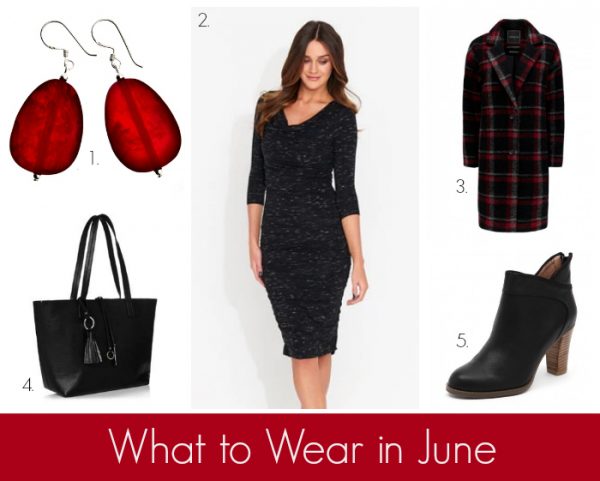 ABOVE:  1. Mekong Earrings, $25 from Birdsnest; 2. Amber Boat Neck Knit Dress, $99.95 from Portmans;  3. Katherine Check Coat, $229.99 from Forever New; 4. Reversible Leopard Print Shopper, $129 from Marcs; 5. Black Ankle Boots, $199 from Style Tread.
This outfit above would suit a variety of occasions and incorporates those timeless winter colours – black, grey and red. I reckon a monochrome or all black/grey outfit is always lifted with a bold pop of red.
This statement winter coat from Forever New is a ripper too and ticks both statement and practical boxes if you have a winter wardrobe full of neutral block colours.
I am a big fan of the knit dress and this ruched style with it's flattering neckline is a knockout. Add control top hosiery if you prefer a bit more support and a more streamlined look.  (If you like a knitted dress but prefer a fuller skirt, check out this gorgeous Fit and Flare Dress, $169.99 from French Connection).
The knee and elbow length features make it perfect for work too – substitute the ankle boots for a block heel and you've got a great outfit for work.
Add a bright red lip and substitute a clutch for the tote and you're ready to party.
Changing gears now, this second outfit is a smart casual look, the hero of which is this lovely wool blend patchwork cardigan.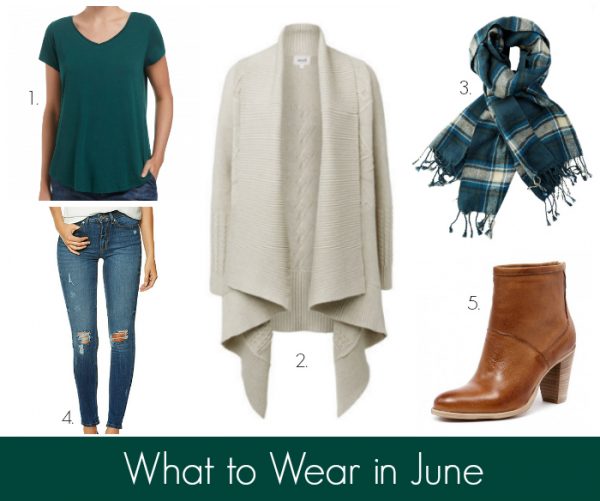 ABOVE: 1. Winter V Neck Tee, $29.95 from Sussan; 2. Patchwork Cardigan, $169.95 from Seed Heritage; 3. Chloe Check Scarf, $79.95 from Saba; 4. Distressed Skinny Leg Jeans, $35 from Target; 5. Maria Rossi Ankle Boots, $269.95 from Style Tread.
If you prefer lighter colours in your winter wardrobe, winter whites and oatmeals worked back with tan accessories are a great way to go. Teamed with denim, you've got a fresh and flattering look to break up all the darker tones.
I love having a couple of heavier weight cardigans and coatigans as an alternative to coats and puffers in my winter wardrobe too – they are perfect on milder sunnier days that start out cold and look the biz over dresses too.
The teal tee and check scarf here could be replaced with any colour – fuchsia or blush pink, navy or cobalt blue and mustard or a deep red would look great here too.
The tee is ideal for warmer climes but I'd probably go for a long sleeved tee or fine merino knit at this time of year in Melbs.
A great pair of tan ankle boots is always handy too. I like the classic, streamlined look of this Maria Rossi pair. If you're after a more on trend style, look for detailing such as buttons, folds, fringing or perforations or a suede style instead. You'll find a great range here at Style Tread.
Finally, here's a casual outfit that's made for busy weekends and days, part of which is spent on the sporting sidelines.
It's fun and colourful without compromising on warmth and comfort.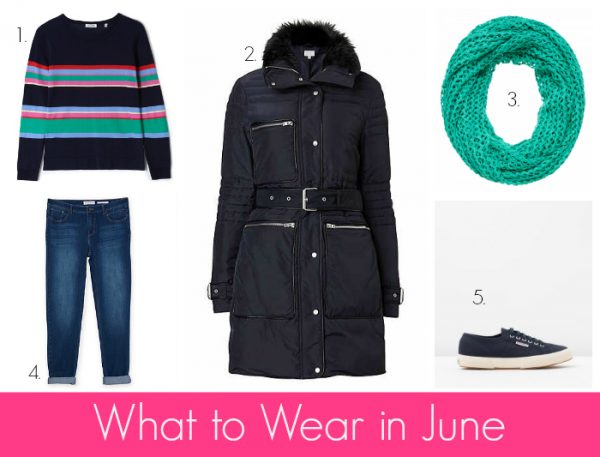 ABOVE: 1. Candy Stripe Knit Jumper, $139 from Marcs; 2. Navy Quilted Puffer, $249.95 from Witchery; 3. Emerald Net Knit Scarf, $29.95; 4. Boyfriend Jeans, $79.95 (on sale) from Trenery; 5. Navy Supergas, $89.95 from The Iconic.
This gorgeous Candy Stripe Knit Jumper is part of the new drop at Marcs. I love everything about it – the navy base makes is versatile but the stripes and colour brighten up any grey old day. There's also a stunning knit dress in this colour way if you're game.
This Bateau Blocked Knit, $99.95 from Country Road is an alternative striped knit but with a red/navy/grey colour way.
I've added some comfy boyf jeans and trainers here for practicality together with a quilted puffer that looks doona strength to me. Loving that.
This pretty Sussan scarf is such a great pop of colour – it also comes in a rose pink – and will come in handy in Spring too.
This post contains some affiliate links. You don't pay any extra and I earn a small commission. Read more in my Disclosure Policy here.
Has Winter hit in your neck of the woods? Which of the above outfits would work best for you?