With restrictions easing and things slowly beginning to return to some sort of new "normal", I don't know about you, but I'm finding it refreshing to have the mental real estate to think about wearing something other than active wear with a side of dry shampoo.
And, with schools, cafes and restaurants re-opening, many of us now have more reasons to get dressed  to go out, which is a big change and mental shift from ten weeks of being largely home bound.
If you are slowly coming out of the #ISO home cocoon and trying to re-orientate yourself into the head space of what to actually wear outside the house, this post is especially for you. It's also for those of us who are trying to figure out what's new and fun in fashion, what'll work with whatever event you have coming up (YAY, our social lives are no longer dependent on who we see at the supermarket), or if you're simply trying to fill a gap in your Winter wardrobe.
This first outfit is a relaxed smart casual look, the base of which is a simple black pants and knit combo, which is then elevated with some on trend accessories that can easily be interchanged with what you already have in your wardrobe.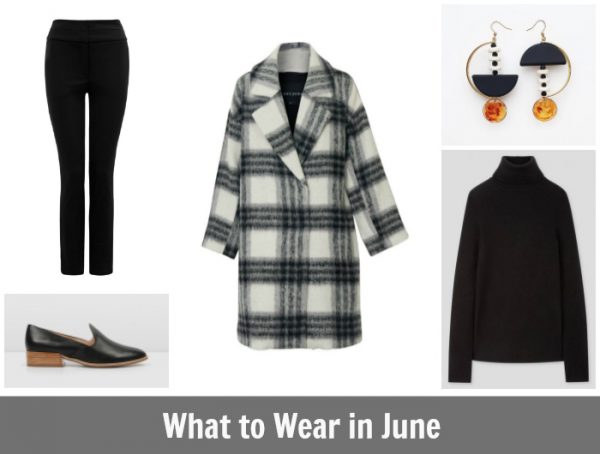 ABOVE, CLOCKWISE FROM TOP LEFT:
High waisted pants, $89.99 from Forever New;
Check coat, $189.95 from Decjuba;
Earrings, $45 from Middle Child;
Merino turtleneck knit, $49.90 from Uniqlo;
Loafers, $189.95 from Jo Mercer.
I'm always on the look out for versatile black pants that I can wear to work with a blazer and loafers or pair with a top, coat and boots for dinner out with the girls or date night. These Forever New pants are a well priced winner, and I'd also recommend the great range at Portmans.
Winter is well and truly here in Melbs, so I've been carefully checking out my coat and puffer situation and researching current options lately (see my selection here in this post). I'm a fan of this monochrome check coat as its check print adds interest to a basic outfit while remaining neutral and versatile.
I am also currently obsessed with loafers and pointed flats that work back with jeans and a knit, as well as being approps for work, if and when I ever get back to the office and seeing clients again IRL. They are also handy to wear when clothes shopping as they are easy to slip on and off in change rooms. Or so I've heard.
Finally, a great pair of statement earrings are always a winner but especially at this time of year, when we tend to wear layers of block coloured knits and jackets/coats. I love the selection at Middle Child, and this pair immediately caught my eye.
This next outfit is for milder Winter days. If you adore this print like I do, you'll be happy to know Mister Zimi has just released a new drop which includes this print (and several others) in a larger variety of tops and dresses, so if you live in a colder climate, you could substitute a top in this print paired with denim instead of the dress or opt for a longer dress instead.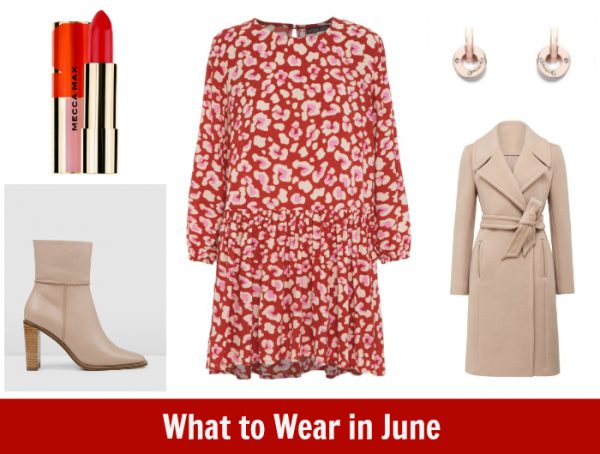 ABOVE, CLOCKWISE FROM TOP LEFT:
Lipstick, $20 from MECCA;
Elsa Dress, $159 from Mister Zimi;
Earrings, $59.95 from Mimco;
Florence Wrap Coat, $179.99 from Forever New;
Ankle boots, $199.95 (on sale) from Jo Mercer.
I adore light and bright colours in Winter when the temptation is to wear dark colours to match the weather. Light coloured boots paired with a camel coat is always effortlessly chic, and can be paired with denim and a knit or a printed dress like the one pictured above.
Tonal, understated earrings that don't compete with the print are a handy addition too.
A bold lip brings warmth and a pop of colour to this fun and fabulous outfit.
This next outfit is a classic casual combo that is weather approps (so ideal for the school run or errands) but, from the waist up and sans beanie, is also perfectly appropriate for your next Zoom meeting. Just add some earrings and a pop of lippie and I promise you'll look totes profesh.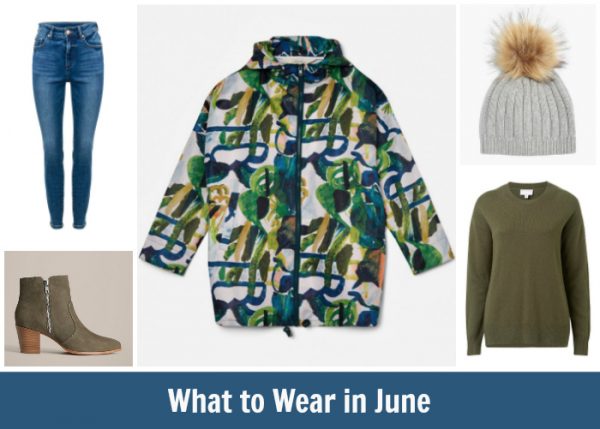 ABOVE, CLOCKWISE FROM TOP LEFT:
Skinny jeans, $99.95 from Decjuba;
Raincoat, $79.20 (on sale) from Gorman; 
Beanie, $59.95 from Country Road;
Knit, $99.95 from Witchery;
Ankle boots, $229.95 from Witchery.
I've included ankle boots here because I'm crushing on these olive ankle boots but your favourite pair of derbys or white trainers would also work here. For a wet weather version, check out these olive gumboots from Country Road.
As for this new Gorman print, Casa Verde by Spencer Shakespeare, it's my new favourite, and I just might have bought the frock in this print (it narrowly beat the jumpsuit). The rain coat is also calling my name, hence it's inclusion here. Check out all the pieces in this fab print here.
If you're after a warmer, more substantial coat, check out this well priced option at Forever New.
Looking for Winter basics?
Check out the following:
If you're after #ISO friendly and comfy clothes for home as well as my new favourite jeans, you might like to check out this post on my favourite #ISO fashion.
So over to you, which outfit is your pick? How cold is it where you live right now?
This post contains some affiliate links. You don't pay any extra and I earn a small commission. Read more in my Disclosure Policy here.