It's feels a bit weird to be talking fashion in times like these, but it's occurred to me of late that how I feel is very much dictated by how comfortable I am in what I'm wearing.
I've spent most of the last four weeks working full time during the week, where I've been sitting at my computer for hours every day and going for the odd walk or doing the occasional yoga class in between. Weekends have involved walks around the neighbourhood with the fam, baking, domestic chores and a family movie. Other than that, I've put on a pair of jeans  once in a while, usually to make my weekly pilgrimage to the supermarket.
Living this slow life has called for a new approach. Comfort, warmth, practicality and flexibility are at the top of my priority list along with a no ironing policy at the best of times, let alone now. The difference is that this isn't broken up with the odd work outfit, getting dressed up to go out or any of the usual social occasions (birthdays, footy and so on) at this time of year which involve a completely different look and effort.
So, if it's of interest to you and you're spending much of your week working from home, homeschooling or a combo of both, here's what I've been loving and wearing during these #ISO times.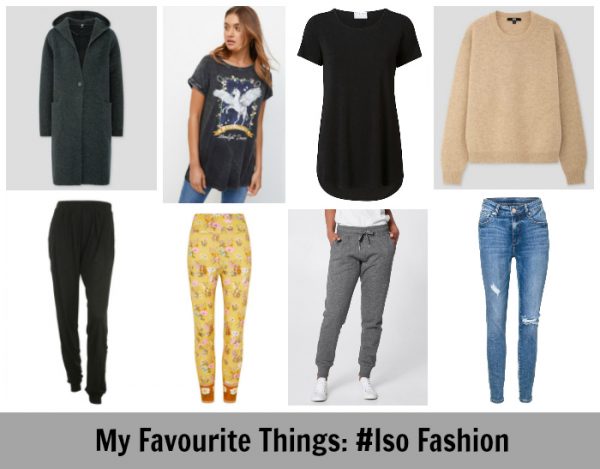 ABOVE, CLOCKWISE FROM TOP LEFT:
Knitted Wool Hooded Coat, $59.90 from Uniqlo;
Washed tee, $41.97 from Sportsgirl;
Crew Tail T-shirt, $39 from Witchery;
Lambswool crew neck sweater, $49.90 from Uniqlo;
Evie distressed denim jeans, $99.95 from Decjuba;
Fleece tracksuit pants, $20 from Target;
Wild Bloom leggings, $119 from Spell & the Gypsy Collective;
Paris Pants by Betty Basics, $29.95 from at Birdsnest.
Tops and knits
I've been loving these pieces for every day wear:
Pants
As the weeks roll by, I'm leaning into Soft Pant Life life never before and also beginning my search for the perfect pair of Winter jeans. Here's what I've come up with so far.
I've also found the following great, budget friendly pieces from Target which I'd highly recommend:
Dressier Options
I haven't been frocking up or getting dressed up of late and I haven't had the time or head space to embrace Formal Friday or even a costume for a Bin Isolation outing. I did pop on this easy wearing Seashell boho dress from Spell for Easter Sunday though.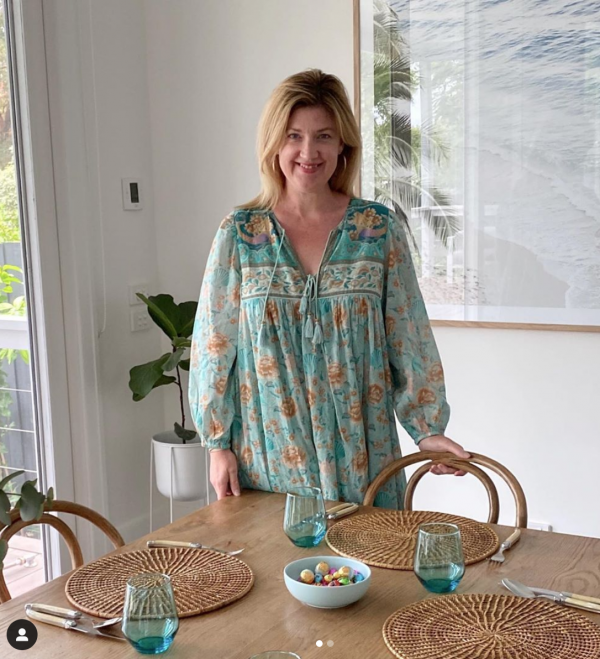 I also popped on an old Mister Zimi top and jeans for a trip to the supermarket and Zoom drinks, but that's about as adventurous as things have gotten around here. I'm wearing the Evie distressed denim jeans here too with these Rollie Nation derbys.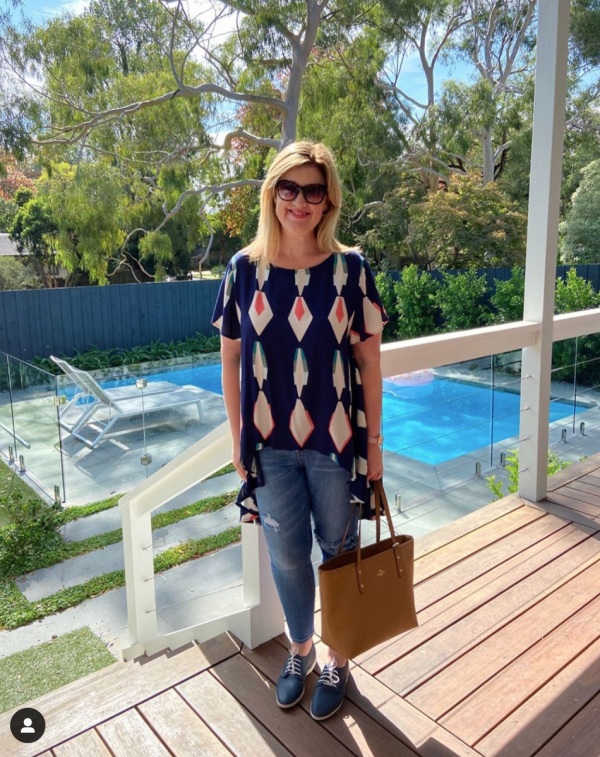 I have bought a couple of dressier or more Winter appropriate pieces which I'm busting to wear as soon as the circumstances and weather co-operate too:
This post contains some affiliate links. You don't pay any extra and I earn a small commission. Read more in my Disclosure Policy here.
So over to you – what's your #ISO uniform? Please tell us where you found your favourites!