I spend a lot of time on this blog talking about outer layers.
Tops, coats, dresses, jeans, knits, accessories and shoes.
That's where most of our fashion focus rightly lies, but it's also true of most things, that having great foundations – or basics – is also paramount.
Lately, I've received emails from readers asking about where to buy said great basics and I thought it'd be a great idea to share our collective intel on this important topic.
Below, I'm sharing my favourites, many of which I've wearing for years while others are more recent discoveries. Sharing is caring, so if you're on to a winner, we'd love to hear about it in the comments below.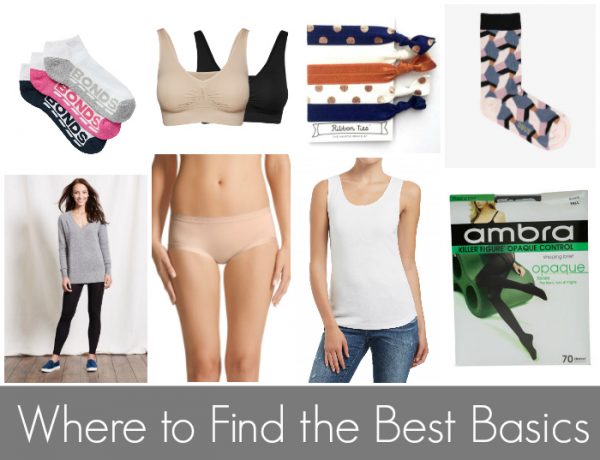 ABOVE, TOP ROW, LEFT TO RIGHT:
Bonds Sports Socks (3 pack), $15.95; Bella Bodies Bamboo Bras Twin Pack, $49.99; Ribbonties in Georgia Peach, $12; Obus socks, $12.
BOTTOW ROW, LEFT TO RIGHT:
Boden Leggings, $44.50; Bonds Midi Invistails, $17.95 but currently 30% off;   Sussan Perfect Tank, $19.95;  Ambra tights, $14.95.
Undies
Undies are about as personal an item as you can wear, so this obviously comes down to personal preference.
I'm all for seamless knickers which streamline and flatter without any VPL. I don't want to be drawing any unnecessary attention to my lower regions!
My favourite everyday choice are these Bonds Invisitails. I have them in nude and black and they're great to take on holiday as they go under anything. They're available in bikini, midi and full brief styles too so there's something for everyone.
Bras
Like shoes, you need your bra to match the occasion. A bra-drobe of sorts, I guess.
I've got a few bras that I'm particularly loving at the moment, all of which suit different requirements!
For exercise, I love these Berlei Sports bras.
For a nude, comfortable every day bra I'm currently loving Berlei's t-shirt and seamless styles.
For a super supportive wire bra that gives good shape, I love the Serene Underwire Bra by Berlei.
For lounging at home, the Bella Bodies Seamless Bamboo bra is the bra equivalent of tracksuit pants.
The Playtex Revolution Smoothtec bra is a more supportive wirefree option and is also very comfortable. At the end of the day though, I find gravity takes it toll though, if you know what I mean.
For something pretty and lacy, I love the bras at Freya Lingerie (available at Myer) and Simone Perele at David Jones. They both offer support without compromising on pretty. Simone Perele also do great strapless bras.
Tights and Hosiery
For sheer nude hosiery, I'm a big fan of the natural looking but darker shade Jabou in the Voodoo range. In the control tops, these were my go to stockings in my corporate life.
In the tights department, I prefer Ambra. Their control top tights are excellent as are the everyday tights in deniers 40-80. I've found  they don't ladder easily and wash and wear well. I'm still regularly wearing a pair I bought last winter.
Ambra also do a maternity range and a great range of colours.
Instead of the double undies scenario, I also size up to avoid any annoying low crotch situations. So, at 5'9″, I always opt for XL, even though I'm technically at the very bottom of that range. It's all about the length, so don't worry about the size.
Leggings
My favourite and the most comfortable leggings I've ever tried are the Boden leggings.
They sit high enough and fit well enough that I never have to hike them up and they wash and well extremely well. They're available in sizes 6 – 22 and this season available in three colours: black, navy and grey.
There's also a cropped version but limited sizes are available.
I wear mine under dresses and skirts and they are super comfortable.
Ponte Pants
I've tried ponte pants from a few retailers but I keep coming back to my Sussan version which are a few seasons old but still fit well and are comfortable enough to wear all day. They are a simple style with no embellishments and are effectively a very thick pair of leggings which are reasonably warm. I do still have to hike them up occasionally but they still fit me better than most jeans.
If you're looking for a pair, check out the Sussan Ponte Zipper Pants, $55.97 (on sale).
Footsies and Socks
I don't wear socks every day but when I do, I want something comfortable that's fun.
For exercise, I love my Bonds socks which have a bit of padding (the comfort style) and come in fun colours. (You might like to check out this post on where to buy active wear for more ideas).
For boots and trainers, I like a fun sock or a footsie.
Because I don't have (or need) many socks, I buy Gorman or Obus socks on sale. I love the prints and they're fun to wear.
Historically, I've had a love/hate relationship with footsies mainly because I think they're a great idea but they always bunched off in my shoes during the day which was super annoying.
Then Colour Me Anna put me on to Gorman footsies and I've never looked back. I occasionally have a bunching situation but more often than not they last all day which is a huge improvement on other brands and styles I've tried. There aren't any available online currently but try your luck in store.
Singlets/Tanks
In the cooler months, it's great to have some basic tanks and long sleeved tees to wear under knits, cardigans, windsheeters and hoodies.
On cold winter's days, I've been wearing my merino knit from Kathmandu under knits and cotton tops.
When I'm reaching for a longish layering tank, I've got some tried and true options from Seed Heritage and Sussan which I've been wearing for years. Trenery's tanks are excellent quality too.
The Sussan Perfect Tank is a great option too as it's available in 3 colours (black, white and khaki) in sizes XS to XXL.
Hair Ties
I've always loved a pony tail but am not a huge fan of the kink it leaves.
These Ribbonties hairties solved all my problems and they also look good on your wrist unlike their hairy predecessors. Their hold is not quite as firm as your regular elastic though but is perfect for your everyday pony.
I reckon they make a lovely gift for girls too.
This post contains some affiliate links. You don't pay any extra and I earn a small commission. Read more in my Disclosure Policy here.
So how about you? Have you found some great basics we should know about or have you tried or do you wear any of the above?