I know a lot of people who spend a lot of time in their active wear.
I'm fortunate that I can exercise before the kids go to school a couple of times a week, as Mr SnS works from home and his daily commute involves a short walk to his office at the front of our house.
This means I tend not to wear my active gear to school or kinder as I generally have enough time to shower and throw something else on.
But I know that my circumstances are unusual.
Most people can only exercise once the kids have been dropped off at school or kinder, which means they spend part – often all – of their day in active gear. And why not? It's really the best attire for running around after active kids!
Given we spend a reasonable amount of time in our gear, it's important that we feel comfortable in it, it washes and wears well and, if possible, it looks good too.
Thankfully, there's a great range of active gear around these days at a variety of price points and in this post, I'm sharing some of my favourite places to buy it, all of which I mix and match with each other.
I'd love to hear where you buy yours in the comments below.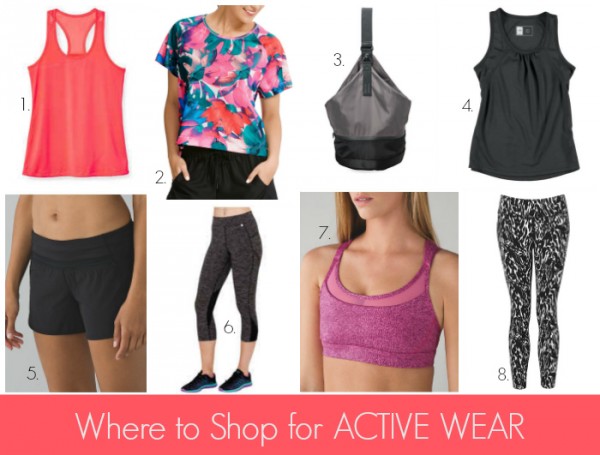 ABOVE: 1. Michelle Bridges Active Racer Mesh Tank, $25 from Big W; 2. Active Mesh Tee, $39.95 from Bonds; 3. Active Gym Bag, $59.95 (on sale) from Country Road; 4. Active Mesh Top, $6 from Kmart; 5. Run Times Short, $65 from Lululemon; 6. Michelle Bridges 3/4 Space Dye leggings, $35 from Big W; 7. Get Down Bra, $69 from Lululemon; 8. Joli Print Leggings, $99.95 from Witchery.
1. Big W – I'm a huge fan of the Michelle Bridges range of active gear available through Big W. I was given my first pieces last Mother's Day and have been a devotee ever since.
The price point is great, the pants fit perfectly (I wear a 12 and I'd say they are true to size),  they haven't lost their elasticity and they wash and wear really well.
The only thing I'd say is that she doesn't do loads of plain or block coloured pieces but if you buy some basics from other brands, you can mix and match here without too many issues.
2. LuLuLemon – People swear by LuLuLemon and while I've only got a few pieces, everything I've bought has washed and worn very well.
I also like that you can buy plain/block coloured pieces here, such as running tights and tops which you can mix and match with less expensive brands.
Just check the Australian size chart before you add to cart though as everything is in US sizes.
3. H & M – This is where I buy my "fashion" pieces- the fluro tops and long sleeved tees that I wear with my basics from other brands. I've also bought a fab polar fleeced zip up for cold mornings which is warm but dries quickly.
Again you can't go wrong with the price point here, with most nearly everything priced between $20 and $50. Sizing is on the generous size though so it's worth trying things on in store.
4. K-Mart – I've bought a few bits and pieces here including exercise tops for $6. Check out the full active wear range here.
5. Country Road – If you like your active wear to look as good as it feels, check out Country Road's Active range.
I've picked up a great pair of full length running tights from Country Road last year on sale and I've been impressed with the quality and fit. When I was in store today I noticed some active wear on sale too, further reduced by 25% which is great value given the price point.
Witchery have a new active range now too called Witchery Balance, which is worth checking out too. It's on the expensive side though, so look out for the next Spend and Save promotion.
6. Bonds – Bonds do a mean trackie and sloppy joe. This is my go to brand for exercise on the less intense end of the spectrum, such as walking, pilates or yoga.  
7. Lorna Jane – I've never bought anything from Lorna Jane but I have friends who rave about it. If you like active wear that is high on fashion with great patterns and prints, check it out.
This post contains affiliate links. You don't pay any extra and I earn a small commission. Read more in my Disclosure Policy here.
Where do you buy your active wear? Any great brands we should know about?