Hello and welcome to February and to our latest edition of What to Wear.
In these monthly "What to Wear" posts, I'm aiming to bring you new season pieces that you can wear right now and into the season beyond.
This month, I'm including outfits for date night (hello lovers) slash Valentine's Day, as well as options for everyday/casual and work.
As always, it's an edit of what's in store right now and will hopefully inspire you to shop your own wardrobe with fresh eyes.
Then, if you need to, complement what you've got with something new. You might even have a similar version already to some of these new season pieces below. For example, seeing the green dress below has inspired me to pull out a dress I have that is very similar.
Alright, that sorted, let's turn to outfit #1 for Feb: Date Night.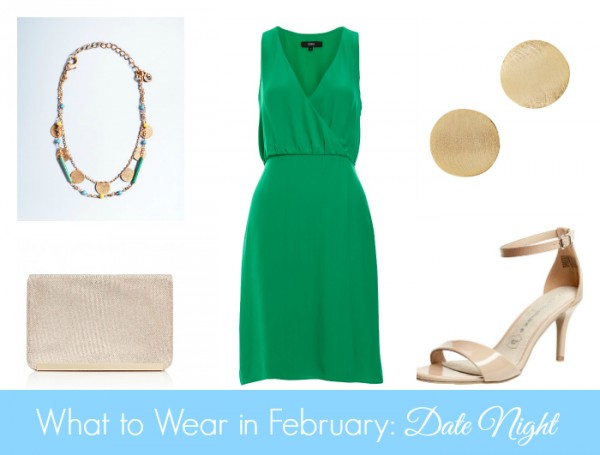 CLOCKWISE FROM TOP: Fleur Bracelet, $28.50 from Boden; Brooke Dress, $229 from Saba; Pigeon Hole Circle Studs, $25 from Birdsnest; Tully heels, $35 from Target; Vicky Clutch Bag, $32.99 from Forever New.
I'm mad for a green frock at the best of times and this pretty Saba frock immediately caught my eye when I spotted it in store last week. With it's flattering faux wrap top (which is fixed at the point it crosses so it doesn't fall open), your decolletage can take centre stage while the drapey a-line skirt caters for all shapes.
The dress is the focus of this outfit so I've added some fine gold beaded jewellery and some nude accessories to finish things off.
Oh and if you have blue eyes and don't wear this shade of green often, try it on and see how it makes your eyes pop. #superflattering.
Ok, now it's time for business with this new season midi dress from Witchery.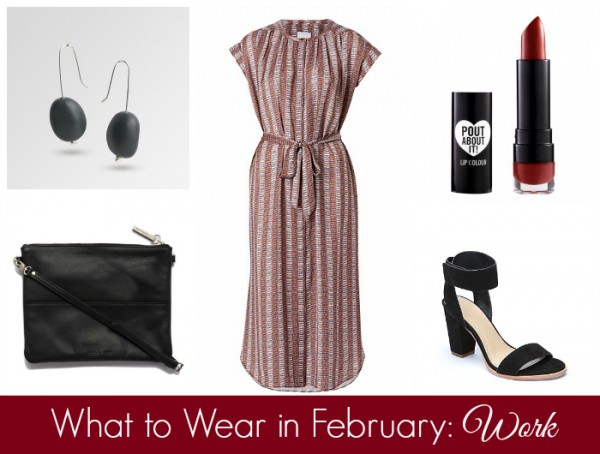 CLOCKWISE FROM TOP: Earrings, $75 from Dinosaur Designs; Short Sleeve Midi dress, $149.95 from Witchery; Kora High Heels, $179 from Country Road; Jules Shoulder Bag by Louen Hide, $149.95, from Birdsnest.
There's a lot to love about this dress. The Autumnal colour palette and midi length make this an on trend, up to date option while the silky fabrication is light enough to wear on warm days.
The tie waist creates some shape and the cap sleeves provide that extra bit of modesty and coverage for work.
A great pair of block heels (like this pair from Country Road) is always a great investment at the start of the season and easily works across both work and smart casual wardrobes.
Likewise, a pair of black beaded earrings like this Dinosaur Designs pair is always a good thing and will often complete an outfit.
If you're looking to try a new shade of lippy, try the range at Sportsgirl – for $9.95 you can't go wrong and you can have fun experimenting with some different looks without splashing too much cash.
Finally, this simple but practical messenger bag is a great option if you're also carrying another bag (with a laptop or exercise gear for example) or if you've got your hands full dropping kids off to kinder/childcare/school en route to work. I love a hands free bag any day of the week and would love to add this versatile number to my collection.
This last outfit is one I'd wear 6 days out of 7.
It has all the hallmarks of my casual style – a print, fun and interesting accessories and of course, it's comfortable and practical for every day shenanigans at home or out and about on the weekend.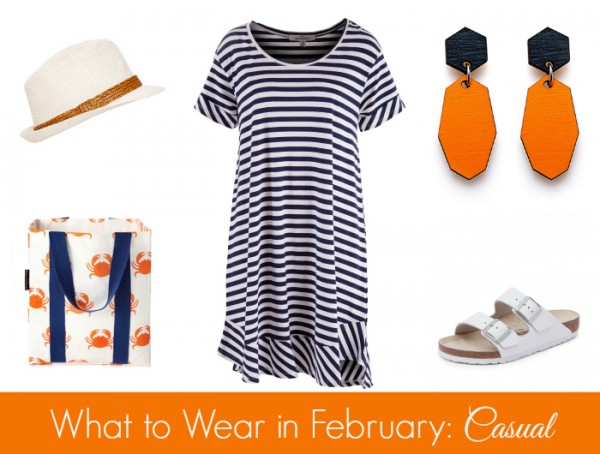 CLOCKWISE FROM TOP: Braid Trim Fedora, $39.95 from Seed Heritage; Swing Dress, $69.95 from Birdsnest; Jungle 2 Studs, $59.95 from Polli; Arizona Birkenstocks in White, $143 from Style Tread;Orange Crab Shopper, $14.95 from Project Ten.
I should totally start a support group because I just can't stop buying striped dresses as they are just the easiest option going around. I either add shoes in the same colour palette (I'd wear my white birks or navy Salt Water Sandals with this) or go for a contrasting pop of colour.
I adore orange with navy and white – for me it's a modern take on the classic red. Here, the simple introduction of orange with these fun accessories makes the whole outfit more interesting without compromising on style.
As for Birks, they have been and will always be a Summer staple for me, particularly for days when I'm pounding the pavement around the neighbourhood.
A hat and sunnies are not only sun smart but look the biz too.
This post contains affiliate links. You don't pay any extra and I earn a small commission. Read more in my Disclosure Policy here. 
Is it hot where you are? Are you ready for Autumn fashion or still looking for high summer options?