I don't know if it's just me, but now everyone's back to school, work and the term routine, I've finally got the mental real estate to think about what I'm wearing.
With the first of the Autumn drops appearing in stores as well, it's a good time to be back in the fashion zone too.
But as much as I love looking forward to the coming changing of seasons – both the prospect of a cool night's sleep and fashion wise – it can be a challenge to strike the balance between choosing what's currently on offer (and available in a range of sizes) and what can actually be worn comfortably at the peak of Summer.
With that in mind, I've done extensive reconnaissance to bring you the best of what's new and fabulous, but also appropriate to wear RIGHT NOW. Of course, it's very worthwhile trawling the actual or digital sale racks at your favourite retailers at this time of year when there's still plenty of hot days left, but if you're looking ahead or wanting to see the latest drops, I hope this post offers some inspiration or a place to start.
This first outfit is a modern update on the shirt dress for work. Instead of a buttoned down, more conservative style, the silky feel fabric, mandarin collar and tortoiseshell fabric belt elevate this frock into much more sophisticated territory. It's also a style that will work across a variety of scenarios, both now and well into Autumn.
With a short sleeve, it's perfect for chilly air conditioned offices and the morning/evening commutes not to mention dinner or drinks on a balmy night.
Did I mention I bought this dress?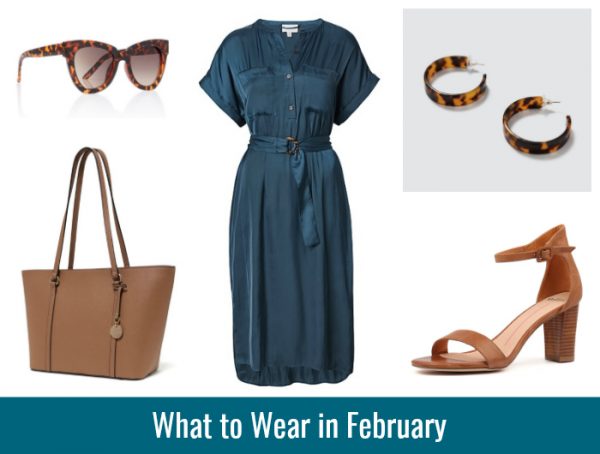 ABOVE, CLOCKWISE FROM TOP LEFT:
Sunnies, $39.95 from Sportsgirl;
Resin Hoops, $19.95 from Seed Heritage;
Utility Midi Dress, $149.95 from Witchery;
Tan Heels by Mollini, $149.95 from Styletread;
Sadie Tote Bag, $47.99 from Forever New.
On the accessories front, I've opted for simple tonal options with some tortoiseshell accents to pick up on the belt. Even just the tort sunnies or earrings with tan shoes and a bag would work.
I'm also obsessed with this stunning petrol blue colour. Not only does it look the biz with tan accessories, it's a knockout for us blue eyed ladies.
Oh and finally, size wise, I found this dress was on the oversized, relaxed side and I went down a size.
This next outfit is a smart casual to dressy option for parties, catch ups with friends and other soirees when it's hot.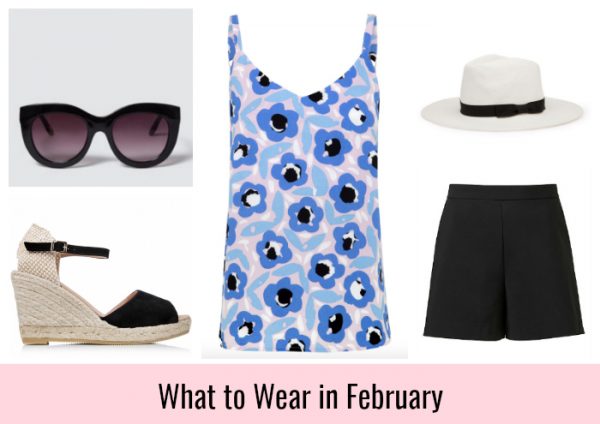 ABOVE, CLOCKWISE FROM TOP LEFT:
Sunglasses, $39.95 from Seed Heritage;
Rita Cami, $85 from Mister Zimi;
Classic Panama Hat, $29.95 from Sportsgirl;
Structured Shorts, $99.95 from Witchery;
Espadrilles, $179.95 from Jo Mercer.
I've been building my cami wardrobe slowly over time and I find they are such a great wardrobe basic, once you find a style that suits. This year I've been loving the block coloured reversible camis at Seed Heritage (they're on the generous side size wise) and, for a dressier option, these silk styles at Portmans.
If you're looking for a printed style though, it's hard to go past the fun prints at Mister Zimi. This blue floral is my pick of the current offerings, and I love it paired back with some monochrome co-ordinates. I do love a structured short as they sit higher on the waist and create a flattering A-Line shape.
I prefer to tuck my camis in too so I accentuate my waist and create some shape and I find these styles make tucking in easier as the cami doesn't come out as easily.
Paired with some stylish sun smart accessories and an espadrille wedge to lengthen the leg – always helpful and called for when I'm wearing shorts – you've got a comfortable, sun smart and fabulous outfit. Just don't forget to apply sunscreen to your back. #RookieMistake.
If you like to look ahead as I do, as the weather cools, I'd swap the black shorts for black, white or denim jeans/trousers.
This next outfit is ideal for those days when you want to look put together, but it's also hot and you're on the go. A great pair of statement earrings with a pop of colour later and you've got a great look.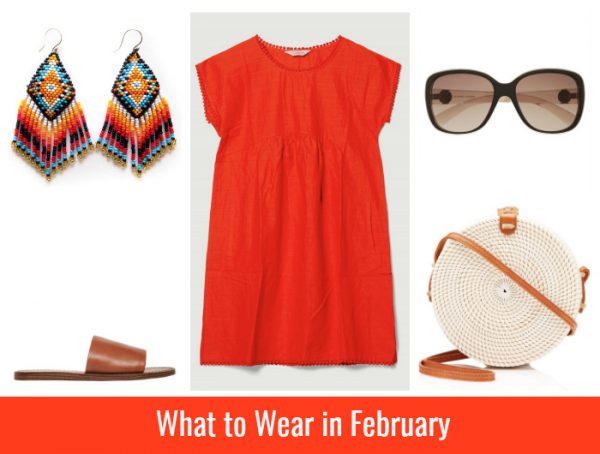 ABOVE, CLOCKWISE FROM TOP LEFT:
Earrings, $70 from Seda Collective;
Bungalow Dress, $149 from Gorman; 
Sunglasses, $69.95 from Witchery;
Bag, $79.95 from Sportsgirl;
Leather slides, $89.95 from Windsor Smith.
How fun are these beaded earrings? They'd work well with an LBD, jeans and a white cami or pick out one of the colours, like I've done in the outfit above. Colour and texture are easy ways to add interest to an outfit too.
And how fab are these leather slides? The boho love child of thongs and leather sandals.
Now if you're a taller girl like me, you might find Gorman's Bungalow dress a little on the short side. I find the longer, sleeveless Tulip Dress (currently available in several colours) is a more flattering length on me. I do have friends who swear by the Bungalow dress though as a great everyday option. Like the Tulip Dress, it's also available in other colours and prints. Check them all out here.
This post contains affiliate links. You don't pay any extra and I earn a small commission. Read more in my Disclosure Policy here. 
So over to you – which outfit is your pick and what are you wearing this February?