Welcome to the February edition of What to Wear.
These posts are designed to give you ideas and inspo for the coming month in the fashion department – whether you're putting together new outfits from your existing clothes, looking for a seasonal update or to replace a key basic.
Despite the blistering heat, it's actually a tricky time to shop for high summer in store right now. That's because most retailers are steadily bringing in the first of their Autumn/Winter 17 drops with sleeves and knitwear quietly filling the racks, not to mention boots and coats.
It's enough to make you break out into a sweat.
That said, there are some brands that do great all year round summer styles – such as Adrift and Birdsnest – so if you decide you need to stock up, they'd be excellent places to start.
In the meantime, you'll see that below, I've included some brand new styles and emerging trends, while trying to put together outfits that are as fabulous and comfortable as possible.
To begin with, for this month's Work outfits, I've added a big splash of colour and a new season print, both of which work back beautifully with a predominantly monochrome work wardrobe.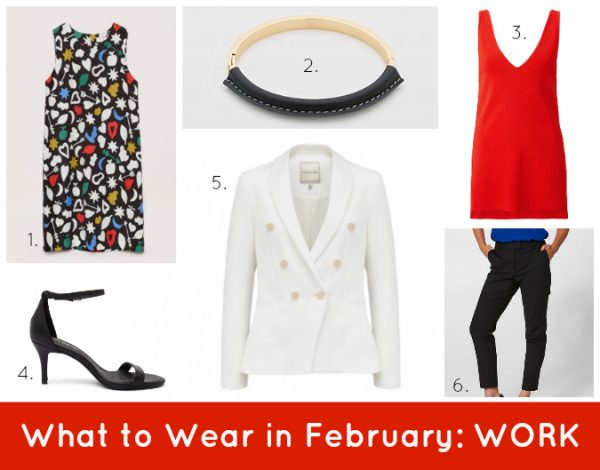 ABOVE: 1. Love Sick Shift, $269 from Gorman; 2. Miranda Bangle, $49.95 from Country Road; 3. Poppy Tank, $119.95 from Witchery; 4. I Love Billy Heels, $79.99 from Styletread; 5. Libby Blazer in cream, $99.95 from Forever New; 6. Slim Line 7/8 Pants, $39 from Target.
I'll admit that this mini capsule isn't the most conservative combination going around but I did like to push the boundaries of my corporate workplace where possible (and tasteful of course!) back in the day. That was predominantly driven by a desire to buy pieces that I could wear both at work and the weekend.
This new Gorman dress is a knockout, although it will be quite short on tall lassies like myself. If you're shorter though, a fitted shift like this that can be worn from work to drinks is always a winner. Adding a jacket will help to corporatify it.
A great print – like this new season Gorman version – is always a great way to add some interest into any wardrobe. I'd recommend always keeping an eye out for pencil skirts, tailored dresses and blouses like this, as they work back perfectly with black suits/pants/shoes and other investment pieces such as shoes and handbags.
In the accessories department, I've included a bangle from Country Road's latest jewellery range. I love the simple elegance of this black leather/gold combo.
I've also included a basic heeled sandal here but if you're up for a statement, check out these beautiful red suede Aisha Heels from Witchery.
As I mentioned last week, I'm am THRILLED to see all the splashes of red in store across a range of retailers and this simple, deep V top is a gorgeous example. This style is a super versatile one too, working across both work and weekends.
If you're on the look out for a simple white top that's dressy enough for work but not a shirt, check out this simple but bang on trend Split Sleeve Top, $89  from SABA.
Finally, a white blazer mightn't seem like the most practical option going around, but paired with a pair of black tailored pants, cami and a heel, this is such a sophisticated corporate look. For a more casual look, pair it with a white singlet and distressed jeans.
Now onto a casual look, ideal for weekends, kid wrangling and other casual scenarios.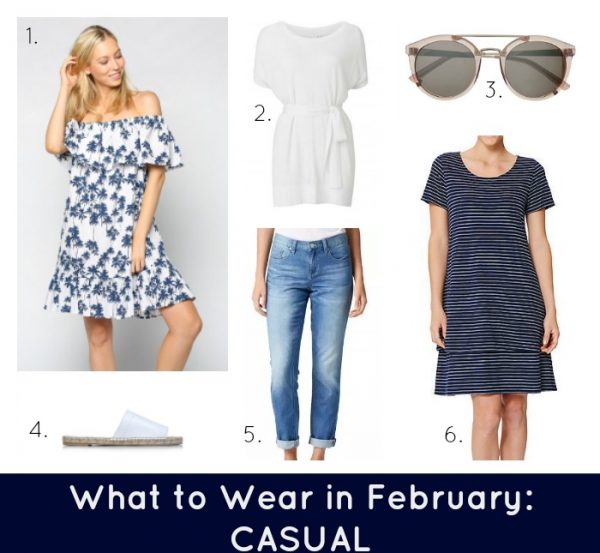 ABOVE: 1. Tall Palm Print Dress, $99.95 from Surafina; 2. Tie Waist Pullover, $69.95 from Jeans West; 3. Kirsten Sunnies, $69.95 from Witchery; 4. White Leather Slides, $139.95 from Jo Mercer; 5. Emma Boyfriend Jeans, $99.95 from Jeans West; 6. Jersey Tier Dress, $19 from Target.
I do love a blue and white combo in the summer months – it's so fresh and has me channelling The Love Boat like nobody's biz.
If you're after a casual OTS frock, do head to Surafina and Adrift. They have oodles of great styles in stock. This print is also available in shorts and a top too.
If you're spending a lot of time in air conditioning or live in the southern states, you might also be able to contemplate wearing jeans again without breaking into a sweat. These relaxed boyfs caught my eye and I reckon they'd look fab with a simple white top and some leather slides, like those pictured above.
Lastly, if you're looking for another casual, every day dress, this budget friendly Target frock, above, is a winner in my books. Pair it with thongs or dress up with tan sandals/wedge.
I've included sunnies here, but a wide brimmed hat and a big tote would also be part of my every day outfit too.
While Valentine's Day is not a massive day in our calendar these days, once upon a time it was, so I've also included a couple of date night ideas that would also work for a party or other celebratory shindig.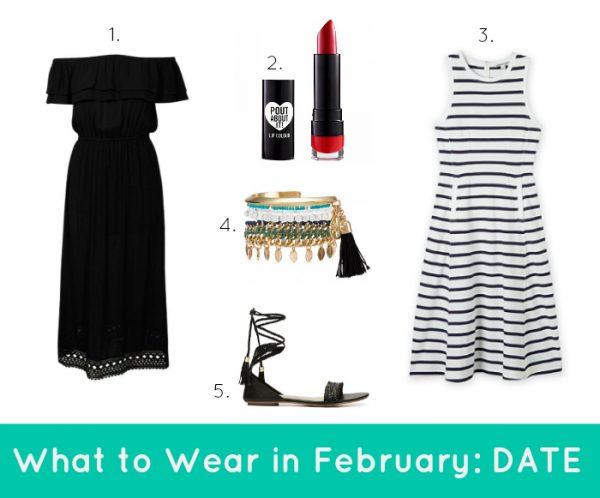 ABOVE: 1. Off Shoulder Lace Maxi, $139 from Decjuba; 2. Bombshell lipstick, $9.95 from Sportsgirl; 3. Fit and Flare Stripe Dress, $119 from Country Road; 4. Midnight Dahlia Ankle Set, $169 from Samantha Wills; 5. Sunny Sandal, $129.95 from Witchery.
Both these dresses are beautiful, flattering and importantly, require minimal accessorising.
In keeping with relaxed summer vibes, I've gone for a strappy pair of flats here (these gorgeous sandals also come in gold and are heavily reduced) but wedges or espadrilles would also work.
Likewise, I've included a statement wrist piece, but a great pair of earrings, ring or clutch would also do the job nicely.
And of course, a beautiful bold lip always finishes off a dressy look perfectly.
This post contains some affiliate links. You don't pay any extra and I earn a small commission. Read more in my Disclosure Policy here.
How are you spending your February? Which outfit or 'look' is your pick?