Can you believe it's February already?
The kids are back at school, the term routine is up and running and in amongst it all – certainly around here -there's a fair bit of catch up and feet finding going on.
Being a short month, there's a sense of urgency about everything too – I feel like there's a need to get on top of things yesterday, to be super organised and ready to go.
The truth is, I'm finding it harder to get going than usual, even despite the relatively cool start to the last month of Summer we've had here in Victoria. I'm bracing myself for a hot week ahead though – when all the busy-ness collides with the heat.
More than ever, when it's hot and I'm feeling under pressure, I reach for clothes that are easy, super comfortable and I feel great in. That's why in this month's What to Wear post, I've looked for pieces that are comfortable to wear on hot days and mild nights, but, as you'd expect, I haven't compromised on plenty of colour, fun and the odd fabulous print!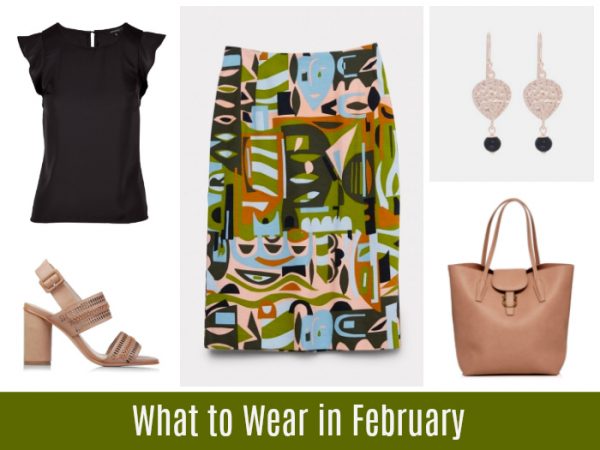 ABOVE, CLOCKWISE FROM TOP LEFT: Carrie Top, $49.95 from Portmans; Claire Johnson Pencil Skirt, $199 from Gorman; Nicole Fendel Earrings, $69 from The Iconic;Work Tote, $59.95 from Portmans; Heeled Sandals, $189.95 from Jo Mercer.
The outfit above is an outfit I would happily wear to the office or a client meeting. For a corporate work environment, I'd add a tailored or cropped jacket – provided there's air con of course.
The hero of this first look is the fun and fabulous camo paper cut printed pencil skirt from Gorman's latest collab with artist Claire Johnson. There are plenty of colours to work with here – from neutrals through to blues, peaches and green – providing plenty of scope to mix and match co-ordinating clothing and accessories. I've included tan shoes and a bag here, but you could just as easily wear black pumps and your favourite black handbag and pick a top in one of the colours of the print.
In addition to that, a pencil skirt is a super versatile piece for both the work and smart casual ends of your wardrobe – simply change up the top and accessories to suit the occasion.
As you can see above, I've teamed this skirt with a modest blouse and block heels for work. For Friday night drinks, I'd substitute in a silk cami or an off the shoulder top. Come Autumn, I'd pair it with a fine wool knit and ankle boots.
Now onto our second outfit. If you've got a special occasion this month – wedding, party or date night – it's hard to go past a bold summery combination like fuchsia and your bling of choice.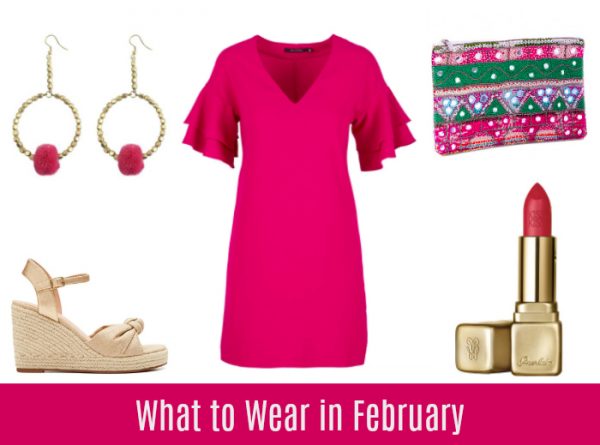 ABOVE, CLOCKWISE FROM TOP RIGHT: Carnivale Earrings, $18 (on sale) from Ruby Olive; Ruffle Sleeve Dress, $99.95 from Portmans;  Clutch, $69.95 from Blue Bungalow; Guerlain Lipstick in Daring Pink, $52 from Sephora; Serena Wedges, $119.95 from Witchery.
This Ruffle Sleeve dress is a winner – it's also available in black and navy here – and while it's a simple enough shift style, the ruffle sleeve elevate this dress into much more interesting territory and provides arm coverage for those who prefer it.
It is on the short side though, so you might prefer the top in the same shape – available in five colours – paired with your favourite tailored shorts, jeans or skirt.
The accessories here give you an idea of how easy it is to work with a block coloured flock. Just choose a metallic and add an inexpensive accessory or two from retailers like Sportsgirl, Seed Heritage and Dotti. If you can nab one before they sell out, the Fiesta Summer Clutch, $14.95 (on sale) from Sportsgirl is well worth a look too.
If your accessories budget is higher, check out Mimco, Peter Lang and Samantha Wills.
This final outfit has relaxed everyday style written all over it and is perfect for days spent wrangling the kids at home, hot days working from home, watching the kids play sport or easy weekend style.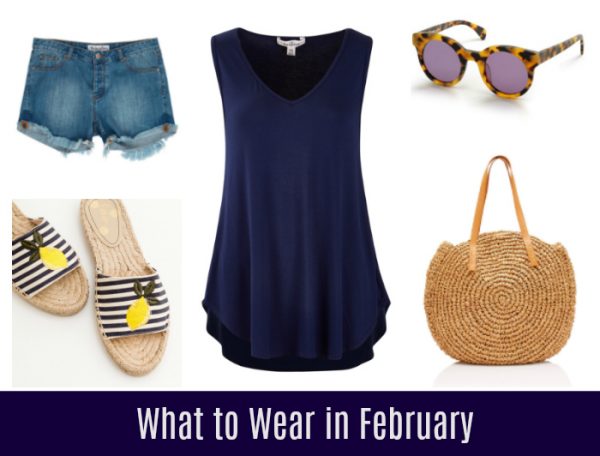 ABOVE, CLOCKWISE FROM TOP LEFT: Classic Denim Short, $139 from Bohemian Traders; Bamboo Tank, $49.95 from Birdsnest; Sunnies, $160 from The Iconic; Woven tote bag, $49.95 from Sportsgirl; Espadrilles, $95 from Boden.
A quality, breathable tank comes into it's own in February when the heat and humidity can be oppressive. On days like these, I'm a big fan of the bamboo or linen tank paired with my favourite shorts.
Speaking of shorts, I've got a distressed denim pair from Sussan (very similar to this pair) as well as this chino style from Country Road that I've been wearing all Summer long, but I also like this Bohemian Traders pair – above – which are a bit shorter and still available in a range of sizes.
Paired with some fun espadrilles – how cute are these lemon printed slides? – statement shades and a bag big enough to carry your essentials plus sunscreen and a water bottle, you're sorted for whatever your day can throw at you. When Autumn rolls around, simply throw on your favourite pair of jeans instead of the shorts.
If you're after a budget friendly frock instead, definitely check out this Navy swing dress, $59.95 from Birdsnest.
This post contains affiliate links. You don't pay any extra and I earn a small commission. Read more in my Disclosure Policy here. 
So over to you – what's your February "uniform"?