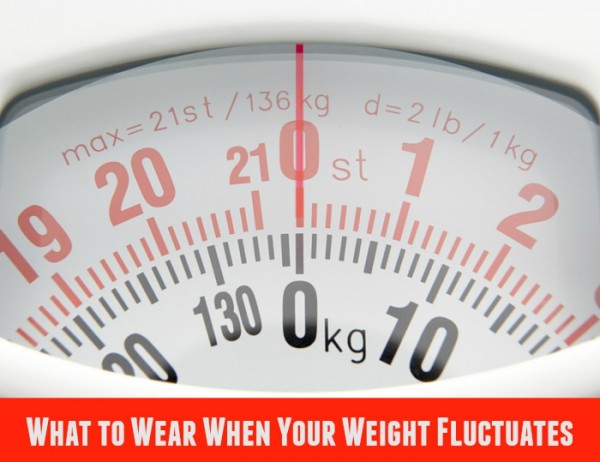 Like many women, my weight has fluctuated significantly over my adult life.
In the last decade, I've done Weight Watchers (successfully) three times. Pre and post kids.
I've gained eighteen, twenty and then eleven kgs respectively with three pregnancies over the last decade.
I then lost some, most or more of that weight again, post partum. Then I put on another couple of kilos or so again once I stopped breastfeeding.
At the start of this year, my goal was to lose 5 kgs. I managed to achieve this in three months, thanks to the 5:2 Fast Diet, running a kilometre or two each week, and walking many kilometres every day (despite high levels of burger consumption) on our trip to the US. I've since put a couple of kilos back on although my measurements over that period reveal centimetres lost in various places.
Then there's the usual hormonal swings, holidays, periods of illness, changes in diet or exercise, fatigue, stress or even just big weekends to factor in.
I know that my weight will always oscillate and my body will continue to change. For me, fluctuations and changes are normal and inevitable. That's the way I roll. I am sure many of you can relate.
We all have our own journey when it comes to our weight and body shape.
What most of us have in common though is that we all have limited funds when it comes to buying clothes. We can't afford to completely update our wardrobes every time there's a fluctuation in our weight or shape, minor or major.
How then do we make smart decisions to ensure we have workable wardrobe, by which I mean that we can wear most of our clothes most of the time.
In today's post, I'm sharing what I've picked up along the way that might be of interest to you if you're looking for pieces that will withstand fluctuations in your weight over time.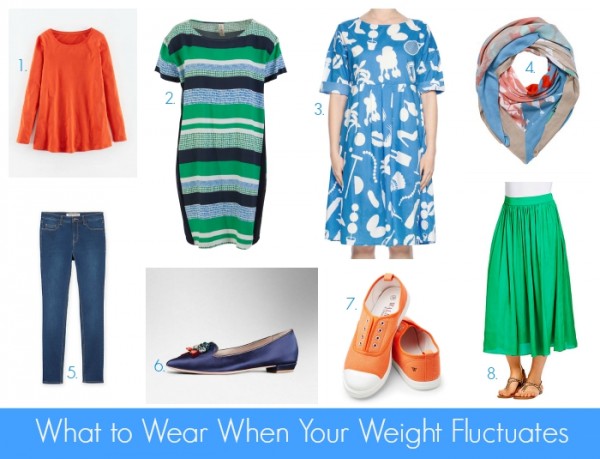 1. Super Soft Swing Top, $48 from Boden; 2. Shades of Spring dress, $139.95 from Birdsnest; 3. Lady of Leisure Cotton dress, $169 from Gorman; 4. Virtuoso Scarf, $99.95 from Mimco; 5. Mid Rise Crop Jegging, $99 from Country Road; 6. Embellished Slipper, $158 from Boden; 7. Euro Elastic Plimsole in Orange, $49.95 from Birdsnest; 8. Satin Gathered Midi Skirt in Emerald, $39 from Target.
1. Elasticised waists are your best friends – I'm talking pants, skirts and even dresses with an elasticised waist can cope with weight fluctuations and be super forgiving. You can wear them higher or lower too depending on how you feel.
Even a partly elasticised waist, like the gorgeous emerald green skirt above (8), available in sizes 6 – 20, will give you more room to move.
For example, if I'm carrying more weight around my stomach than usual, I find that wearing an elasticised skirt higher, at the narrowest point of my waist, is much more flattering than wearing it lower, around my waist. If I manage to lose a kilo or two/a couple of centimetres and have a flatter stomach, the same skirt can be worn lower on my hips.
Likewise, jogger style pants with a drawstring or elasticised waist – which are thankfully bang on trend – give you more room to move than a fitted, tight pair of jeans that are either Tradesman's Smile Central and falling down or cutting you in half a kilo or two either way.
Structured and tailored cuts which are super flattering when they fit, rarely give you more than a couple of kilos room to move. Having some elasticised options in your wardrobe is always a good thing.
2. Elastane is always a good idea – I'm a huge fan of elastane for it's stretchy properties.
As I find it hard to find jeans that fit me properly – they are generally either too tight on the leg or too big on my waist –  I always look for jeans with some elastane now. The stretch means that I can size down so my pants don't fall down but the elastane provides the necessary give on my legs.
I'm a huge fan of the Country Road mid rise jeggings, above (5).
3. Swing/A-Line tops, like (1) above, are great to have on hand if you tend to put on or lose weight on your top half. This is the style I always opted for when I was breastfeeding too – their skimming quality and ability to cover a post partum tummy made them great every day options. I also found I could usually get away with my usual size despite fluctuations either way.
A longer tunic style can be great if you're looking for some bottom/upper thigh coverage too. Check out these styles at Boden.
4. Look for oversized styles – oversized styles have been on trend for some time and are great options particularly if you expect your weight to fluctuate, such as through and after a pregnancy.
From chunky cardigans and oversized jumpers through to oversized dresses, such as (2) and (3) above, these styles give you loads of room to move and will still look great if your weight/shapes changes. Gorman always have a great range of oversized dresses, particularly in their Spring/Summer ranges.
5. Invest in quality underwear and shape wear – I'm a big believer in underwear which is comfortable and also smooths any lumps and bumps.
For every day, I generally opt for seamless knickers, like the Bonds Invisitails range, that don't cut in or create a VPL.
Quality, comfortable shape wear, like the range from Bella Bodies Shapewear, can come in handy when you're looking for some extra smoothing, firming or support for every day or special occasions for clothes that feel a bit tight or you feel a bit self conscious in.
Great shape wear can also make otherwise seemingly unwearable pieces flattering and workable too. This before and after gallery shows the power of great shape wear in action.
6. Look for Affordable Basics – when I know my weight is likely to fluctuate (particularly post baby), I've generally gone directly to Target and bought some key wardrobe basics (such as black stretchy pants for work, a couple of tank tops and a black t-shirt dress) to wear in the meantime. I've generally worn these affordable basics for a few months and worn them with other pieces in my wardrobe that still fit.
I've them stashed them away for the next time or passed them along to someone else.
7. Borrow when you can – if you're not your usual weight for whatever reason (pregnancy, ill health, changes in diet and so on) and you expect things to return to "normal" in the forseeable future, it's not worth going out and buying a big ticket item for a one off event such as a formal frock for an upcoming event/wedding. Put the call out to friends and family to cover you and return the favour when you can.
One of my friends had a wedding to attend when she had a newborn and she couldn't fit her milk engorged boobs into any of her usual frocks. I was more than happy to lend her something and she was grateful not to splash her cash unnecessarily.
8. Never underestimate the power of accessories and great shoes – we've all had times when our wardrobes have been restricted because of changes in our weight. Without the usual options, it can be tricky to feel good and find something you feel comfortable in every day. I've found during these times, great accessories and a statement shoe-drobe have been wardrobe winners. I've always loved a coloured shoe, like these fun plimsoles (7) or a bedazzled jewelled flat like (7) to shooj an every day outfit.
For tips for how to dress with a bloated tummy, check out this great post by Kimba Likes.
* This post contains affiliate links. You don't pay any extra but I earn a small commission.
Does your weight fluctuate much? How have you adapted your wardrobe to manage this?