This time next week, we will be enjoying another well earned day off.
After all, it will have been 25 days between public holidays.
Right?
And that's as good an excuse as any to throw a lamb chop/vegie burger/satay stick/prawn/gourmet skewer involving haloumi on the barbie, invite a few friends around and enjoy the day together.
I know there will be plenty of delicious aromas wafting over our back fence come Monday and no doubt your neighbourhood will be full of them too.
Or you might hit up the local pool, park, beach, music festival, a friend's place and enjoy the festivities there. There'll be plenty of JJJ's hottest 100 bbqs/parties happening around the place too (tune in from midday).
So a public holiday that becomes a social event is of course an opportunity to put together an outfit and have a bit of fun. And while there's no need to take ourselves too seriously, if you're looking for some outfit inspo for this weekend's BBQ or beyond, check out the three styled outfits below. All are easy, involve flat shoes and offer some sun protection.  It's a public holiday after all.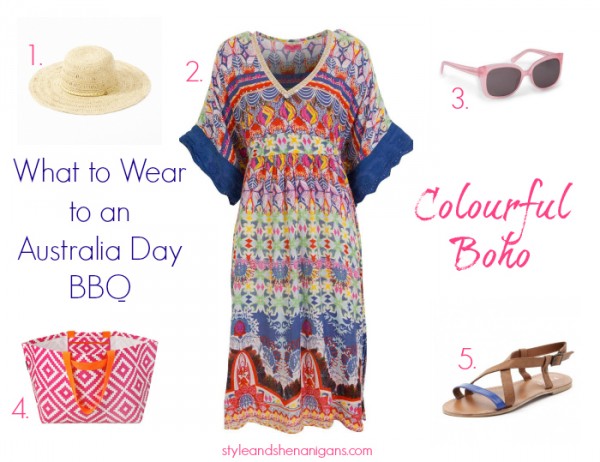 1. Adra hat, $69.95 from Tigerlily; 2. Patagonia Beatnik Dress, $99.95 from Rubyyaya at Birdsnest; 3. Selina Sunglasses in Pale Pink, $88 from Boden; Hot Pink Aztec Oversized Tote, $19.95 from Project Ten; 5. Heidi Royal by Walnut, $69.95 from Styletread.
I've bought a couple of Rubyyaya floaty frocks this summer (as seen on Instagram). As well as their colourful ways, I love a frock that provides coverage and protection from the sun but is still light and cool enough to wear in hot and humid conditions. Throw in a sequinned neckline and I'm SOLD.
I've paired this easy frock with some fun accessories including this fantastic oversized tote from Victorian designers Project Ten. I've seen their well priced wares – their whole range retails between $9.95 and $19.95 – everywhere during our stay on the coast.
And no wonder.
Their products are great for the beach and picnics. I've also picked up one of their Zip Pouches which is perfect for zipping up your purse, phone and sunnies and keeping them dry and sand free at the beach or pool. That's winning right there.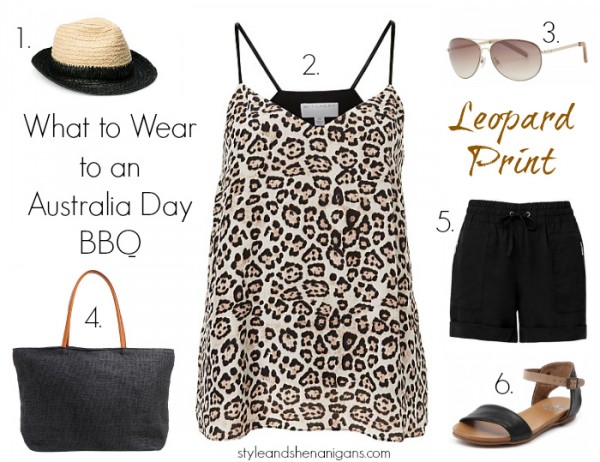 1. Contrast Trilby, $59.95 from Country Road; 2. Trim Detail Cami, $99.95 from Witchery; 3. Beverly Aviators, $34.95 from Sussan; 4. Paper Straw Beach Bag, $10 from Target; 5. Patch Pocket short, $69.95 from Seed Heritage; 6. Larna Black Sandals by Eos, $139.95 from Styletread.
The above outfit is still casual but turns up the fashion dial just a notch higher. I've spotted leopard in the latest shop drops and while it's one of autumn's accents, it's a fun way to update an otherwise neutral outfit now.
If you're not ready to kiss summer goodbye in the fashion stakes, the outfit below is as easy, breezy and beachy as it comes. With colours and prints reflecting our Australian summer (the ocean, sunshine and hot chips, need I say more?), this outfit will take you from salad preparation to cocktail consumption and a dip in the water in between.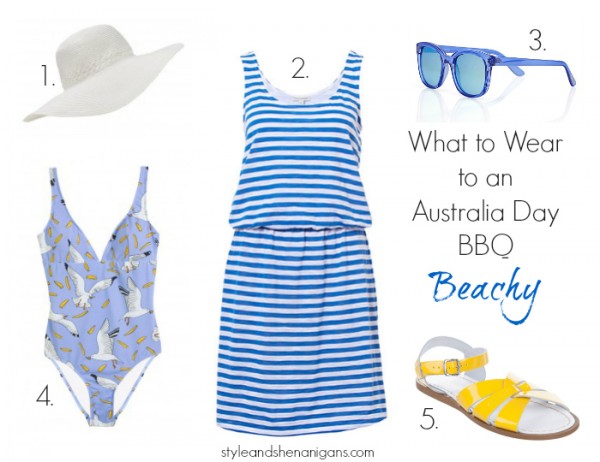 1.White Self Trim Floppy, $29.95 from Sportsgirl; 2. Elastic Waist Dress in Blue, $25 from Target; 3. Olivia Wayfarers in Blue, $69.95 from Witchery; 4. Mine Mine One Piece, $139 (on sale) from Gorman; 5. Salt Water Sandals, $85 from The Iconic.
What are your plans for Australia Day? Which of the outfit above reflects your Australia Day fashion personality? Will you be tuning into the Hottest 100?