It would be difficult to overstate how big the Spring Racing Carnival is in Melbourne.
We take our horse racing seriously enough around here to score a public holiday on a Tuesday virtually guaranteeing many Melbournians a four day weekend. So I guess it's not that surprising that Melbournians really love the Spring Racing Carnival.
I confess I'm not interested in the horses (save for that one race that stops a nation), winning streaks or having a flutter, though.
No, for me, it's all about the fashion although the public holiday factor does come a short priced second.
Already, the shops are full of colour.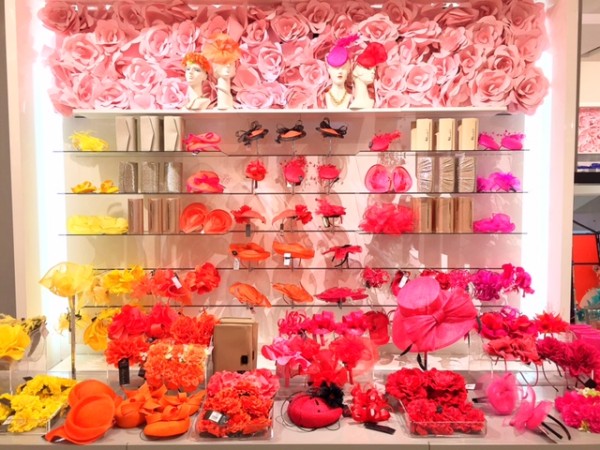 I don't actually go to the races myself but one of the highlights of my social calendar is our school Ladies Race Day – a fundraising event at which 60 or so local mums (we always invite our friends from other schools and kinders), congregate at the host school mum's home from 11am – 3pm one October Friday for champagne, raffles and general revelry. It's a cracker of a day and not only a worthwhile fundraiser, but a great opportunity for us all to dip into racing fashion without having to pay for ten hours of babysitting, entry fees and and all the other bits and bobs associated with a big day out.
But even if you're not interested in horse racing at all or live outside Melbourne, this is still an excellent time of year to put together outfits for all the events or occasions coming up in your social calendar – whether they be formal corporate do's or end of year dinners, gatherings or presentations.
Over the coming weeks, I'll be sharing What to Wear to the Races posts, covering the three main days of the Spring Racing Carnival here in Melbourne: Derby Day, Melbourne Cup Day and Oaks Day. Each day has a distinctive dress code that can easily be translated to other events or occasions.
For instance, for Derby Day (which falls on Saturday 31st October this year), the traditional dress code is black and white.
It's a classic day fashion wise where top hats, lounge suits and pin stripes are suggested for the fellas.
For the ladies, it's the day when monochrome rules the school and an LBD comes into it's own. Lose the clutch and fascinator though and you'll have a great dress that you can wear to work, dressy do's and cocktail parties.
Melbourne Cup Day is the pinnacle of the Spring racing carnival and is a celebration of bold designs and colour, statement prints and striking head wear. It's the day where a Princess Beatrice style antler hat would be totes appropriate.
After the races are done and dusted, a Melbourne Cup Day worthy dress will also be perfect for weddings and Christmas parties.
Oaks Day is Ladies' Day and is traditionally a day where feminine styling and details are the order of the day. An Oaks Day appropriate dress will be ideal for engagements, lunches and other dressy day time do's.
While I'll cover Melbourne Cup and Oaks Day fashion and outfit ideas in more detail in coming weeks, today we're looking at Derby Day.
So, without further ado, let's kick off our series with all things monochrome …
1. Floral Fit and Flare Dress, $59 from Target; 2. Monochrome Spliced Dress, $59 from Target; 3. V-Strap dress, $149 from Witchery; 4. Monochrome Cut Out dress, $149.95 from French Connection; 5. Feel This Moment dress, $189.95 from Cooper St (limited stock at Myer too); 6. Tech Stretch Sleeveless Fitted Dress, $279 from Cue; 7. New York Stripe dress, $289.99 from Review; 8. Full Circle Tuck Dress, $349.95 from Country Road.
Above, I've intentionally included dresses with black and white detailing at a range of price points and styles.
An LBD would work too of course and if you have one in your wardrobe, and then it's just a matter of introducing some contrasting white with your accessories (more on that below). Perforated details like this statement Karen Millen clutch (8, below) are bang on trend and would suit a a tailored dress. A hat or fascinator with both black and white, such as (4, below) would tie the outfit together.
The styles above give a great snapshot of what's trending now too – the modern grid lines and geometric prints, asymmetry and clean lines through to the more classic but striking florals, stripes and contrast binding.
All of these would work not only for Derby Day but for a range of dressy occasions, such as Christmas and cocktail parties, coming up. Most would also be appropriate for work as well.
I'm also loving this Pleat Front Soft Floral Midi, $119.95 from Portmans and, if you have boho inclinations, this sweet Solstice Stitch dress, $179.95 from French Connection covers the bases.
If you are looking for some classic black and white accessories to complete your look, I've found some great pieces around the traps.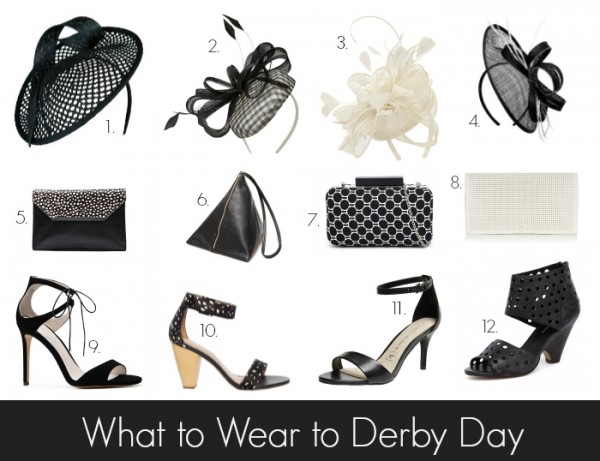 1. Morgan & Taylor Fascinator, $99.95 from Myer; 2. Quinn Hat, $89.99 from Review; 3. Adeline Hat, $89.99 from Review; 4. Medium Disc Looped Fascinator, $25 from Target; 5. Origami envelope, $229 from Mimco; 6. Tri Clutch, $59.95 from Country Road; 7. Jendi Black Clutch, $69.95 from Style Tread; 8. Perforated Clutch, $195 from Karen Millen; 9. Francis Heel, $179.95 from Witchery; 10. Dalmation Heel, $249 from Gorman; 11. Tully heels, $35 from Target; 12. Babble Black by Django and Juliette, $189.99 from Style Tread.
If you're after some well priced options, you can't go past Target – check out their range of fascinators here.
For variety of styles and colours, it's hard to go past the major department stores. Myer has a great range of fascinators in their online store too.
I'm also a big fan of Review's smaller but lovely range of fascinators. They're usually discounted in the lead up to Derby Day too so keep an eye out and hold if if you can. Last year I picked up a gorgeous navy fascinator for 30% off.
For more information about dress codes, check out the Victorian Racing Club Member's Enclosure Style Guide here.
* This post contains affiliate links. You don't pay any extra but I earn a small commission.
Are you a fan of Derby Day fashion? Are you heading to the races? What are your picks of the above?