If the weather is anything to go by, Spring has finally sprung in Melbourne and, now the footy is done and dusted for another year, our attention is turning to the Spring Racing Carnival.
So it's out with the beanies and scarves and in with the frocks and fascinators.
Giddyup.
Now I might not know anything about the fillies' form on the track, but I'm more than happy to study the form guide when it comes to racing fashion.
There are several key dates on the racing carnival coming up – Derby Day on Saturday 4th November followed by Melbourne Cup Day on the following Tuesday and Oakes Day on the Thursday – and each day has a very distinctive fashion code. I'll be covering Melbourne Cup Day and Oakes Day in a future post but today, it's all about Derby Day, where black and white take centre stage.
While black and white might dominate on the fashion front, there's still room to play with accessories, make up and shoes. Introduce a bold lip, a brilliant fascinator, statement clutch or shoes, or a striking print to put your own stamp on Derby Day.
So if you're off to the races or are just looking for new season monochrome options, you'll find lots of great options in today's post, at a range of price points.
Here's my round up of monochrome dresses, from luxe to less.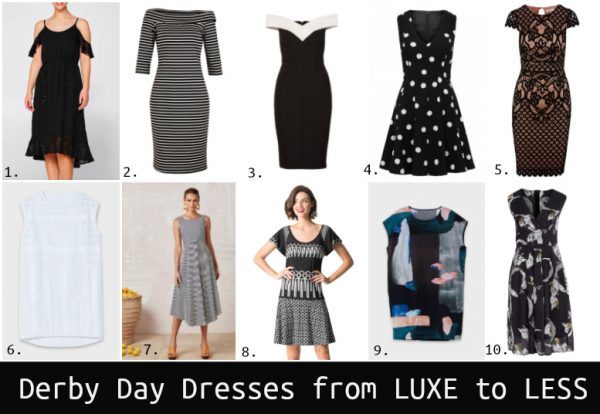 ABOVE: 1. Cold Shoulder Dress, $49 from Target; 2. OTS Dress, $99.95 from Birdsnest; 3. Photo Finish Off the Shoulder Dress, $139.95 from Portmans; 4. Lulu Skater Dress, $139 from Forever New; 5. Khloe Lace Dress, $149.95 from Portmans;  6. Louise Broderie Dress, $170 from Elk Accessories; 7. Sicily Vintage Midi Dress, $180 from Mister Zimi; 8. Emma Leigh Dress, $189 from Leona Edmiston; 9. Frankenthaler Silk Dress, $269 from Elk Accessories; 10. Very Very Fillie Flare Dress, $279.95 from Birdsnest.
As you'll see from the above, I've included a range of frocks here with a variety of sleeve lengths – to cover all preferences and weather – and a range of styles from smart casual options, through to more formal styles.
If you're looking for a dress to take you from the races through to work and the Christmas party season, options 4, 7, 8, 9 and 10 are your best bets.
The more casual options are 1, 2 and 6 although they can all be dressed up with a block heel, espadrille wedge, bold lip and great accessories.
If you're looking to update an existing LBD or LWD in your wardrobe for the races or an upcoming event, check out the great range of new season options below.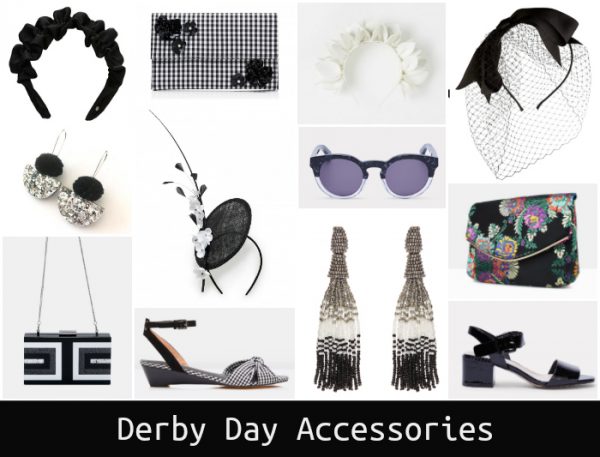 TOP ROW: Vivacious Headband, $59.95 from Mimco; Madison Gingham Clutch, $49.99 from Forever New; Jess Fascinator, $119 from The Iconic;  Bow Netted Headband, $59.95 from Portmans.
MIDDLE ROW: Pom Pom Earrings, $42 from Each To Own; Cleo Orchid Fascinator, $49.99 from The Iconic; Lucia Sunglasses, $169 from Gorman; Gala Clutch, $49.99 from The Iconic.
BOTTOM ROW: Olga Berg Clutch, $169 from The Iconic; Dotti Micro Wedge, $69.99 from The Iconic; Octo Tassel earrings, $29.95 from Portmans; Good Time Heel, $149 (on sale) from Gorman.
The above selection also picks up on one of this Spring's hottest trends – gingham.
In the headwear department, this season headwear seems to fall into the following categories – metallic, lace and crochet crowns; floral/PU crowns; traditional fascinators and headbands/turbans, all of which are available at a range of price points. I like them all, and love the way they can transform a dress or outfit. I'd suggest trying on a few different styles with your dress to see what suits your face, hair and dress before Race Day.
I've tried to include a variety of styles here but do check out Review, Mimco, Myer and David Jones for more traditional and elaborate styles. They may have storewide sales or promotions closer to Race Day too. Lovisa, Target, Forever New, Seed Heritage and Portmans are my go to places for more budget friendly options. Alannah Hill always do a great range of floral crowns too.
Finally, before you buy headwear, check the returns policy as some retailers will not accept returns on headwear. The bigger department stores and The Iconic tend to have the best returns policies for headwear but always check before you buy, particularly if your outfit is weather dependent.
This post contains some affiliate links. You don't pay any extra and I earn a small commission. Read more in my Disclosure Policy here.
Are you heading to the races? What's your pick from the above?