And they're off and racing!
The Victoria Spring Racing Carnival is upon us once again, signalling the beginning of a fun and colourful month on and off the track.
You might be off to the races or content – as I am – to go to a races themed do. I'm hosting our school Ladies Race Day this week which is as close as I'll be getting to the track this year but I'll stick get to frock and fascinator up.
But even if you're not into the races, there's no doubt that Spring Racing fashion has something for everyone. So if your social calendar is already beginning to fill up, now's a great time to revisit what you've already got or shop for anything you might need.
There are several key days in the Spring Racing Carnival here in Melbourne – Derby Day, Melbourne Cup Day and Oaks Day – each with it's own distinctive dress code. The beauty is that outfits for all of these events can easily translate to weddings, engagements, parties and other Spring soirees if you ditch your Princess Bea Antlers headpiece.
I'll be posting about each event over the next few weeks, but the focus of today's post is Derby Day.
For Derby Day, black and white is de rigueur.
For some racegoers, it'll be a simple matter of dusting off a favourite LBD, monochrome number or white frock and a new key accessory to breathe some new life into a much loved outfit.
Or, you may be on the look out for a fresh frock to complement your existing or borrowed accessories.
With that in mind, below, I've curated a selection of fab monochrome dresses that would not only work for Derby Day but for all sorts of dressy occasions – engagements, weddings, parties, work functions and so on. Some are even work appropriate or capable of being dressed up or down.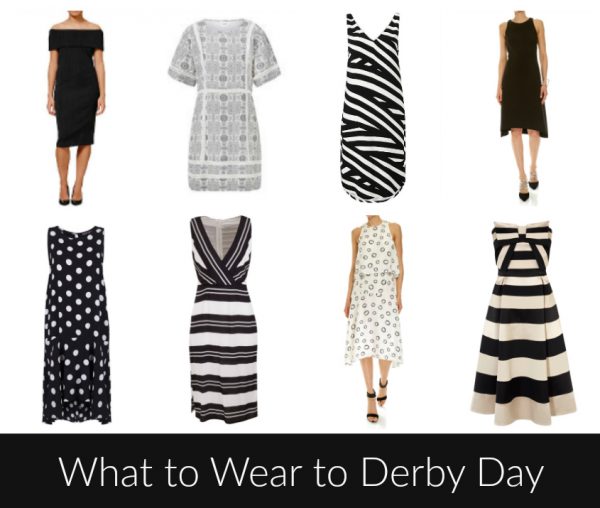 ABOVE, TOP ROW, LEFT TO RIGHT: Dannii Minogue Petites Body Con Dress, $39 from Target; Moroccan Flute Dress, $139.95 from Seed Heritage; Deep Printed V Dress, $149.95 from Witchery; Nadine Ponte Dress, $229 from Saba.
BOTTOM ROW, L-R: Bondi Lily Dress, $150 from Mister Zimi;  Andrea Cross Stripe Print Dress, $279.99 from Birdsnest; Scribble Poker Dress, $299 from Saba; Bow Detailed Stripe Dress, $545 from Karen Millen.
With Derby Day around the corner, it's great to see most fashion retailers including some monochrome magic in their latest drops.
From stripes to spots and other geometric prints, there are loads of different styles and cuts to choose from, at a range of price points across most stores.
If you're looking for a frock you can also wear to work, the Witchery, Mister Zimi and Saba frocks, pictured above, would do the job.
Likewise, the Target and Very Very dresses would be perfect for the races now and later, cocktails or a Christmas party.
The pretty Seed frock would look equally fabulous with a pair of black sandals and a wide brimmed hat, if you have a predominantly casual wardrobe.
Don't be put off the prices of some of these frocks either. There are promotions galore on at the moment from 25% off storewide or $100 off dresses, so don't expect to pay full price for many of them.
I know this Bow Detailed Stripe Dress from Karen Millen is right up there price wise but it's so stunning I just had to include it as it's appealing to my inner Kate Spade. I reckon it would be a gorgeous modern take for a bridesmaid too.
This Buenos Aires Dress frock, $349.99 from Review is also a ripper if you're after a dressier version of the Seed Heritage style above too.
Finally, if you're looking for some fresh accessories to breath new life into what you've got already, check out the selection below …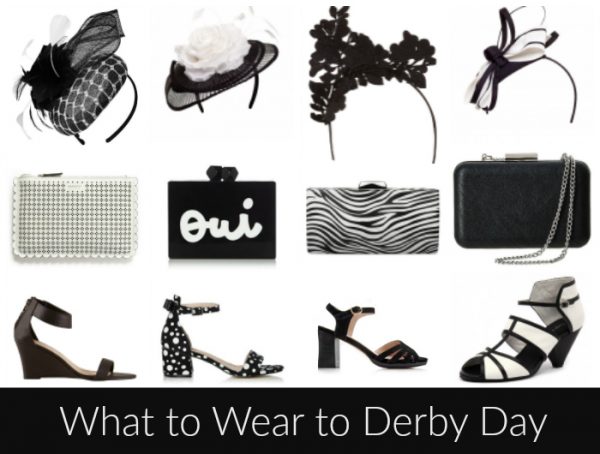 FASCINATORS, L-R: Leanne Pillbox fascinator, $29 from Target; Belinda Hat, $129.99 from Review;  Olga Berg Floral Fascinator, $99 from Birdsnest; Claudette Hat, $79.99 from Review.
CLUTCHES, L-R: Sophie Leather Clutch, $99 from Marcs; Perspex Clutch, $129 from Marcs;  Zebra Pod, $99.95 from Olga Berg; Isobel Hard Clutch, $29 from Target.
SHOES, L-R: Lavish Micro Wedges, $59.99 from Birdsnest; Geo Spot Block Heels, $179 from Marcs; Davina Dress Sandals, $189.95 from Jo Mercer; Django & Juliette Orcale Heels, $209.95 from Styletread.
If you're on a budget, it's hard to go past the well priced range of fascinators at Target. I reckon this Pillbox style above is Champagne style on a Coke Zero budget.
At a higher price point, Review is also a good place to check out. As well as frockery galore, they have a great range of fascinators, capes and other race accessories which you can check out here.
Likewise, Mimco's racewear range is well worth checking out too and Marcs' range of co-ordinating shoes and accessories, some of which I've included above, is on point too.
As far as clutches go, there's loads to choose from, from the cheeky typographic styles to the more traditional hard cases.  Again, many of these will be on promotion if they're not already, so keep an eye out.
As well as packing sunscreen, my other tip for the races would have to be to wear a decent block heel or wedge to avoid sinking into the turf. If you're walking to and from public transport, standing for long periods or planning to kick on after the races, you'll need a comfortable shoe. All of these styles above tick both style and practicality boxes for me.
Stay tuned for next week's post on What to Wear on Melbourne Cup Day.
This post contains some affiliate links. You don't pay any extra and I earn a small commission. Read more in my Disclosure Policy here.
Are you off to the races? Or perhaps you're a fan of monochrome? Have you seen anything that takes your fancy in this post?