This time next month, I'll be spending long lazy days kicking back on the beach.
I'll be meandering through yet another novel while the kids play beach cricket, make sand castles and new friends.
I'll be feeling the hot sun on my shoulders, the crunch of the sand underneath my feet and the relief of no deadlines, commitments, extra curricular activities and relentless lunchbox preparation.
Oh summer. It's been too long.
In reality, I'll be doing these things in between applying sunscreen, fielding for beach cricket, being buried in the sand and trips to the bakery and ice creamery. But still.
Right now, days at the beach can feel out of reach, on the other side of the mountain that is Christmas. There's just so much to do before then …
Still, I'm thinking about those days and about the gear I'll need. The stuff that makes those days comfortable, fun and chillaxed. If they can also be effortlessly stylish and co-ordinated, all the better. A little thought and scouting around now means I'll be sorted for the beach or the pool so all my energy can go into chillaxing.
Here's my edit of beach style in a chic monochromatic palette. You might also find some Christmas gift inspo too!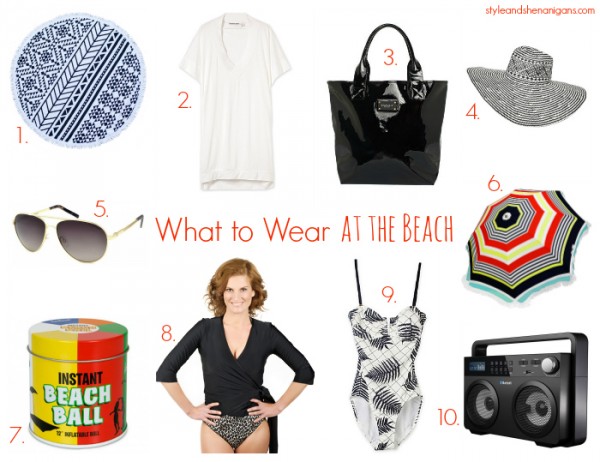 1. Roundie Beach Towel (Aztec), $99 from The Beach People (pre-order now for January); 2. Swim Coverup, $79.95 from Country Road; 3. Seafolly Hit the Beach Tote, $49.95 from Myer; 4. Oversize Tribal Hat, $39.95 from Witchery; 5. Gold Aviator Celia Sunglasses, $69.95 from Blue Bungalow; 6. Hampton Premium Beach Umbrella, $50 from Target; 7. Instant Beach Ball, $18.95 from Lark; 8. Black 3/4 sleeve swim wrap, $149 from Aquacove; 9. Palm Grid Swimsuit, $99 from Country Road; 10. Ghetto Blaster, $49 from Target.
One of my summer must haves, which I've included above (8), is my Aquacove 3/4 sleeve swim wrap. Designed by Melbourne Mum Ros and manufactured here in Australia, it not only protects my skin with it's UPF 50 fabric, (and no need to queue up for someone to apply sunscreen to my back either), it also flatters, looks fabulous and is comfortable to wear. If you want sun protection but aren't up for a full coverage kids' style rashie either, this could be the answer you've been looking for.
I've road tested mine this year on holidays in Bali and Palm Cove (you can see me wearing mine here and here) and received compliments and enquiries galore. They also come in two lengths (full or 3/4 sleeve) and a range of colours.
Today, I'm delighted to offer an SnS reader the opportunity to win their very own Aquacove 3/4 sleeve Swim Wrap in Black, RRP $149, as seen below and (8) above. All you have to do is answer the following question in the comments below: What will make you feel and look confident beach or pool side this summer?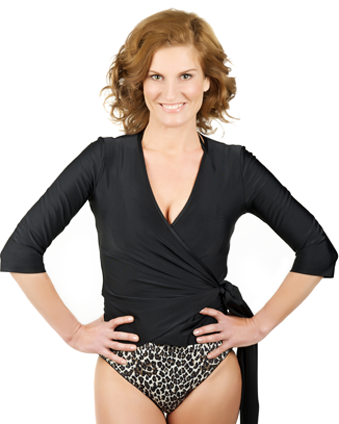 The Competition
This is a game of skill. To win an Aquacove 3/4 sleeve Swim Wrap in Black (in size S, M, L or XL), please leave a comment below with your answer to the question:  What will make you feel and look confident beach or pool side this summer?
All entries will be judged on their creativity by me. 
Please ensure that you include an email address when filling in the commenting system below so I can contact you to arrange delivery of your prize.
This prize is not able to be exchanged for cash.
The winner will be decided on Wednesday 17th December, 2014 at 6pm AEST. If the winner does not respond within 48 hours to my email, another winner will be chosen. This competition will be open from Wednesday 10th December 2014 at 6am (AEST) and close on Wednesday 17th December at 5pm (AEST). This competition is only open to Australian entries. By entering this competition, entrants accept that I will email the winner with the email provided and publish their name subsequently here and on Facebook. 
So, are you planning to hit up the beach or pool this summer? What will make you feel and look confident beach or pool side this summer? What are your must haves to take to the beach/pool?