Well hello there and welcome to Style and Shenanigans for 2018!
I'm very excited about the year ahead and already have some great things planned – stay tuned – but in the meantime, I thought it fitting to begin the year with some new year fashion inspo, befitting all things January.
January can be a mixed bag with some people still on holidays, while others are negotiating re-entry to reality and all that that involves.
So whether you're back at work, perfecting the art of pool or beach hangs or kid wrangling on the school holidays, I hope you'll find something for you in today's post.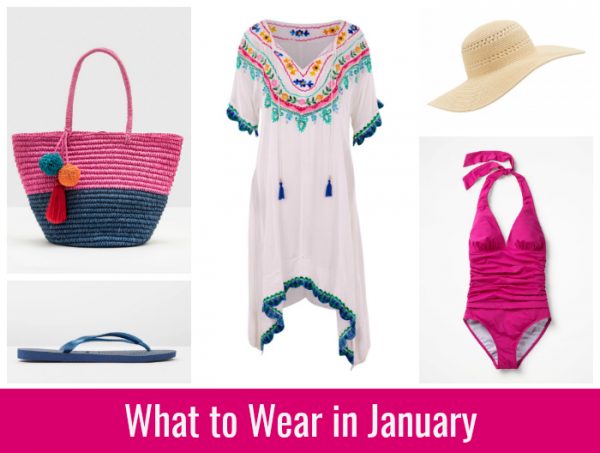 ABOVE, CLOCKWISE FROM TOP LEFT: Donna Beach Bag, $75 (on sale) from Boden; Botanica Dress by Ruby Ya Ya, $159.95 from Birdsnest; Milla Hat, $34.99 from Forever New; Rhodes Swimsuit, $120 from Boden; Navy Slimline Havianas, $29.99 from The Iconic.
This first outfit pretty much ticks all the summer boxes for me: bold colour, practical but stylish, relaxed vibes and of course, sun protection.
A gorgeous beach dress or kaftan is a must if you're spending a lot of time pool or beach side, and I can highly recommend the offerings at Ruby Ya Ya – I have several. (Coincidentally, Birdsnest have 20% off their Ruby Ya Ya and sister range Lula Soul range until midnight 16/1/2018 using the code RUBYLU20 – see the full range here.) They wash and wear well, always look the business with the simple addition of sandals and a bold lip and are perfect for resort holidays as they can be worn over bathers all day or dressed up for night.
They also hide a multitude of cocktails and buffet breakfasts.
Just saying.
I can also recommend the togs at Boden. My favourite style is this wrap style in the new longer length – ideal for us lasses with long torsos who would like to avoid a Borat meets Pamela Anderson situation – but I'm rather taken with the gorgeous pink of this new halterneck style. Paired with a generous tote for the truckloads of paraphernalia one needs to take anywhere involving children and water, this is a super stylish look if you're looking to dial up the poolside glam.
If you're back at work, you might be looking for ways to freshen up your work wardrobe to distract yourself from that pesky phenomenon, Post Holiday Depression. A silk cami paired with a fitted pencil skirt is always a good idea – add a light cardy or blazer if the air con situation is Artic – and the addition of some lighter, neutral tones in the accessories department is a nice seasonal change from darker offerings.
This look also translates nicely to after work drinks or dinner on a balmy summer's night too.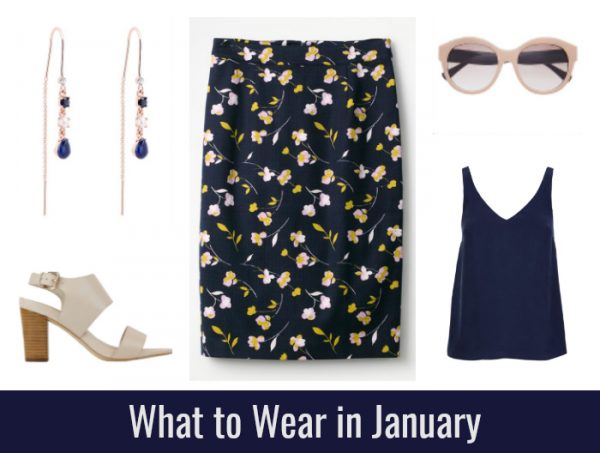 ABOVE, CLOCKWISE FROM TOP LEFT: Lily Thread Earrings, $24.95 from Witchery; Martha Skirt, $130 from Boden; Casey Sunglasses, $69.95 from Witchery; Leila Silk Tank, $79.95 from Portmans; Nikki Heels in Blush, $219.95 from Frankie4 Footwear.
The hero of this final outfit are these lovely waist tie printed shorts from Witchery. With their monochrome coloiurway, they will slot into most wardrobes effortlessly – simply add your favourite tank and accessories. I've included some new season options here if you're looking for some fresh ideas or an update.
I would wear this smart casual outfit to occasions such as lunch with the girls, a party, BBQ with friends or date night.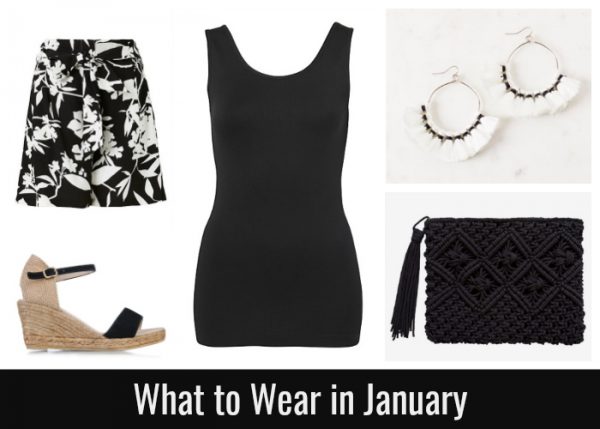 ABOVE, CLOCKWISE FROM TOP LEFT: Tie Waist Short, $89.95 from Witchery; Poly Tank, $29.95 from Witchery; Contrast Fringe Hoops, $24.95 from Adorne; Amalfi Clutch, $49.95 from Seed Heritage; Espadrille Wedges, $169.95 from Jo Mercer.
This post contains some affiliate links. You don't pay any extra and I earn a small commission.
Which outfit best suits where you're at right now?