Ah January.
A month many of us spend hanging at home, beach or pool side, doing the odd day trip or mini staycay, kid wrangling at all of the aforementioned locations and eventually, working.
Whatever we're up to though, there's a certain unmistakable casualness about dressing in January.
And I love it.
Once my feet slide into thongs, I find it hard to take them off for weeks on end. When it comes to actually getting dressed, it's all about what's easy, fun and above all, comfortable. Especially when it's a gazillion degrees in the shade and the humidity is giving you a serious 'fro.
With all that in mind, I've put together this month's What to Wear outfits. They're all designed to look good and make you feel fabulous, but above all, they'll keep you in holiday mode, whatever your day holds.
These first outfits are work slash office appropriate while injecting splashes of summer colour, prints and texture into the mix.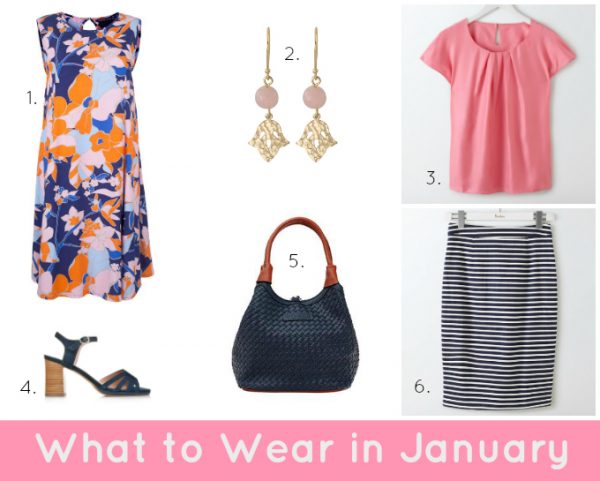 ABOVE: 1. Maui Mid Swing dress, $150 from Mister Zimi; 2. Jacintha Beaded Earrings, $89 from Nicole Fendel; 3. Ravello Top, $98 from Boden; 4. Davina Heels, $79.95 (on sale) from Jo Mercer; 5. Louen Hide Bag, $99.95 from Adrift; 6. Martha Skirt, $129 from Boden.
I'm loving the new Maui print by Mister Zimi, (1) above, in this flattering Midi Swing Dress. This statement dress will take you to work and then for rooftop drinks or dinner afterwards, or perhaps a wedding or a soiree on the weekend.
For a more structured dress alternative, I'm also loving this new season Annie Floral Dress, $179.95 from Birdsnest which I'd pair with this pretty Dusty Pink Clutch, $39.95 from Adrift.
If you prefer separates for work that you can mix and match, there's plenty on offer around the traps. The top and pencil skirt, above (3) and (6), are part of Boden's new Spring range (they're a UK brand so opposite seasons), and I'm loving the colour and style of this particular combo. This gorgeous pink fizz colour would also look a treat with a cream or black pencil skirt/suit, while this smart striped pencil skirt would work with a simple white or navy shirt, top or fine knit.
They're are plenty of other colours and prints in both tops and skirts too, so Boden is well worth checking out if you need a work summer wardrobe update.
I've kept the accessories for both outfits simple but have gone for navy instead of the usual tan. I've also been wearing so much navy lately that I've easily justified the purchase of a pair of navy summer shoes.
For other options in the navy shoe department, check out these gorgeous suede Mollini Wedges from Styletread and these stunning patent Sabine Midi Heels from SABA.
Budget friendly alternatives that would work back with these outfits include this easy wearing Frill Sleeve Jersey Dress and $25 navy pencil skirt here, both from Target.
Now onto some casual outfits for those light filled summer weekends or for those of us kid wrangling in school holidays …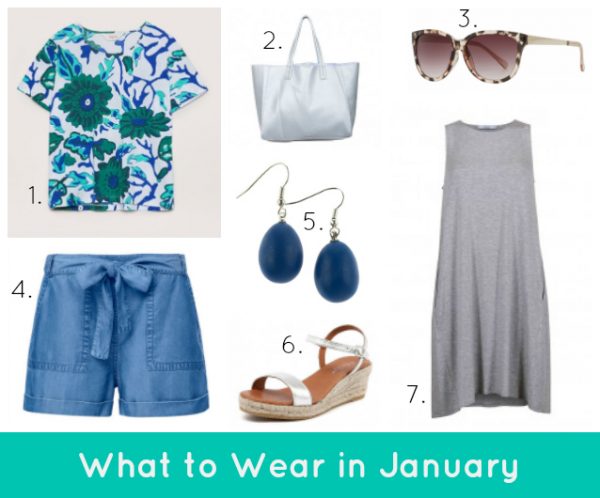 ABOVE: 1. Zen Garden Tee, $99 from Gorman; 2. Martha Tote, $49.95 from Decjuba; 3. Petra Leopard Sunglasses, $34.95 from Sussan; 4. Indigo Tencel Shorts, $99.95 from Seed; 5. Earrings, $22 from Ruby Olive; 6. Silver Espadrilles, $169.95 from Styletread; 7. Luxe Swing Dress, $79.95 from Decjuba.
The first drop of Gorman's new Autumn 17 is in store and online now, featuring the new Zen Garden print pictured above. It's such a fun print and comes in tops, skirt, dresses and pants. I've opted for the tee here (1), to work back with these lovely chambray tencel shorts from Seed. I love the tie detail on these Seed shorts, (4) above, but if you'd like a plainer and more budget friendly style, check out these Positano Drawstring Shorts, $69.95 from Decjuba and these Anya Casual Shorts, $59.99 from Jeans West.
If you prefer a denim skirt to shorts, it's hard to go past this Denim Skirt, $29 from Target. Similarly, if you're after a white top instead of a printed tee, check out this simple but stylish Bamboo Tank, $49.95 from Birdsnest.
Above, I've also included this easy swing dress from Decjuba (7), which is perfect for throwing on and wearing either with thongs or dressed up a tad with the silver accessories above. These fun Ruby Olive earrings (5) inject a bit of colour and also work back with the Gorman tee.
Finally, I've put together some monochrome looks for beach/pool/resort side hangs. If you're travelling to your summer holiday too, keeping things tonal help to ensure everything you've bought mix and match together.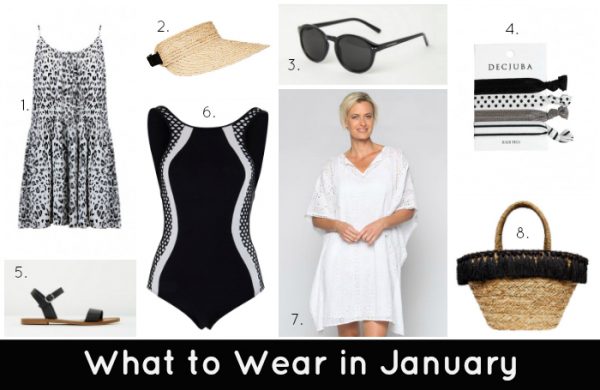 ABOVE: 1. Frill Hem Dress, $89.95 from Decjuba; 2. Wide Straw Visor, $19.95 from Seed Heritage; 3. Cheap Monday sunnies, $40 from The Iconic; 4.Hairties, $9.95 from Decjuba; 5. Bondi Sandals, $67.46 (on sale) from The Iconic; 6. Jets One Piece Swimsuit, $129.95 from Birdsnest; 7. Maldives Kaftan in White, $109.95; 8. Casey Tassel Bag, $49.95 from Seed Heritage.
A great pair of togs and a kaftan, like (6) and (7) above, are essential for a summer holiday, as are accessories like hats, sunnies, bags and for me, hair ties.
Once I've rinsed off the sand or chlorine, I also love to throw on a little strappy dress and a pair of sandals, like those above. Just add a bright lip and a sparkling beverage of choice and I'm pretty much sorted!
If you're after a dressier throw on option, this Cutout Shoulder Dress from DeCjuba is The Business.
Lastly, if you prefer a printed beach dress you can wear in suburbia to a kaftan, I'm loving this new Lucy Dress in Retro Pink, $99.95 from Adrift.
This post contains some affiliate links. You don't pay any extra and I earn a small commission. Read more in my Disclosure Policy here.
How have you spent your January? Which outfit would work best for you?