And just like that, Summer's over and it's hello Autumn!
Can you believe we're in March already?
Far Outicus.
And with the beginning of Autumn proper, it's excitement central in Fashion Land as all the Autumn/Winter 2017 ranges drop into stores.
And while it's hard to contemplate doing anything besides lying horizontal under a fan not making dinner this week – Hashbrown* Hot Times – there really is something lovely about seeing all the beautiful knits, jackets, scarves, closed toe shoes and long sleeved tops and frocks slowly making their return, but in new season colours and styles.
While I'm not a fan of the cold, I do love the fashion that it brings – YIPPEE – so I've had an absolute ball putting this month's outfits post together. There's so much fabulousness to choose from right now – it's a veritable feast for fashion types like me!
So, without further ado, let's turn to this month's outfits, beginning with an updated work ensemble featuring navy as it's base instead of the usual black.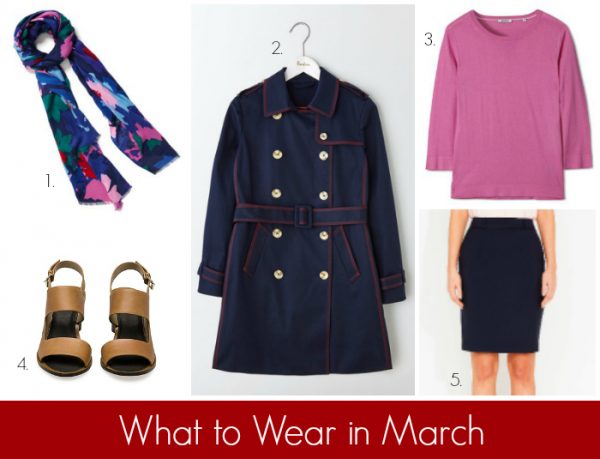 ABOVE: 1. Abstract Poppy Print Scarf, $79.95 from Marcs; 2. Trench, $216 from Boden; 3. Candace Crop Sleeved Knit, $139.95 from Marcs; 4. Annalese Heels, $189 from Country Road; 5. Serena Sleek Pencil Skirt, $89.95 from Portmans.
While many people use black for a base in their work wardrobe – and understandably as it's so versatile – you might like to mix things up from time to time with some other neutrals.
Above, I've paired a navy pencil skirt – the Serena Sleek Pencil Skirt from Portmans – with this fabulous statement trench from Boden – how divine is that contrast red stitching! Well priced and excellent quality trench coats are not easy to come by so if you're looking, Boden would be an excellent place to start. Oh and this style also comes in camel.
While a simple white shirt or cream knit would also work nicely with the navy, here I've added a serious colour pop with this pretty candy pink knit – the Candace Crop Sleeved Knit – from Marcs.
To complete the look, I've included this lovely Abstract Poppy Print Scarf which picks up the red stitching in the trench and the pink knit. I adore this colour combo and would add a bright red or pink lip to take it to the next level.
Come the weekends, this lightweight knit would also work well with jeans/pants or a denim/printed skirt while I'd also wear this scarf with a navy and white striped tee or frock.
If it's still too warm where you live to even contemplate knits, you might like this pretty Claudette Shell Top in a similar hue of pink from Boden instead.
In the shoe department, this updated block heel by Country Road ticks a lot of boxes and again, would be a versatile option across both work and play wardrobes.
Lastly, If you're looking for co-ordinating accessories, check out the gorgeous Zip Bow Satchel, $110 from Karen Millen.
OK, now on to a dressier combo of pieces that would suit dressier occasions such as parties, engagements, dinners and date night.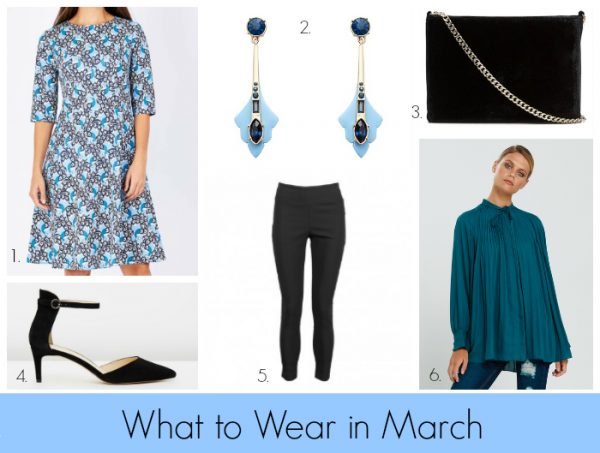 ABOVE: 1. Peacock Fit and Flare Dress, $139.95 from Birdsnest; 2. Highbury Drop Earrings, $99.95 from Mimco; 3. Fleur Evening Bag, $129.95 from Witchery; 4. Black Suede Heels, $149.95 from The Iconic; 5. Bengaline Pants, $129.95 from Decjuba; 6. Bluebird Josie Blouse, $159 from Bohemian Traders.
I j'adore teal worked back with black in the cooler months so it was hard to go past this pretty Peacock Fit and Flare Dress from Birdsnest and this knockout pussy bow pleated Bluebird Josie Blouse from Bohemian Traders. Both have major 'wow' factor and only need some simple accessories to complete the look.
With Autumn officially here, I've also embraced texture with these stunning Black Suede Heels and velvet clutch. Both add interest and depth to any outfit.
And then there are these beautiful statement earrings from Mimco – swoon dot com! I'd wear these with all of the above but they'd also look fab with a dressy black frock or, if you prefer separates, a black silk shirt/cami and black pants or distressed skinnies.
Our final looks are for easy everyday style, where you want to look put together and presentable, but it's all about comfort.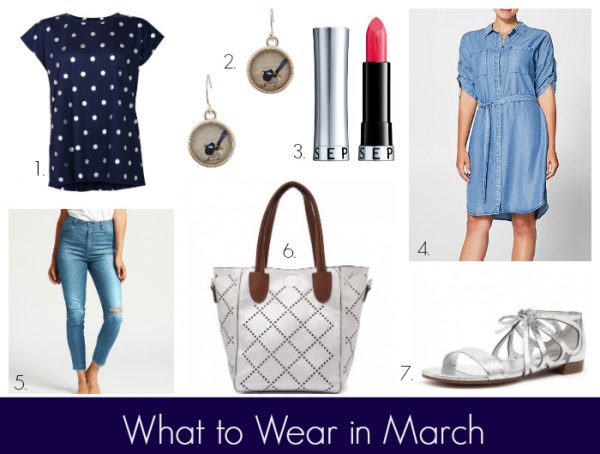 ABOVE: 1. Foil Print Tee, $59.95 from Decjuba;  2. Blue Wren Drop Earrings, $34.95 from Birdsnest; 3. 'My Wedding' Lipstick, $17 from Sephora;  4.Tencel Utility Dress, $49 from Target; 5. High Waisted Skinny Jean (Light Wash), $139 from Bohemian Traders; 6. Baby Bermuda Tote, $99.95 from Styletread; 7. Silver Sandals, $134.97 from Styletread.
It's hard to go past a spot paired with metallic accents – they're simple devices which elevate the simple tee into something more interesting but equally comfortable.
I've paired this Decjuba Foil Print Tee with distressed denim here (for sizing info on this style, check out this post) but denim shorts or a skirt or white jeans would also work here.
Accessories wise, I've kept it simple, stylish and functional – this silver tote is the perfect size for all the stuff I find myself carrying around while silver sandals are a great addition to any summer wardrobe.
If you're looking forward and weighing up your cold weather shoe options though, silver trainers, lace up brogues (like these Downtown Lace Up Brogues) or grey loafers (currently crushing on this pair from Jo Mercer) would also look the biz and take you well into Winter.
*I owe this pearler to The Unbreakable Kimmy Schmidt. For more brilliance, check these out.
This post contains some affiliate links. You don't pay any extra and I earn a small commission. Read more in my Disclosure Policy here.
What's your pick of the above? Is anyone else as excited about AW17 fashion as I am??