Hello Autumn!
Can you believe our red leaf bearing, cool morning friend has arrived?
While we're still feeling all the high summer vibes here in Melbourne (two weeks of scorching 30 + temps will do that), I've been slowly buying a few pieces here and there that I can't wait to wear the minute the temperature drops.
Because that's the thing about March isn't it – it starts out like summer but slowly, gradually, eventually, we need to start thinking about adding another layer for those beautiful, refreshing cool Autumnal mornings and evenings.
So as I was putting together this month's What to Wear post, I was looking for layers, re-introducing jeans after all these months of happy frockery (sigh) and floaty sleeves for cooler nights.
Here's outfit one – a simple but chic monochrome outfit for the office/workplace.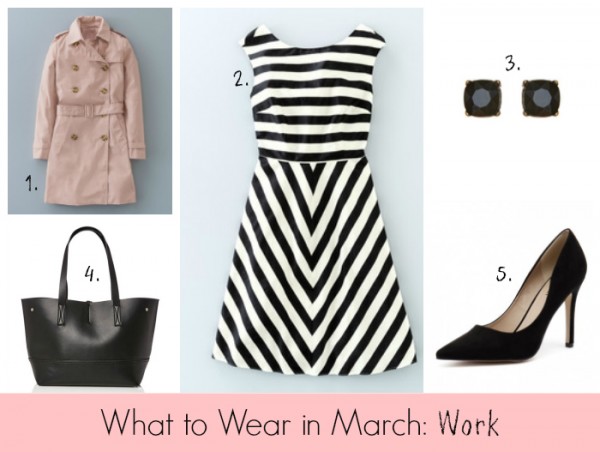 ABOVE: Abingdon Trench Coat, $299.50  from Boden; Swishy Mara Dress, $138 from Boden; Earrings, $19.95 from Portmans; Sophie Work Tote, $49.95 from Portmans; Matthew Black Nubuck Heels, or Verali Heels, $79.95 from Style Tread.
I've had this lovely cotton dress in my shopping cart since it arrived in the Boden online store last week – it's versatility appeals on so many levels. Here, I've corporate-ised with some sensible but chic accessories for work – a tote, jewelled studs and heels. A lower wedge would also work if you have to walk a reasonable distance as part of your commute.
Come the weekend though, simply add a clutch and some beautiful earrings (like the Mimco earrings in the third outfit, below) for a party or other special do.
If you're a planner, I think this dress would serve you well come racing season too, particularly any Derby Day regulars.
And how lovely is this soft pink trench? A great trans-seasonal option which works well with winter greys, blacks and charcoals as well as pretty florals and prints come Spring.
The second outfit is a casual look perfect for weekends or those of us who work from home.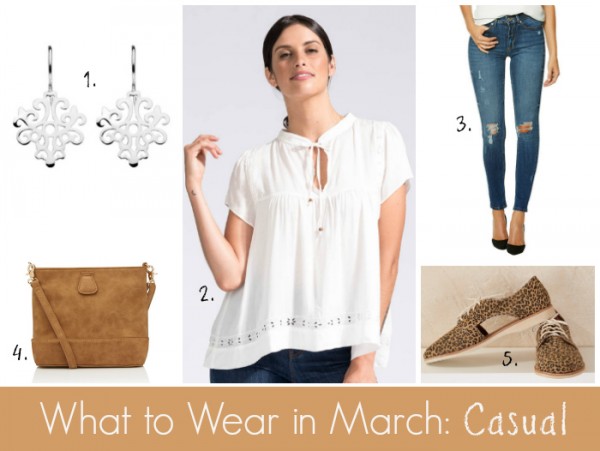 ABOVE: 1. Najo Earrings, $40 from Birdsnest;  2. Embellished Boho Top, $119 from Bohemian Traders; 3. Distressed Skinny Leg Jeans, $39 from Target; 4. Monique Vintage Swing Bag, $29.95 from Sportsgirl; 5. Sidecut Leopard Oxford by Rollie, $159.95 from Birdsnest.
On the top of my wish list every Autumn is a great pair of jeans – this Target pair, with it's distressed look, is a great budget option at $39.
Paired with a boho inspired top, earrings and a practical saddle bag, this outfit works across a range of casual scenarios.
I've added some lightweight and super comfortable Rollies in leopard print to make things a little more interesting without compromising on comfort. This sidecut style is a great trans-seasonal option too which allows for some ventilation. Tan sandals or ankle boots would also work here too.
If you'd like a black top instead, check out this pretty Flutter Top in Black, $129 from Bohemian Traders which would also look great with this Ruby Ya Ya Bag, $49.95 (on sale) from Adrift.
Finally, if you have a special event coming up, this outfit might be up your alley …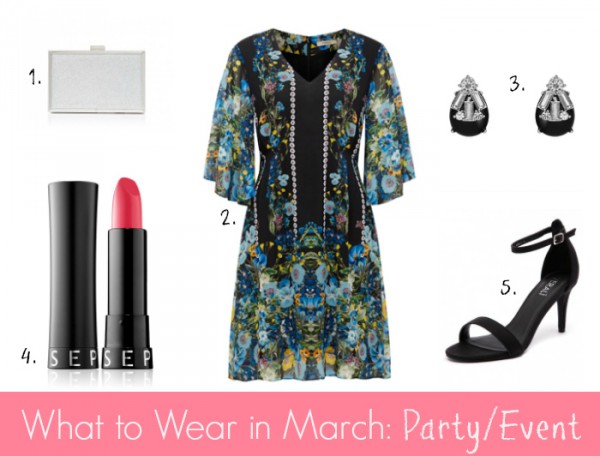 ABOVE:  Jasmine Sparkle Clutch, $39.99 from Forever New; 2. Vasette Print Tuck Dress, $299 from Thurley; 3. She's a Mod Stud, $79.95 from Mimco; 4. Lipstick in Cougar, $20 from Sephora; 5. Verali Heels, $79.95 from Style Tread.
How I love this frock! This stunning Thurley dress doesn't need much in the way of accessories – the glam print doing most of the work. I've simply added some jewelled studs, a simple black heel and a silver clutch which complement each other and the dress.
If you're wondering about Thurley sizing, I'm generally a 12 – 14, depending on the shape (I'd probably be a 12 in this shape or a 14 in a straighter shift style). Given the price point and online returns policy, I also always try before I buy. Thankfully, my local David Jones stocks Thurley and has a much better returns policy, so I generally head there first.
Finally, if you're looking for some statement shoes with a metallic accent (and if you have gold accessories) check out these gorgeous Stockholm Block Heels, $79.95 from Portmans which I came across in my research for this post.
This post contains affiliate links. If you buy something, I may earn a small commission but you don't pay any extra. Check my Disclosure Policy for further info.
Are you happy it's March? What's your go to this month? Could you see yourself in any of these outfits?