Well hello January.
I see you there, in amongst the sea of public holidays and the new year confusion of what day it actually is.
For some, this happy confusion came to a sad end last night and today, Monday, signals the return to some semblance of routine.
Or work, anyway.
If that's you, and you're looking for some fashion inspo in between planning your next holiday and looking at other people's holidays snaps on Instagram, you've come to the right place.
And, whether you're returning to work today, still in party/holiday mode or kid wrangling (I'm doing a combo of the latter two presently in Phillip Island), today I've put together three new season outfits that will hopefully provide some new year fashion inspo.
All feature easy, versatile dresses that will see you through the rest of summer and better still, two are only $29. Happy new year indeed.
If you're returning to work today, this first outfit is for you.
The hero is a relaxed but smart navy tie waisted dress which can be dressed up with a block heel or stilettos for work, but come the weekend, simply add your favourite sandal or espadrille wedge instead.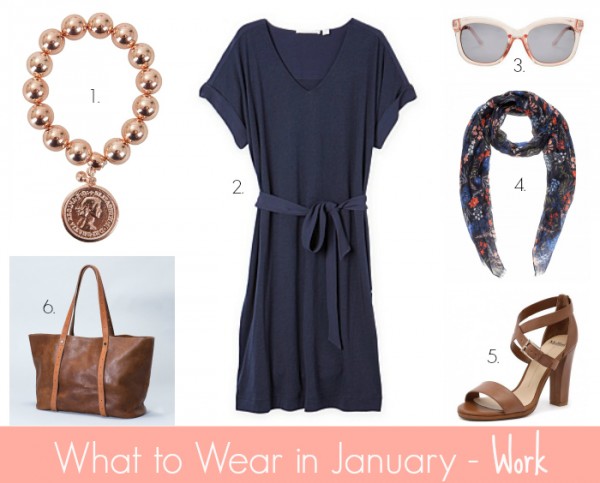 1. Coin Bracelet, $34.95 from Birdsnest; 2. Spliced Jersey Dress, $119 from Trenery; 3. Jane Cat's Eye Sunnies in Pink, $49.95 from Seed Heritage; 4. Navy Floral Scarf, $39.95 from Sussan; 5. Dimitry Heels in Tan, $169.95 from Style Tread; 6. Raaka Tote Bag, $265 from Elk Accessories.
I've paired this Trenery navy dress with some simple but stylish accessories here including this well priced rose gold bracelet (I have this and I love it) and sunnies. They also introduce some light and warmth and update this otherwise classic dress.
You might be breaking out into a sweat just looking at that scarf, but if you work in an office with artic air con or live in the unpredictable southern states, this may come in handy if not now, then definitely come Autumn.
The tan block heels and tote I've included are not bargains by any stretch but they're classic investment pieces that are sure to stand the test of time, working seamlessly across work and weekend wardrobes. I can never find these when I'm looking for them too but thankfully, there are some great options on offer in summer.
If you're still in holiday mode or have a less conservative workplace, the outfit below might be just your thing …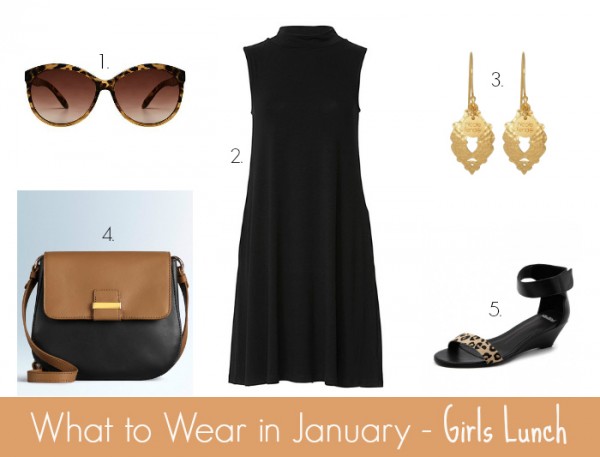 1. Jess Cats Eye Sunnies, $49.95 from Seed Heritage; 2. Swing Dress, $29 from Target; 3. Venus Small Gold Earrings, $89 from Nicole Fendel; 4. Agnes Saddle Bag, $118 from Boden; 5. Marsy Wedges in Ocelot, $69.98 (on sale) from Style Tread.
Here, I've paired this simple but well priced Target swing dress (can't go wrong for $29) with some leopard print wedges and some fab complementary accessories which pick up the tones of the print.
I love a black dress with leopard sandals in summer – it's such a chic combo, particularly with a faux tan of some description.
I recently bought myself some Nicole Fendel earrings in rose gold which are similar to these and I've been impressed with how much they go with and how many outfits they complete. They're a nice change from studs or hoops too if you're looking for something understated.
I'd wear this outfit to work, lunch with the girls, date night or for drinks.
The final outfit is all about everyday day comfort and style.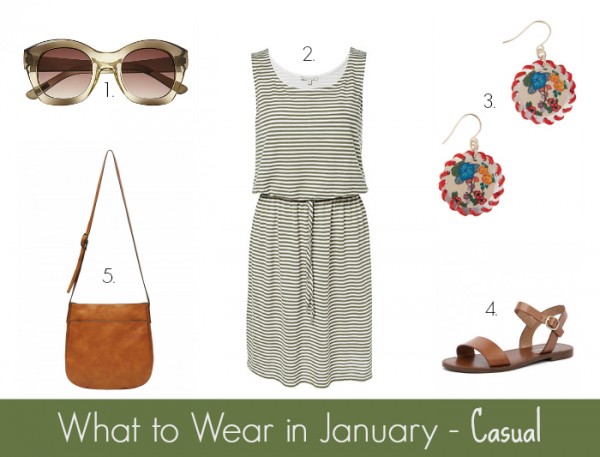 1. Amber Cat's Eye Sunglasses, $39.95 (on sale) from Witchery; 2. Tie Waist Dress, $29 from Target; 3. Zatini Recycled Can earrings, $24.95 from Birdsnest; 4. Bondi Tan Sandals, $89.95 from Style Tread; 5. Tan Cross Body Bag, $69.95 from Sussan.
This tie waisted stripe dress is an every day winner for me and is perfect for wrangling the kids over the holidays or for working from home.
It's smart without trying too hard and can easily be dressed down with thongs or up with sandals. I bought a similar style last year in navy/white and got loads of wear out of it.
Khaki is bang on trend too. If you've browsed online or been in store recently you'll see that khaki is trending this Autumn. I love it all year round and it always works beautifully with white, denim and tan accessories, so if it's a bit cool, simply add your favourite denim jacket.
I can also vouch for these sandals which I have in leopard print. They are a great every day option and in the tan, will work with nearly everything in a summer wardrobe. (They also come in black, white and gold/tan). They're pretty good value too – I've sandals in a very similar style from Sambag which have cost twice as much.
I've added some inexpensive but fun earrings to add some interest and some khaki sunnies for something different.
This post contains affiliate links. You don't pay any extra and I earn a small commission. Read more in my Disclosure Policy here. 
Are you back to work this week? Found your wardrobe mojo or is it still on holiday?